Will Tech Earnings This Week Fuel Positive Sentiment Shift?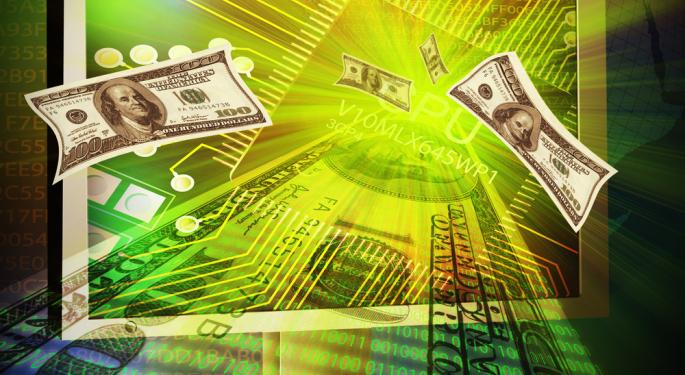 The bulls are rooting for Facebook (NYSE: FB), Apple (Nasdaq: AAPL) and Amazon.com (Nasdaq: AMZN).
It's up to three high-profile tech names to save the day and lift the tech sector out its recent malaise. Optimism is key, but judging by recent price and volume trends in each stock, it might be a tall order.
Earnings reports from tech firms have left a lot to be desired last week. IBM (NYSE: IBM) missed their revenue number by about $1 billion, and results from Google (Nasdaq: GOOG) also came in well below expectations.
Facebook reports Tuesday after the close. To say the social networking firm has fallen out of favor on Wall Street would be an understatement. Headed into Monday, the stock was 58 percent off its all-time high of $45. It's still a high-multiple stock, though, selling at 66 times trailing earnings and 31 times forward earnings. Its forward P-E isn't completely out of whack, however, as full year earnings in 2013 are expected to rise 29 percent from 2012 to $0.62 a share.
High-P-E stocks like Facebook are usually held to a high standard during earnings season. It will be, but some will argue that a lot of bad news has been priced in already. The fact remains that Facebook is unproven as a publicly-traded company. The market has serious questions about whether or not the company will be able to deliver on its mobile growth strategy.
Institutional investors sold the stock in July after the Facebook announced disappointing second-quarter results. Fund managers will most likely want to see a couple more quarters from the company before they decide to embrace the stock again.
Third-quarter profit at Facebook is expected to be flat from a year ago at $0.11 a share. Sales are seen rising 29 percent to $1.23 billion; solid top-line growth, but if sales come in as expected, it would mark the fifth straight quarter of decelerating sales growth.
While uncertainty is alive and well in Facebook, it's also rampant at Apple as Wall Street frets about future growth. Is Apple the same company without Steve Jobs? Is the iPhone market starting to get saturated? How much will the iPad Mini cannibalize sales of the regular iPad? What will Apple's next new product be and will it be a growth driver going forward? A lot of questions with no answers at this point.
Apple reports fiscal fourth-quarter results Thursday after the close. The consensus estimate calls for profit of $8.85 a share, up 26 percent from a year ago with sales up 28 percent to $36.2 billion. Piper Jaffray analyst Gene Munster expects total iPhone sales of 25 million, up 46 percent from a year ago.
Apple has a press event scheduled for tomorrow where it's expected to introduce a smaller version of its iPad tablet with a 7.85-inch screen.
Shares of Apple remain under distribution since late September. It might look like it is on sale here, but it's a risky buy -- especially now when big investors are selling. Earlier this month, Apple fell below its 50-day simple moving average (SMA). Its 200-day SMA at $581 could be in play if earnings disappoint.
Finally, selling pressure has been building in Amazon.com ahead of its earnings report Thursday after the close. It's another stock that's starting to look a bit tired. It tried to rally back above its 50-day SMA last week but was turned away. The consensus estimate calls for a loss of $0.08 a share, but sales are seen rising 28 percent to $13.9 billion. Amazon has sacrificed earnings growth in recent quarters to expand its distribution network and technology infrastructure.
Posted-In: Piper JaffrayEarnings News Movers Tech Best of Benzinga
View Comments and Join the Discussion!