Einhorn Wins Big on Chipotle Short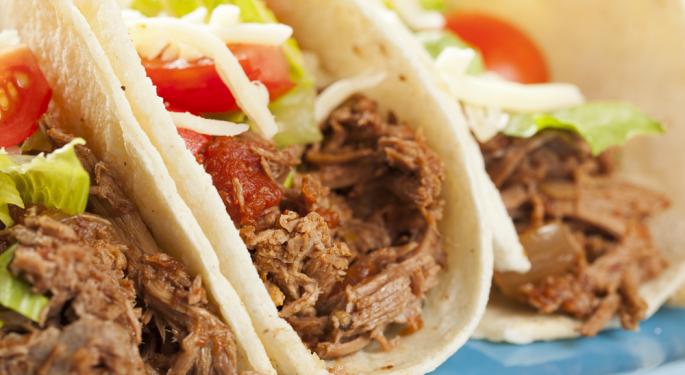 Shares of Chipotle (NYSE: CMG) traded sharply lower on Friday, falling over 15 percent to trade at a new 52-week low near $241 per share.
The popular burrito-maker reported earnings Thursday afternoon that evidently disappointed investors. Earnings came in just slightly lower than expected at $2.27 per share -- analysts were anticipating $2.29. Revenue was also a little light, as the company reported $700.5 million, below the $703.7 million that was anticipated.
A more established stock may not have been hit so hard. However, because Chipotle trades at a lofty valuation, investors may have banking on a much more positive outcome. Chipotle is viewed as a growth stock, so if the company is not displaying powerful growth, it is likely to be sold aggressively.
Interestingly, hedge fund manager David Einhorn picked Chipotle as a short back at the start of October.
At this year's Value Investing Congress, Einhorn said investors should short Chipotle stock. With Chipotle locking in a new low for the year, Einhorn's Chipotle call seemed to be yet another in a long list of great short calls made in recent years.
Notably, Einhorn called Green Mountain Coffee Roasters (NASDAQ: GMCR) a short last year. Shares fell roughly 70 percent following his call. Likewise, Einhorn recommended shorting Lehman Brothers just months before the firm went bankrupt.
If investors had followed Einhorn in, should they cover their shorts?
Einhorn's short Chipotle thesis is notably different from his arguments on Green Mountain and Lehman. On Green Mountain, Einhorn cited patent expiration and accounting issues; on Lehman he made note of the firm's excessive risk.
But, on Chipotle, Einhorn based his short call on increased competition -- notably from Yum Brands (NYSE: YUM) Taco Bell. With the fast food giant expanding its menu to include more premium items, Einhorn argued that Chipotle would see significant pressure.
Those shorting Chipotle may wish to take profits after such a big drop. Yet, the Taco Bell story may only be getting started. The company recently constructed a more upscale, Taco-Bell-of-the-future in Colorado, perhaps suggesting that the company will continue to shift its focus going forward.
Of course, for its part, Chipotle continues to excite. The company has created a second, Asian-themed brand known as Shophouse. On the earnings call, Chipotle said that sales at Shophouse have been going well. As there are only a few Shophouses, that brand could prove to be great growth story years into the future.
Posted-In: Earnings News Guidance Short Ideas Hedge Funds Intraday Update Movers Trading Ideas Best of Benzinga
View Comments and Join the Discussion!