Pay Attention to the Financials Next Week, Not Alcoa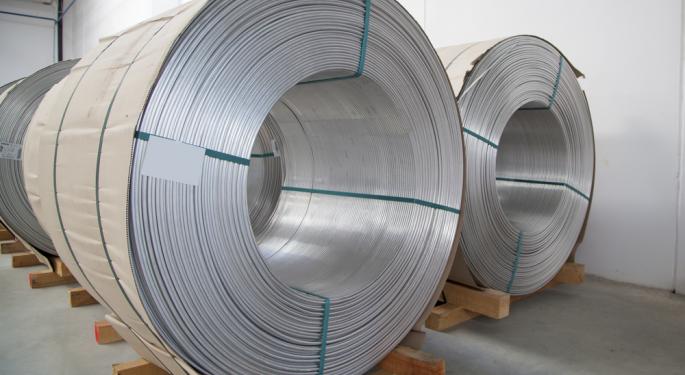 Aluminum producer Alcoa (NYSE: AA) will get a lot of coverage next week when it kicks off third quarter earnings season. Yet, it's been an irrelevant stock for a while now. While stocks across a variety of sectors have been soaring to new highs, Alcoa continues to lag mostly due to growth concerns in China. China accounts for about 40% of global aluminum consumption.
Things were looking good for Alcoa when shares rallied 16.5% from September 6 to September 14. But the strength was short-lived as the stock fell 10% over the next 13 trading sessions. Shares outperformed on Thursday, rising 3.3% to $9.07, but technical damage done to Alcoa in recent months will likely take more time to repair.
The bulls will argue that most of the bad news has been priced in. It's not a bad argument, but it's still a stock struggling to regain institutional favor on Wall Street. Wall Street likes growth and there hasn't been much of it lately at Alcoa.
In July, second quarter profit plunged 81% from a year ago to $0.06 a share. Sales fell 9% to $5.96 billion. When Alcoa reports on Tuesday before the open, the results won't be much better. The current consensus estimate calls for profit of $0.01 a share, down 93% from a year ago. Three months ago, the consensus estimate stood at $0.12 a share. Meanwhile, sales are seen falling 13% to $5.6 billion.
Annual earnings this year are expected to decline 65% from 2011 to $0.24 a share but ramp back up in 2013, rising 200% to $0.72 a share.
It'll take some bullish news from the company for the stock to break its technical downtrend. That may not be likely as slowing growth in China and elsewhere remains a formidable headwind for the company.
Two earnings reports next week, however, bear watching: J.P. Morgan Chase & Company (NYSE: JPM) and Wells Fargo (NYSE: WFC). Both report on Friday and bring a lot more to the table than Alcoa at this point from a fundamental and technical perspective.
While overall S&P 500 earnings are expected to fall 2.3% in the third quarter -- the first drop since the third quarter of 2009 -- financials should be a bright spot. S&P 500 financial earnings are seen rising 5.5% from a year ago.
J.P. Morgan Chase is expected to earn $1.21 a share, up 19% from a year ago. Three months ago analysts were looking for $1.05 a share. Meanwhile, profit at Wells Fargo is seen rising 21% to $0.87 a share. Estimates have been on the rise for Wells Fargo as well.
J.P. Morgan Chase and Wells Fargo are currently in bullish technical setups.
J.P. Morgan closed Thursday at $41.82, up 2.4% and just below a swing point of $42.09. The stock has been under mild accumulation in recent weeks -- good to see as a stock approaches a breakout area. Its current pattern is known as a cup-with-handle pattern, a U-shaped consolidation where a handle area forms to shake out the last remaining sellers in the stock. It's currently forming the handle area now. This technical structure has been a launching pad for several big winners throughout market history.
Wells Fargo is in the exact same setup. As of Thursday's close, it was sitting just underneath a swing point of $36.60. Shares closed Thursday at $35.97, up 1.5%.
Stock chart: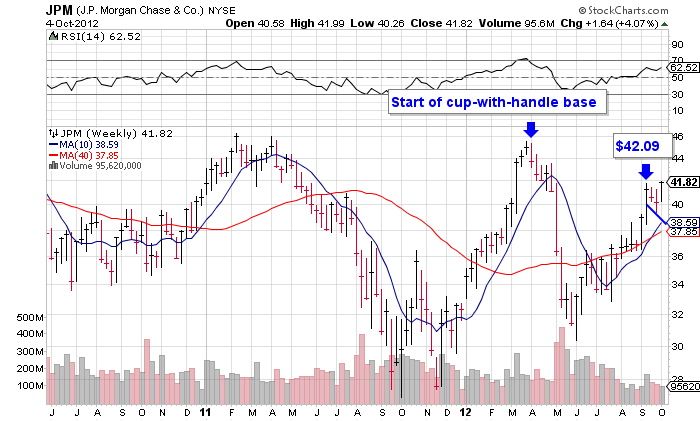 Posted-In: Earnings Long Ideas News Technicals Previews Trading Ideas Best of Benzinga
View Comments and Join the Discussion!