Mosaic Shares Lower on Weak Q1 Results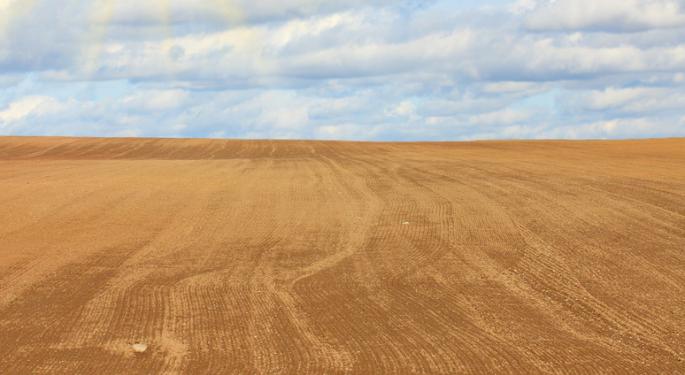 The Mosaic Company (NYSE: MOS) announced fiscal 2013 first quarter earnings today showing diluted earnings per share of $1.01 compared to $1.17 for the first quarter of fiscal 2012. Net sales during the quarter were $2.5 billion compared to $3.1 billion a year ago. The decline in revenue and earnings was not unexpected but first quarter results came in at the lower end of expectations. According to the first quarter press release, "The year-over-year decline was primarily driven by lower phosphate volumes and prices."
Mosaic is one of the world's largest producers of phosphate and potash fertilizers and operates the largest potash mine in North America. Phosphate and potash are two of the three essential plant nutrients (the "P" and the "K" of the N-P-K familiar to most gardeners). The company mines phosphate at four mines located in the Tampa Bay area of Florida and has invested in a joint venture phosphate mine in Peru. Mosaic also operates five potash mines, three in Saskatchewan Canada and two in the U.S.
Mosaic President and Chief Executive Officer Jim Prokopanko said in a press release, "During the quarter our [phosphate] production was impacted by longer annual maintenance shut-downs and challenges posed by hurricanes, and our sales were further impacted by low beginning inventories and low Mississippi River levels. As a result, demand for our products outpaced our ability to produce and deliver; we expect better execution in the quarters ahead."
Phosphate sales volume during the first quarter was 2.7 million tons, down from 3.2 million tons during the first quarter of fiscal 2012. Phosphate pricing (diammonium phosphate—DAP—FOB plant) was $529/ton, down 8.2% from a year ago. Despite these difficult conditions, Mosaic's gross profit margin on phosphate remained steady at 18%.
In the potash division, the company is in the midst of a major expansion of its potash production capacity with plans to add 5 million tons of annual production to its existing mines. Management had expected a longer than usual summer shutdown as part of its expansion program. But, Prokopanko said, "During the quarter we saw soft demand in India and China, and in response, we slowed production. While contracts with India and China still need to be resolved, North American dealer sentiment is improving and producer inventories are declining. We continue to expect strong global demand."
During the first quarter, potash sales volume was 1.9 million tons, up from 1.8 million tons in the first quarter of fiscal 2012, while the average price of muriate of potash—MOP—was $444/ton, flat compared to a year earlier, Gross profit margins (excluding resource taxes and royalties) fell from 62% a year ago to 56% in the first quarter of fiscal 2013. This was largely attributable to higher brine management expenses (brine is a by-product of potash processing), higher depreciation expenses and lower operating rates. However, potash operating profit actually increased by 4% from the same period last year to $416 million.
Looking ahead, Mosaic is positive about fertilizer demand for the rest of fiscal 2013 and beyond. According to presentation materials distributed for the company's first quarter conference call this morning, global stocks of grain and oilseeds are equal to about 18% of use, near recent lows. In addition, the ratio of fertilizer prices to crop prices has declined to near record lows making the increased application of fertilizers to boost crop yields very affordable for farmers around the world.
Farmers in the U.S. are seeing higher cash income because of large crop insurance payments to cover losses during this summer's drought while, in India, higher cash payments for crops has made farming more profitable and incentivized farmers to improve yields. In Brazil, where spring planting is well under way, record soybean and corn acreage is expected as Brazilian farmers seek to cash in on any shortfall from the lower than expected corn harvest in the drought-stricken parts of the U.S.
In its conference call presentation, Mosaic said that it expects potash demand to recover as producer inventories have declined while, in the phosphate market, the supply/demand situation is very tight and barging operations on the Mississippi River have been disrupted by low water levels due to this summer's drought.
Major uncertainties for the rest of the fiscal year include the post-drought demand for fertilizers in the U.S., continued disruption of barging because of low water on the Mississippi and the slowdown in economic activity in India and China. China is the world's largest consumer of phosphate, using 11.5 million tons last year, while India was the world's second biggest market at 8.2 million tons. Similarly, China is the world's biggest consumer of potash at 5.2 million tons followed by Brazil (4.4 million tons), the U.S. (4.4 million tons) and India (2.5 million tons).
Mosaic's share price gapped down today as investors were disappointed by the first quarter numbers. As of this writing, the shares are down 4.1% to 55.63. However disappointing the first quarter numbers might be, almost all of the decline in earnings can be attributed to one-off events related to the drought and the impact of Hurricane Issac on the Tampa Bay, Florida area.
The underlying fundamentals are positive. The world needs to grow more food to support an increasing population and the easiest way to do that is to increase crop yields through more intense use of fertilizers. Mosaic meets that need. In Mosaic, you also have an NYSE-listed, U.S. company with large exposure to economic activity in the two largest emerging market economies in the world, China and India as well as other fast-growing economies such as Indonesia and Malaysia.
There is support for the share price at the 200-day simple moving average (54.50) that matches up with support in the 54-55 range dating back to 2010. Although the share did trade as low as 44.43 on June 4, 2012, given the positive outlook from management and the fact that the first quarter report puts the worst news behind us, the risk of breaking significantly below the 200-day simple moving average seems limited. Mosaic seems to be an interesting buy around the 55 level with a 12-month price target at the 500-day simple moving average, currently 62.96. This idea could be played by buying the shares outright, buying call options or through a bullish put spread.
Posted-In: Earnings Long Ideas News Guidance Technicals Trading Ideas Press Releases Best of Benzinga
View Comments and Join the Discussion!