6 Stocks That Might be Overbought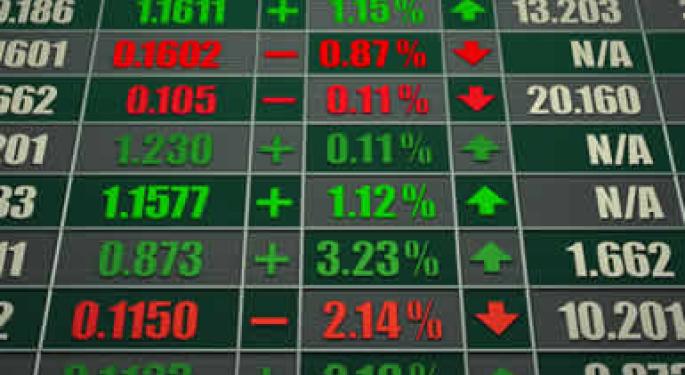 Heading into this week, the stock market is hitting overbought levels after the S&P 500 added around 2.23% during the holiday-shortened trading week. The SPDR S&P 500 ETF (NYSE: SPY) currently has a Relative Strength Index reading of 71.54, which is considered "overbought." While hardly a perfect indicator, RSI readings over 70 often suggest that a market could be heading for a correction as traders and investors may look to lock-in profits.
The rally in equities has also catalyzed a significant move lower in the CBOE Volatility Index, or VIX, which is sitting near year-to-date lows. On Thursday, the VIX opened at around 17.30, and by Friday's close it had plunged all the way down to 14.38. Oftentimes, the VIX can be a contrary market indicator used to identify extremes in sentiment and price action. Professional traders will frequently use extreme readings in the VIX to put on positions in the opposite direction of the prevailing trend.
An extremely high VIX reading normally corresponds with pervasive market fear and a deep correction. Frequently, these types of wash outs make excellent buying opportunities. Conversely, when the VIX has traded below 15 in recent years it has been a sign of complacency and was often followed by a pullback. The logic behind this is simple. Stocks are like rubber bands -- if they get stretched too far in either direction, the likelihood of a sharp retracement goes up correspondingly. This has been the case since the dawn of markets.
Given the technical outlook for the broader market, traders may want look for some stocks ripe to be shorted.
Here are six stocks that could be setting up to fall this week. All of these names are overbought, with RSI readings above 70, and have at least 20 percent of their floats sold short, suggesting that savvy traders are betting on price declines. These six names also traded at least twice their average volume on Friday, which could be a sign of a near-term top driven by institutional distribution.
Annie's (NYSE: BNNY) Shares of this natural and organic food company exploded through trendline resistance on Tuesday and have continued to run higher. Annie's only went public on the NYSE back in May and does not have much of a trading history, but the stock is now sitting at new all-time highs. The chart pattern suggests that BNNY may be just as likely to be a long breakout candidate as a short, but it is technically overbought with a RSI reading over 70 and a short interest of 47 percent.
While the extremely high short interest suggests that sophisticated Wall Street investors are betting on this stock to fall, it could also trigger an even bigger short-squeeze in the name. Given the uncertain outlook in Annie's, and the potential that the stock could squeeze higher, bearish traders may want to use put options to gain short exposure, or wait for the stock to show some weakness before jumping into the equity on the short side. In any event, this is a stock that has a high likelihood of being active again next week.
Heckmann (NYSE: HEK) - This company is focused on providing total water solutions for shale or unconventional oil and gas exploration. Heckmann has a market cap of just over $617 million, making it a small-cap play. On Tuesday, the company announced that it is merging with privately-held Power Fuels, an environmental company in the Bakken Shale area of North Dakota. The news sent HEK up 40 percent on the day, and the stock continued to rally throughout the week. Over the last 5 days, HEK has climbed nearly 52 percent. The momentum petered out on Friday, however, and the stock pulled back by around 1 percent.
Prior to the merger news, this stock had been in a deep downtrend. In fact, HEK is still down around 39 percent in 2012 despite last week's huge rally. The stock currently has a RSI reading of 77.58 and a short interest of just under 21 percent. It may be a good candidate to retrace some of its recent gains next week. The 200-day moving average in HEK is sitting around 6.69 percent above current prices. A good risk/reward setup might be to short the stock with a buy-stop above the 200-day moving average. In particular, this trade might be attractive if HEK gaps higher to open the week, making it even more overbought and closer to overhead resistance at the 200-day.
Lululemon Athletica (NASDAQ: LULU) - This company reported its fiscal second-quarter earnings prior to the opening bell on Friday. Lululemon beat analysts' estimates and raised its full-year earnings guidance, sending shares up 12.45 percent on the day. The stock closed on its highs of the session, and the strong earnings results could carry momentum over into next week. The stock has broken sharply higher over the last month, climbing more than 32 percent. Overall, LULU looks like a risky short candidate, but after Friday's big move the short-term chart is starting to look parabolic and the name continues to draw bearish traders.
Nearly 27 percent of LULU's float is sold short, and the stock has an extremely high RSI reading of 81.68. An ideal area to attempt to short LULU may be at the $80.00 level, which was the stock's last swing high from early May, and is also near an all-time high level in the name. A buy-stop could be placed above the all-time highs in LULU at $81.09 to protect capital in the case of a further breakout.
OfficeMax (NYSE: OMX) - OfficeMax shares have staged an extremely powerful rally throughout August and into the early part of September. Over the last 3 months, the stock has surged more than 48 percent, and over the last month the stock has climbed 27 percent. On Wednesday, the company reiterated its full-year earnings view, and this led to a continued rally on Thursday and Friday. Shares are now trading at a new 52-week high and on a technical basis, the stock is clearly overbought.
While a pullback at some point seems inevitable, this is certainly a risky name to short outright, and put options may offer a safer way to gain exposure to a correction in OMX. Certainly, Wall Street investors are expecting this stock to fall, as more than 21 percent of OMX's float has been sold short. Furthermore, the stock now has an extremely high RSI reading of nearly 80. Traders who are interested in playing OMX from the short side, may want to wait for the stock to show some weakness before taking a position.
Radian Group (NYSE: RDN) - This small-cap mortgage insurer is a notoriously volatile stock, and in recent weeks, RDN has been on a large upswing. On Thursday, the stock climbed around 13 percent after the company released data for primary mortgage insurance delinquencies for August. On Friday, the rally continued with RDN adding another 7 percent. After the sharp two day move, the stock is now trading well above its 20, 50, and 200-day moving averages and is closing in on new 52-week highs.
Radian is now sporting a RSI reading of 76.55, indicating that it may be susceptible to a near-term pullback. Furthermore, more than 23 percent of the stock's float is sold short as traders are likely using the stock to make bearish bets on the housing market. An attractive area to enter a short in the stock might be at $4.50. On Friday, RDN hit a high of $4.49 before pulling back and closing at $4.33. Traders who short the name will likely want to cover their positions if the stock breaks out to new 52-week highs which come into play above $4.68.
Westlake Chemical (NYSE: WLK) - This stock broke out above trendline resistance on Thursday and is now sitting near new 52-week highs. On Friday, however, the breakout was not confirmed as WLK shares fell very slightly on the session. The stock attracted heavy volume, however, without moving up, and this could be a sign of a near-term top in the name. Westlake has been very strong in 2012, so bearish traders should certainly exercise caution and use buy-stops. Year-to-date, shares have surged more than 77 percent.
The combination of a very high RSI reading, which is just below 75, and a short interest of nearly 24 percent could suggest that WLK might be vulnerable to a near-term pullback. The stock is trading above all resistance levels and its 20, 50 and 200-day moving averages, however, so the longer-term trend in the name is clearly up.
Posted-In: Earnings Long Ideas News Short Ideas Hedge Funds Technicals Psychology Movers Best of Benzinga
View Comments and Join the Discussion!