FedEx Shares Tumble on Economic Outlook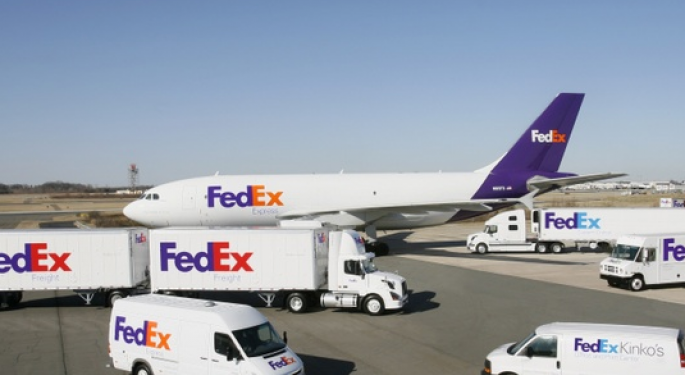 FedEx (NYSE: FDX) announced late Tuesday that it was cutting its outlook for the year because of "weakness in the global economy."
The company said in a statement that earnings for the first quarter ending August 31 are expected to be in the range of $1.37 to $1.43 per diluted share, compared to $1.46 per diluted share last year. Originally, the first quarter forecast was for earnings of $1.45 to $1.60 per diluted share.
"Earnings during the quarter were lower than originally forecast, as weakness in the global economy constrained revenue growth at FedEx Express more than expected in the earlier guidance."
Many global economies have told a similar story in recent weeks –- business within the United States might be holding up, but Europe is causing the company to feel the pinch.
CEO Frederick Smith is still pleased with the company's performance, at least publically, saying in a letter to shareholders on August 15 that, "We committed to a strong performance in FY12 and we delivered -- no small feat, given the year's challenges. Our long-term strategies are working, and we believe we will improve our competitive position and our financial performance over the next several years as a result."
However, in the 2012 annual report Smith pointed out that global uncertainty, a slowdown of Asia exports and weakness in the technology sector challenged FedEx Express in fiscal-year 2012. Although U.S. domestic and international priority package volumes were down, yield improvements helped FedEx Express maintain profitability.
Smith did say that there is impressive growth in emerging markets which gives FedEx (and companies like it) cause to be confident going forward. Countries such as China, India, Mexico and Brazil, Smith remarked, are becoming consumers at an increasingly speedy rate, as well as producers, driving increased demand.
FedEx is expected to release its full first-quarter results on September 18.
On Wednesday morning, FedEx traded at about $87.50, down roughly 0.1 percent.
Posted-In: Earnings News Guidance Markets Trading Ideas
View Comments and Join the Discussion!