Aetna Buys Coventry Health Care for $5.7 Billion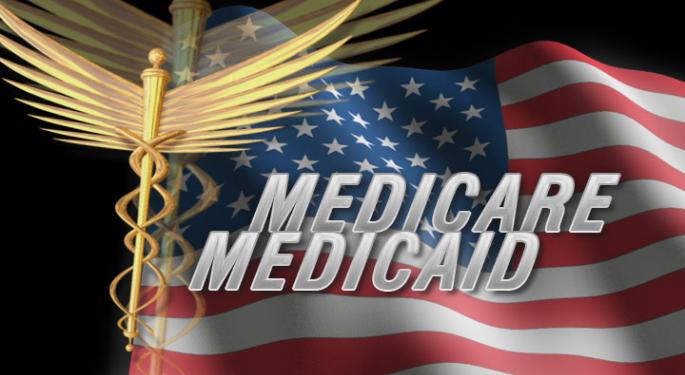 Health-care giant Aetna (NYSE: AET) has agreed upon terms to purchase Coventry Health Care (NYSE: CVH) for $5.7 billion. The 20 percent premium for Coventry has shares trading north of $40. Aetna, in the meantime is trading up around three percent in Monday morning trading. Aetna's buyout comes a week after WellPoint (NYSE: WLP) announced plans to buy Amerigroup (NYSE: AGP) for $4.46 billion. It appears the health care sector will continue to consolidate as companies try to expand their health plan coverage to include Medicare and Medicaid programs.
The Wall Street Journal reports that Aetna will pay about $42.08 per Coventry share. The breakdown of the deal is said to be 65 percent cash and 35 percent stock. The acquisition is likely to increase Aetna's share of revenue from its government business by seven percent. Aetna, the third largest U.S. healthcare provider, predominately manages commercial health insurance. However, the company is attempting to capitalize on President Obama's healthcare reform law, as Medicaid programs are set to expand to state coverage for low income citizens beginning in 2014.
Comparatively, Cigna (NYSE: CIG) bought HealthSpring last year for $3.8 billion to take advantage of the Medicare and Medicaid divisions. In the merger, Cigna paid a 37 percent premium for HealthSpring last October.
Investors can look for continued consolidation of government Medicare and Medicaid insurance providers. Humana (NYSE: HUM) currently receives three-quarters of its revenue from Medicare.
"The company's enrollment is growing as the U.S. population ages and the new members are using more medical care. The increase in doctor visits may have come because people put off care before joining Medicare due to the weak economy", said Humana's Executive Vice President James Murray.
UnitedHealth Group, (NYSE: UNH) is the largest U.S. single healthcare provider and may be the next insurer looking to cash in on the Medicare, Medicaid lottery.
On August 17, UnitedHealth's pharmacy management division OptumRx said it was creating 600 new jobs in California through 2013. OptumRx is ramping up its order processing facility with an additional 250 jobs as well. The build out of the facility may provide adequate resources for aging baby-boomers to tap their Medicare and Medicaid coverage.
The activity in health care issues should continue to remain volatile, as rumors persist amid the battle to increase the share of the government program's pie.
Posted-In: Earnings News Wall Street Journal Topics Management M&A Hot Media Best of Benzinga
View Comments and Join the Discussion!