Chesapeake Up On Strong Revenue and Asset Sales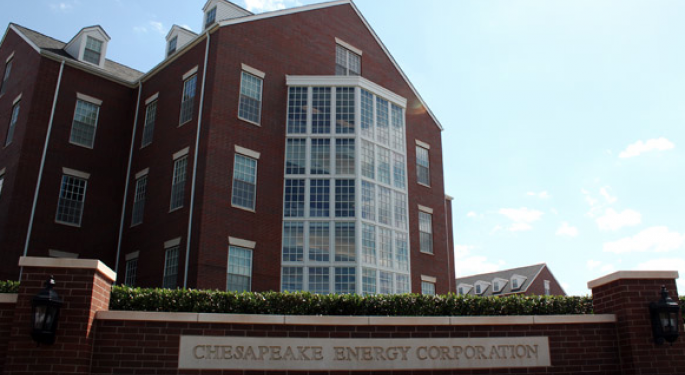 Chesapeake Energy (NYSE: CHK) traded up on Tuesday after the company reported second-quarter earnings.
Shares of Chesapeake have underperformed throughout the year, as controversy surrounding Chesapeake's debt has weakened confidence in the company. CHK hit a 52-week low in May, but has begun to recover as natural gas prices have rallied.
The company reported net income of $972 million on revenue of $3.4 billion. In the same period last year, the company reported a net income of $510 million on revenue of $3.3 billion. This represents the highest quarterly profit in the company's history.
Chesapeake was planning to sell $11.5 billion worth of assets this year, but has increased it to a range of $13 billion to $14 billion. The company has tried to decrease its long-term debt through something it calls its 25/25 plan -- an attempt to decrease debt by 25% while increasing production by 25%.
In the third quarter, the company plans to sell about $7 billion worth of assets, including the sale of its Texan and New Mexican Permian Basin assets. Chesapeake claims that it has already received bids for some of the assets contained in the basin. In the first half of 2012, the company sold $4.7 billion worth of assets. The company states that it will continue to sell assets in order to reduce the large amount of long-term debt it holds.
Despite the company's attempt to decrease its debt, Chesapeake has experienced an increase in its long-term debt through the first half of 2012. At the beginning of 2012, the company reported long-term debt of 10.6 billion, compared to the reported 14.3 billion reported during the second-quarter. The company plans to reduce its long-term debt to $9.5 billion by the end of 2012.
Aubrey McClendon, Chesapeake's Chief Executive Officer, said, "We are taking aggressive and focused actions to increase cash flow and net asset value per share while also reducing long-term debt as we continue our ongoing transformation to a more balanced asset base between higher-margin liquids and lower-margin natural gas. We are prudently deploying our capital as we focus on developing and harvesting the 10 core plays in which Chesapeake has built a #1 or #2 position."
McClendon went on to take a very optimistic position in natural gas. He stated, "this has been in a four-year down cycle and a lot of head winds the last four years, but we think that a multiyear up cycle is now underway." He also noted that it would be hard to take his rigs away from oil and move them to natural gas. In order to move the rigs, the company would have to see more increases in natural gas prices.
Chesapeake traded up about 10% on Tuesday.
Posted-In: Earnings Long Ideas News Guidance Short Ideas Financing Futures Commodities
View Comments and Join the Discussion!