Apple's Rumored iPhone 5 Launch Boosts Stock Price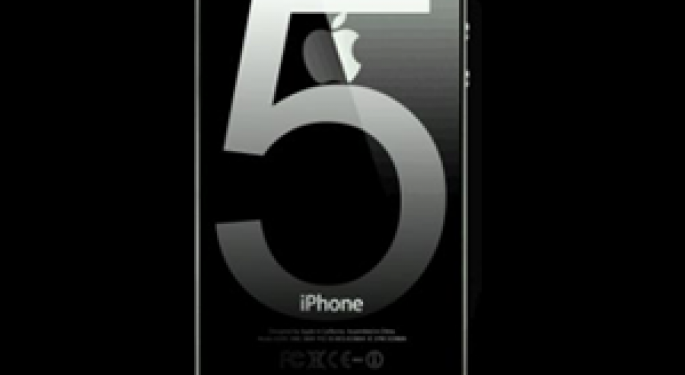 Fueled by the rumored launch date of the next iPhone, Apple (NASDAQ: AAPL) has advanced back over 600 on early trading.
Earnings last quarter were, while spectacular by most measures, a disappointment for Apple. Analyst estimates were missed, with revenue increasing to $35 billion, up from $28.6 billion last year. Profits also rose to $8.8 billion – up from $7.3 billion a year ago.
While results proved to be in-line with Apple's guidance, they were low compared to analyst estimates. This was certainly a case of inflated expectations as Apple has such a strong history of beating guidance that investors have come to expect it.
Those days may be over. Ever since Tim Cook took over as CEO, Apple has failed to beat guidance twice. It's possible we've seen the end of the company that shoots past everyone's expectations at every corner.
Then again, perhaps we haven't.
New Product Equals Record Sales
Last quarter was a bit of a dead one for Apple. No major new products were released and one product was coming to the end of its cycle.
Regardless of what appeared to be a shortcoming, iPad sales soared 84 percent to 17 million. iPhone sales also jumped 28 percent, despite many consumers holding off for the rumored newest model.
With the new model gearing up to be unveiled, Apple's profits should see a healthy bounce from the newest flagship device.
The rumors surrounding the iPhone 5 have coalesced around a date – September 12 - for the launch. Sales may not start until the 21st, but September 12 is when the new iPhone is projected to take over the news cycle.
Not just a new iPhone, the iPhone 5 is supposed to be a significant redesign. Parts have been found that suggest a larger screen, a new charging port, a thinner body and 4G connectivity.
There are further updates that may or may not come to pass, such as Near-Field Communication (NFC) technology that would allow the iPhone to act as a virtual wallet. The same effect could be achieved with the latest Bluetooth technology, another rumored addition to the next iPhone.
There's even talk that advances in screen technology will allow a layer to be removed, which would make the phone thinner while sharpening the screen's appearance without having to increase resolution.
While speculation continues to surround the new iPhone's features, we can be relatively confident that it will be released soon. If it has any of the success previous iPhones have experienced – a virtual certainty given Apple's rabid fanbase – we'll see a sharp uptick in profits in coming quarters.
After all, the iPhone made up 46 percent of the company's revenue last quarter, despite a drop in sales as consumers waited for the next model. Further, Apple has a strong history of breaking all of its previous records with each new iteration of a device.
If that pattern holds – and there's no reason to think it won't – Apple will have a very healthy end to the year.
Posted-In: BluetoothEarnings News Rumors Retail Sales Topics Tech General Best of Benzinga
View Comments and Join the Discussion!