What to Expect from Earnings in the Rental Car Industry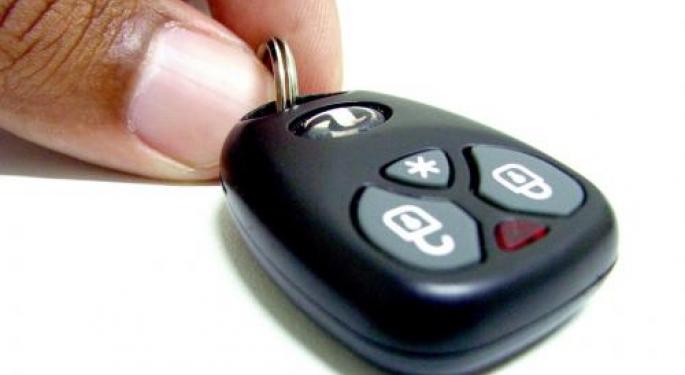 The Street has its eyes on the rental car industry as Hertz Global (NYSE: HTZ), Avis Budget Group (NASDAQ: CAR), Dollar Thrifty Automotive Group (NYSE: DTG) and Zipcar (NASDAQ: ZIP) report earnings this week.
Amid concerns of softening across the sector due in part to macro outlook and automobile pricing trends, investors may additionally be looking to earnings in the industry on renewed chatter of a Dollar Thrifty and Hertz merger.
Although the latter's bid in May of $72 per share for Dollar Thrifty was denied, the more than two-year conversation may be far from over.
Below are earnings expectations for the four above companies:
Hertz Global
Hertz Global leads the pack into earnings with its announcement Monday, July 30, after market close. Analysts expect the company to post earnings per share (EPS) of $0.32 on revenue of $2.24 billion.
Aside from May's rejected acquisition bid on Dollar Thrifty, recent news from Hertz Global includes phase two of the company's solar energy program and the addition of Porsche vehicles in its rental fleet - making it the first U.S. rental company to offer the car.
The company's equipment rental arm purchased construction equipment rental company Arpielle Equipment in March 2012.
Shares of Hertz Global are down around 2 percent year-to-date (YTD) leading into Monday trading, and closed Friday up more than 7 percent. The company's market cap of $4.81 billion makes it the largest of the four rental companies covered, and its beta of 2.57 is smaller than both Avis Budget and Dollar Thrifty.
Avis Budget Group
Avis Budget Group is slated to report its second-quarter 2012 earnings Wednesday, August 1, after market close. Analyst consensus is 70 cents per share on revenues of $1.91 billion, up from consensus of 44 cents during the past three months. Avis Budget reported net EPS of $0.12 on revenue of $1.6 billion in first-quarter 2012, an increase of 31 percent from the year-ago period.
Shares of Avis Budget are up more than 36 percent YTD entering Monday's markets, closing Friday up more than 9 percent. With a beta of 4.83, shares of the company may be more receptive to sympathetic movement this week as the various companies announce.
Last year's acquisition attempts by Hertz of Dollar Thrifty caused a bidding war as Avis Budget stepped in to counter offers. Although no recent bid for the company has been reported by Avis, it may be another reason to keep the company on any related watch list.
Dollar Thrifty Automotive Group
Dollar Thrifty will report its second quarter earnings Wednesday, August 1, before market open. The company operates vehicle rental services through its Dollar and Thrifty brands.
Analysts expect Dollar Thrifty to report EPS of $1.24 on revenue of $408.4 million. The company has announced increased revenues for the past three quarters.
Recent news on Dollar Thrifty includes the company's announcement of nine new stores across its brands in June.
Pentwater Capital recently increased its purchasing activity of the stock - making the hedge fund a more than 11 percent owner as of earlier in July, according to Marketwatch.
Shares of Dollar Thrifty closed Friday up around 4 percent, and up around 8 percent YTD heading into Monday trading. The company has a beta of 3.55 and with a recent drop to $73 - a level not traded at since January 2012 - shares may have room for growth.
Zipcar
Zipcar's earnings release is scheduled for Thursday, August 2 after market close. Goldman Sachs published a report Monday previewing Zipcar's earnings, stating that it expects "solid year-over-year progress" from earnings as well as an update on the company's European strategy. Goldman Sachs established a $22 price target on Zipcar in the report.
Zipcar provided Q2 guidance in April, expecting revenue between $71 million and $74 million. Analysts are looking for revenue of $73 million.
With a market cap of less than $500 million, Zipcar is the smallest by capitalization of the four - although also the youngest in the markets, with its IPO in April 2011. Shares of the company are down more than 17 percent YTD leading into Monday trading and closed up more than 6 percent Friday.
Recent news from Zipcar includes its acquisition of Austrian car sharing service Denzel Mobility CarSharing GmbH in July and February's investment in peer-to-peer car sharing company Wheelz.
The company reported first quarter EPS of $-0.08 versus analyst expectations of $-0.11, earning it a more than 27 percent surprise for the quarter.
View Comments and Join the Discussion!
Posted-In: Earnings Long Ideas M&A News Guidance Short Ideas Rumors Hedge Funds Best of Benzinga