Goldcorp Misses Estimates but Large Project Almost Complete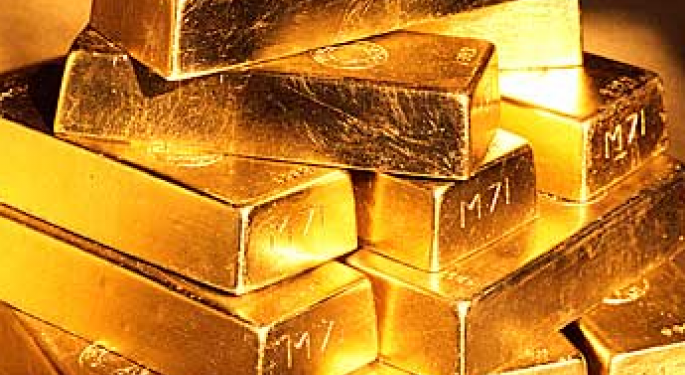 Goldcorp (NYSE: GG) shares traded up on Thursday after reporting second-quarter earnings that missed analyst estimates by $0.01. The company also updated its guidance for the full year 2012. Goldcorp announced that its Pueblo Viejo project is almost complete.
Goldcorp reported adjusted net earnings of $332 million, or $0.41 per share. In the second quarter of 2011, the company reported adjusted net earnings of $413 million, or $0.52 per year. Other highlights include gold production of 578,600 ounces, revenues of $1.1 billion, and dividends paid amounted to $110 million.
On July 10, the company announced its second quarter gold production and provided a 2012 guidance update. During the second quarter, the company produced 578,600 of gold, which represents a 10% increase in comparison of the first quarter of 2012.
In the second quarter, GoldCorp gold production was affected by operating delays at its Red Lake property. The company stated that it expects operating performance to improve in the second half of 2012 because of de-stressing efforts in the area. Due to the slow down, the company adjusted its production at Red Lake to a range of 460,000 to 510,000 ounces, compared to the previous forecast of 650,000 ounces.
The company's earnings were also affected by inadequate water supply at its plant at its Peñasquito property. The company noted that prolonged drought conditions in the area limited the plants silver production, and is estimated to continue to affect the plant for the rest of 2012. The company is working to drill additional wells to increase water production.
Chuck Jeannes, Goldcorp President and Chief Executive Officer, commented, "We are disappointed with reducing production guidance due to operational issues at our two most important mines. Our focus is on addressing these issues promptly and in a manner supporting the long-term opportunities at these key assets."
Goldcorp is set to begin production of gold at its Pueblo Viejo project, in the Dominican Republic, in June. Pueblo Viejo is a joint venture of Goldcorp and Barrick Gold Corp. (NYSE: ABX). In the second quarter, more than 16 million tonnes of ore were stockpiled, which represents about 1.9 million contained ounces of gold. This mine is expected to be one the world's most productive gold mines and is largest private investment ever in the Dominican Republic.
When commenting on the Pueblo Viejo project, Jeannes noted, "We continued to make good progress on our pipeline of new gold projects. At Pueblo Viejo, the production of first gold is imminent, which will establish a new stream of strong cash flow for years to come.
Goldcorp adjusted its 2012 guidance for gold production to a range of 2.35 to 2.45 million ounces, compared to the previous guidance of 2.6 million ounces. Due to this lower expected production the company also adjusted its previous total cash cost on gold guidance to a range of $310 to $340 per ounce of gold. This compares to the previous guidance of $250 to $275 per ounce of gold.
Goldcorp traded up about 3% on Thursday.
Posted-In: Earnings Long Ideas News Guidance Short Ideas Movers Trading Ideas
View Comments and Join the Discussion!