Earnings Call: US Airways Flying High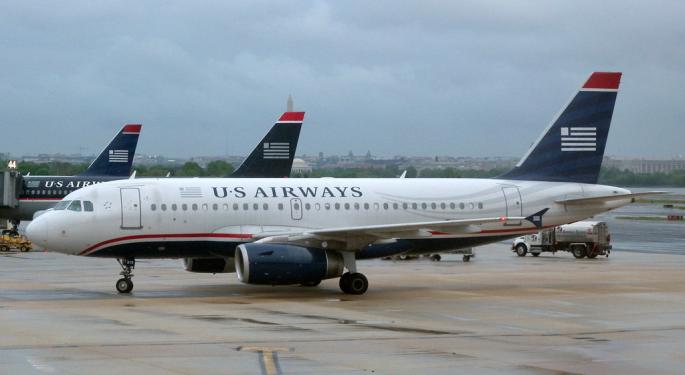 US Airways (NYSE: LCC) had a record second quarter, beating analyst estimates in a variety of metrics.
Revenue set a single-quarter record, topping $3.8 billion, up 7.2 percent year-over-year.
Earnings per share hit $1.61, beating the analyst consensus estimate of $1.53 by 8 cents.
Finally, the airline's net profits topped $306 million, marking a 233 percent bump year-over-year, and another record for a quarter.
A Sleek Airline
US Airways achieved its strong quarter thanks to macro elements, as well as improved internal performance.
The airline had its best-ever on-time performance, baggage-handling, and completion percentages. It also improved its passenger yield – a measure of fare paid per mile - and profit-per-passenger.
No doubt, part of the reason for this success has been an easing in fuel costs the past few months. Likewise, improvements in the economy may be encouraging greater business and personal travel as budgetary worries slowly ebb.
Aside from those macroeconomic factors, it's clear that US Airways is running a tight ship. The company desperately needed a strong quarter to strengthen its case on a proposed merger with American Airlines (PINK: AAMRQ).
Solving Two Problems With One Merger
American Airlines, which went into bankruptcy court last fall, has yet to emerge. The CEO of American Airlines wants to remain independent – but that's becoming a bit of a longshot.
American is in need of revenue and good labor deals, both of which US Airways has. American's unions have declared their support for a merger – a key point, as unions must agree to any buyout or takeover.
However, US Airways employees have made no such declaration. Their support will also be key, and with seven years passed since their last agreement, some concessions may be in order.
Those possible hiccups aside, US Airways is in a very good position. The airline business is notoriously difficult, but outside of Southwest Airlines (NYSE: LUV) no other airline is as strong financially as US Airways.
Given US Airways's cheap share price - with a price to earnings (P/E) ratio of only 8.92; expected gains, with analysts foreseeing the stock increasing up to 100% in the near future; and a possible ability to force a merger with American, this company appears in great shape for the long haul.
Posted-In: Earnings News Guidance Rumors M&A After-Hours Center Markets Trading Ideas Best of Benzinga
View Comments and Join the Discussion!