Retail Stocks Scooped Up Despite Scary Headlines
Covestor managers are still scooping up select retail stocks - doubling down in some instances - despite a new landslide of worrying data for the group.
Several continue to see long-term value, and think that some of the concerns could be overblown.
The retail economy is not as bad as people think it is, and it helps that energy prices are down," said Sreeni Meka, manager of the Long Term Value investment model. "Customers are spending less to get to the stores. And they still have some disposable income, even though the employment picture is not that great," Meka said.
Meka doubled his position in department store chain Kohl's (NYSE: KSS) in June; it now is his third-largest position at about 13% of his investment model. He says there are still plenty of cars in its parking lot ahead of the back-to-school shopping season.
He also likes the company's balance sheet, fairly low sales expectations, and that it's trading at around 10 times free cash flow - a discount to the historic group multiple at around 15 times free cash.
This is a great business, and I think it's a great time to buy," he said.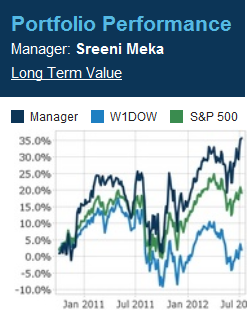 Meka is very aware of the recent string of negative retail headlines. Stocks fell on Thursday, as the latest data suggested that U.S. consumers appear to be slowing down their spending.
Target (NYSE: TGT), Macy's (NYSE: M), and Costco (NASDAQ: COST) all fell short of same-store sales expectations late this week.
Consumer confidence notched a 6-month low in June, ahead of the back-to-school shopping season.
Consumer spending was flat in May - the first time in six months it had not risen.
And more broadly:
China just cut rates for the second time in a month, leading to worries that its economic downturn may be greater than expected.
The Bank of England OK'ed a fresh injection of 50 billion pounds to stimulate its economy.
And ECB managers cut interest rates to their lowest since the bank was established in 1999.
Yet Meka is not alone in thinking that the overall picture for retail might not be so bad.
Walt Sokira, manager of the Focused Stock investment model, notes that the Retail Sector HOLDRS (NYSE: RTH) ETF rallied to all-time highs this week as a select group of retail stores continued to beat fairly low expectations.
Ross Stores (NASDAQ: ROST) and TJX Companies (NYSE: TJX) were two of the discount retailers with stronger-than-expected same-store sales.
Sokira has been cautious on the economy, and still holds a 70% cash position. Yet he is seeking to become fully invested by year's end, and plans to add to retail holdings as part of his mix.
"It's true, retail is the first stock group people think about when there are new worries about the economy and the job situation, yet I have been surprised by the resiliency and the performance results from this group," he said.
Sokira bought Coach (NYSE: COH) shares in late June and early July, between $57 and $59; it's now his largest stock position, at 16% of his investment model.
"You have to be careful, because retail could take a hit considering its strong runup," Sokira said. "But with Coach, it has low debt, strong revenue growth, and it's an American luxury brand at this stage of the game that's not exposed to the European markets. This is a brand that's going to run with the U.S. economy."
He also took a new position late this week in clothing retailer Lululemon Athletica (NASDAQ: LULU). He says that unsubstantiated market chatter that hedge fund manager David Einhorn is shorting shares of the retailer has created a buying opportunity. He likes the company's metrics from the bottom up, including its 50% revenue growth, no debt and 35% return on invested capital.
Manager Robert Freedland of the Buy and Hold Value model has one of the heaviest retail weightings, with 10 out of a total 18 positions in the retail sector. He is ready to pull assets if the stocks start to underperform. But so far, he's not selling.
"The working consumer is still feeling a lot of pressure, but retail can work if you find the right companies and the right niches," he says.
One of his largest holdings remains TJX, owner of T.J. Maxx, Marshall's and Home Goods chains. He says it's a "Dollar General (NYSE: DG) for rich people." In other words, it's a well-executing discount chain with a management team that makes few missteps.
Not every manager is giving retail the benefit of many doubts, though. He notes that Nike (NYSE: NKE) missed expectations last week, after having beaten expectations in 17 of the past 18 quarters. Nike expects China's economy to slow down, fluctuating labor and commodity costs, and currency pressures in Europe -- all problems that may apply to other retailers, as well.
He recently noted caution on some of the higher-priced momentum stocks in the sector, including Lululemon.
"I think those are the ones that are headed lower," Arold said. "Once these momentum stocks start to fall, they can fall hard."
Start Covesting with as little as $30,000. We mirror the actions of our managers in your account. Talk to us. We can help you find a great investment model that matches your goals.
Covestor Ltd. is a registered investment advisor. Covestor licenses investment strategies from its Model Managers to establish investment models. The commentary here is provided as general and impersonal information and should not be construed as recommendations or advice. Information from Model Managers and third-party sources deemed to be reliable but not guaranteed. Past performance is no guarantee of future results. Transaction histories for Covestor models available upon request. Additional important disclosures available at http://site.covestor.com/help/disclosures. For information about Covestor and its services, go to http://covestor.com or contact Covestor Client Services at (866) 825-3005, x703.
Posted-In: Buy and Hold Value David Einhorn ecbEarnings Long Ideas News Short Ideas Trading Ideas
View Comments and Join the Discussion!