Indoor Dining Finally Returns To New York City: Here's The Timeline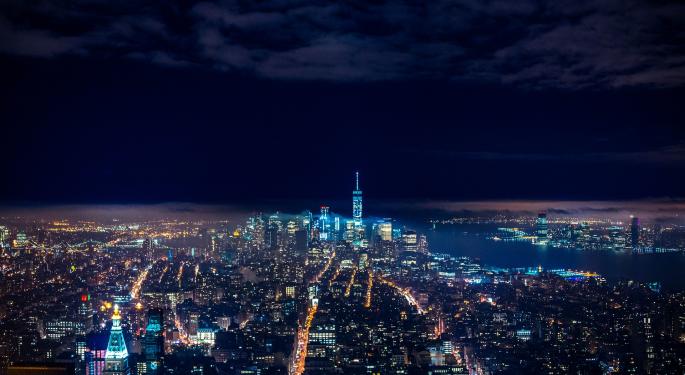 New York State Gov. Andrew Cuomo confirmed Wednesday afternoon that New York City restaurants will be allowed to reopen indoor dining at 25% capacity at the end of September.
The decision follows political pressure from advocacy groups and a major lawsuit involving hundreds of restaurant owners and politicians.
Cuomo Lays Down The Rules: Restaurants will need to comply with several rules to allow indoor dining, including mandatory temperature checks, collecting contact information for one member of each party, enhanced air filtration, no seating at the bar and mandatory mask-wearing except when sitting down, Cuomo said during a Wednesday press conference.
New York City will provide 400 enforcement personnel to ensure the rules are followed, and 10,000 locations will be inspected, he said.
The best form of compliance is through New Yorkers themselves, who can be trusted to keep restaurants and guests safe, the governor said.
New Yorkers will be counted on to report restaurants that violate capacity rules, Cuomo said.
The return of indoor dining is critical to a devastated New York City restaurant industry, Andrew Rigie, executive director of the NYC Hospitality Alliance said in a statement obtained by Benzinga.
"We're thankful to Governor Cuomo for announcing a return to indoor dining with a blueprint for future expansion. Restaurants are essential to New York's economic and social fabric, and indoor dining is a key component to the industry's recovery."
25% Capacity A 'Nothing Burger'? The governor and Mayor Bill de Blasio gave restaurants a "great big nothing burger," as the 25% indoor dining capacity will merely replace outdoor dining that will soon shut down due to cold weather, restaurateur Joe Germanotta told Fox Business.
Germanotta, the owner of Joanne Trattoria and father to popstar Lady Gaga, said other restaurant owners are unlikely to survive on 25% capacity beyond the end of the year.
There is no logical explanation as to why restaurants elsewhere in New York can operate at 50%, he said.
The lack of a solid plan to help restaurant owners will trickle down to landlords and food suppliers, Germanotta said, adding that customers should expect to see higher menu prices.
"Health is definitely an issue, we do understand that," he said. "But we have to have a chance to survive."
As it stands now, 35% to 40% of all restaurants in New York City won't survive, and it is "really sad" for the "lifeblood of New York City," he said.
Here's a brief timeline of events leading up to Wednesday's decision to reopen restaurants in the Big Apple.
COVID-19 Improvement, But No Indoor Dining: Cuomo acknowledged that the COVID-19 pandemic peaked in April in New York.
New York City restaurants were given the greenlight to reopen indoor dining at limited capacity on July 6, but the plans were scrapped.
On Aug. 25, de Blasio hinted restaurants may not be permitted to reopen indoor dining in any form until 2021.
Restaurant Owners Fight Back: Gyms, museums, bowling alleys and other leisure indoor activities were allowed to open. The NYC Hospitality Alliance went on the offensive in support of the hundreds of thousands of people whose livelihood relies on the restaurant and bar sector.
On Sept. 8, New York State Assemblywoman Nicole Malliotakis joined other politicians and restaurant owners in suing Cuomo and de Blasio.
The group wants a judge to overrule the politicians, who they sid are acting in an arbitrary manner in keeping indoor dining closed.
"We as a city have met the metrics that were set by Gov. Cuomo, yet we are the only municipality in the state of New York that is not allowed to have any form of indoor dining," Malliotakis told Fox Business on Sept. 8.
New York City boasts lower positive COVID-19 cases in terms of testing compared to other municipalities in New York that welcome in-door dining, she said.
By closing indoor dining, Malliotakis said Cuomo and de Blasio's actions are "truly hurting" both the hundreds of thousands of low-wage earners and the entrepreneurs who "put their blood, sweat, and tears" into growing their restaurants.
Related Links:
'We Risk Losing It All': NYC Restaurant Lobby Group Says Government Action Is Needed
'Inspired Food': Frozen Pizza Exec Talks State Of Industry, Praise From Dave Portnoy
View Comments and Join the Discussion!
Posted-In: Andrew Cuomo Bill de Blasio CoronavirusNews Politics Restaurants Media General Best of Benzinga