Bankrupt ENTREC Courts Buyers For Subsidiaries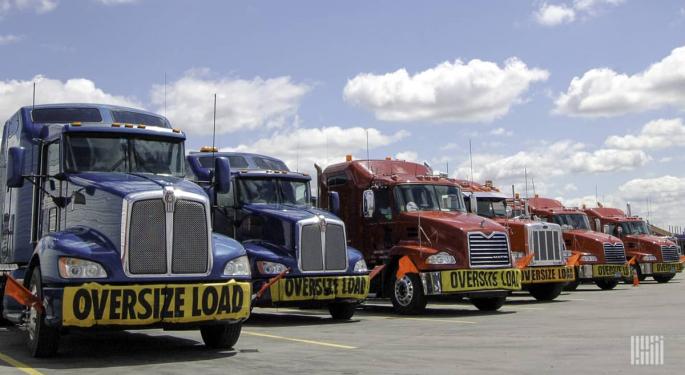 Bankrupt ENTREC has started looking for buyers for its heavy haul trucking and crane services subsidiaries – ENT Oilfield Group in Canada and ENTREC Cranes & Heavy Haul in the U.S.
The Alberta-based company is marketing the subsidiaries individually, according to investment teasers from Sequeira Partners and Ernst & Young. Bid deadlines for the subsidiaries are set for June 26, with final agreements anticipated by August 4.
ENTREC Cranes & Heavy Hauling, based in North Dakota, has 48 tractors, 212 trailers and 70 cranes. The U.S. subsidiary's 2019 earnings before interest, taxes, depreciation and amortization (EBITDA) came in about $12.8 million on $59.5 million in revenue, according to the investment teaser from Sequeira Partners and FMI Capital Advisors, which is assisting with the U.S. sale.
The investment teaser projects a weaker 2020 for ENTREC Cranes & Heavy Hauling, with EBITDA of about $6 million on revenue of $45.2 million. But it anticipates a recovery in 2021, with EBITDA of $15.8 million on $67.2 million. 
ENT Oilfield Group, based in Alberta, has 63 tractors, 48 picker trucks, 343 trailers and two all-terrain cranes. ENT had more than C$50 million in revenue in 2019, according to the investment teaser from Ernst & Young. The teaser does not provide details on ENT's profitability but notes that ENT recently signed a five-year exclusive contract with Imperial Oil. 
ENTREC Sought Creditor Protection In May
Both subsidiaries have continued to operate under creditor protection. ENTREC is under creditor protection through Canada's Companies' Creditors Arrangement Act (CCAA) and Chapter 7 bankruptcy in the United States.
In May, courts in both countries approved ENTREC's plans to find buyers and or investors for its heavy haul trucking and crane services businesses.
ENTREC filed for CCAA creditor protection in May, under a process similar to Chapter 11 bankruptcy in the U.S. The Chapter 7 case serves as a recognition of ENTREC's CCAA case and its designation as the primary venue for cross-border creditor protection proceedings.
Much of ENTREC's business came from the Canadian and U.S. oil patches. The COVID-19 pandemic and the collapse in energy prices hit the company that already had been undergoing restructuring. 
View Comments and Join the Discussion!
Posted-In: Freight FreightwavesNews General