Quidel's Recently Approved Antigen Test For Coronavirus Is 'Game Changer,' Former FDA Chief Says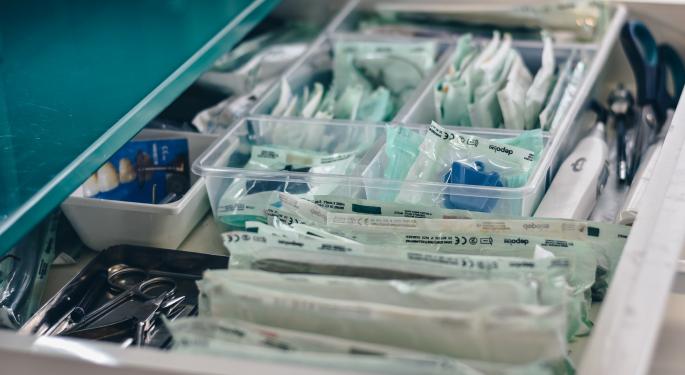 Quidel Corporation's (NASDAQ: QDEL) development of an antigen test for the novel coronavirus (COVID-19) is a "game changer" in the world's fight against the pandemic, former Food and Drugs Administration commissioner Scott Gottlieb told CBS on Sunday.
The test was given emergency use authorization by the FDA late Friday.
'Quick And Cost Effective'
"I think this kind of technology is a real game changer...it's a very rapid test that could be used in a doctor's office," Gottlieb said at CBS "Face The Nation."
"Doctors now have about 40,000 of these Sofia machines already installed in their offices. And you do a simple nasal swab and the test itself scans for the antigens that the virus produces."
Gottlieb noted the test is cost-effective and quick to return results. "It'll probably be about five dollars a test and you can get a result within five minutes," he told CBS.
According to the former FDA chairman, the test gives accurate results about 85% of the time. Those who don't return coronavirus positive from the test can then see an additional screening through PCR-based tests, which take up to 24 hours to give the results.
"For those [85%] patients that you could screen out right away, you're getting a very fast result and you can start to take action immediately," he said at the CBS show.
CDC Guidelines Will Dictate Adoption
If Quidel is able to produce 200,000 testing kits right away, and 1.5 million a week in the coming weeks, as it has suggested, it will "dramatically expand testing capacity in the United States, Gottlieb noted.
The physician said that the Center for Disease Control and Prevention and other health authorities would need to come up with proper guidance to ensure that the doctors don't hesitate to test coronavirus patients using the antigen tests.
"If turning over a positive case in your medical office means that you have to do a deep cleaning and quarantine your nursing staff and close your office, doctors aren't going to be testing," he told CBS.
Why It Matters
There are more than 1.3 million confirmed COVID-19 cases in the U.S. at press time, and the death toll is nearing 80,000, according to data from Johns Hopkins University. Health experts have warned of a worse second wave, if adequate preventative measures aren't put in place.
Multiple vaccines, including those of Moderna Inc. (NASDAQ: MRNA) and Inovio Pharmaceuticals Inc. (NASDAQ: INO), are currently seeing clinical trials.
Even a rapidly developed and approved vaccine is unlikely to be available until next year, according to White House Coronavirus Task Force lead member Anthony Fauci and others, making widespread testing the best-available preventative measure to curb the spread of the virus.
Price Action
Quidel shares closed 3.3% higher at $158.60 on Friday. The shares traded slightly lower in the after-hours session at $158.
View Comments and Join the Discussion!
Posted-In: CBS Coronavirus coronavirus testNews Health Care FDA Media General Best of Benzinga