GBP/USD Forecast: Option Of Brexit U-Turn Gives Sterling A Temporary Boost
The European Court of Justice that the UK could unilaterally revoke Article 50 and eventually decide not to leave the European Union.
The Bank of England Governor Mark Carney testified about the Brexit Withdrawal agreement before the Treasury Select Committee repeating that no-deal Brexit is not the main scenario.
The UK construction PMI jumped to a four-month high of 53.4 in November.
The GBP/USD needs to close well above 1.2800 to confirm the break on the upside which is unlikely in light on ongoing Brexit uncertainty.
The GBP/USD is boosted strongly trading up 0.6% at above 1.2800 supported by the European Court of Justice opinion provoking hopes of the UK eventually revoking the Article 50 unilaterally and possibly opt for remaining in European Union should the December 11 parliamentary vote fail to pass the Brexit agreement. While the ECJ's opinion is not a binding rule and the UK political elite is unlikely to make a Brexit U-turn the GBP/USD is pulled back from 1.2840 intraday high.
The European Court of Justice declared that according to Article 50 of the Treaty of European Union allows the unilateral revocation of the notification of the intention to withdraw from the EU. That means that the UK could revoke Brexit if the Brexit agreement did not pass the UK parliament on December 11. The parliamentary debate on Brexit agreement starts tomorrow, December 5.
Meanwhile, the Bank of England chief Governor Mark Carney repeated his blues of no-deal Brexit being an unlikely scenario for the Bank while confirming before the lawmakers at the Treasury Select Committee that the UK banks are prepared and well capitalized even for the possibility of no-deal Brexit.
The UK construction PMI jumped to the highest reading in last four months of 53.4 in November, following the suit on manufacturing the also surprised on the upside in November.
Technically, the GBP/USD approached the downward sloping trendline boundary rising to 1.2840 and quickly retreated below that level. The technical oscillators including Momentum and the Relative Strength Index are both elevated and pointing up but are unlikely to continue higher. The Slow Stochastics is pointing upwards moving closer to the overbought territory. The GBP/USD needs to close well above 1.2800 to confirm the break on the upside towards 1.2900. In light of ongoing Brexit uncertainty, the retreat lower is a more likely scenario with 1.2720-30 target first before testing 1.2662 2018 low.
GBP/USD 1-hour chart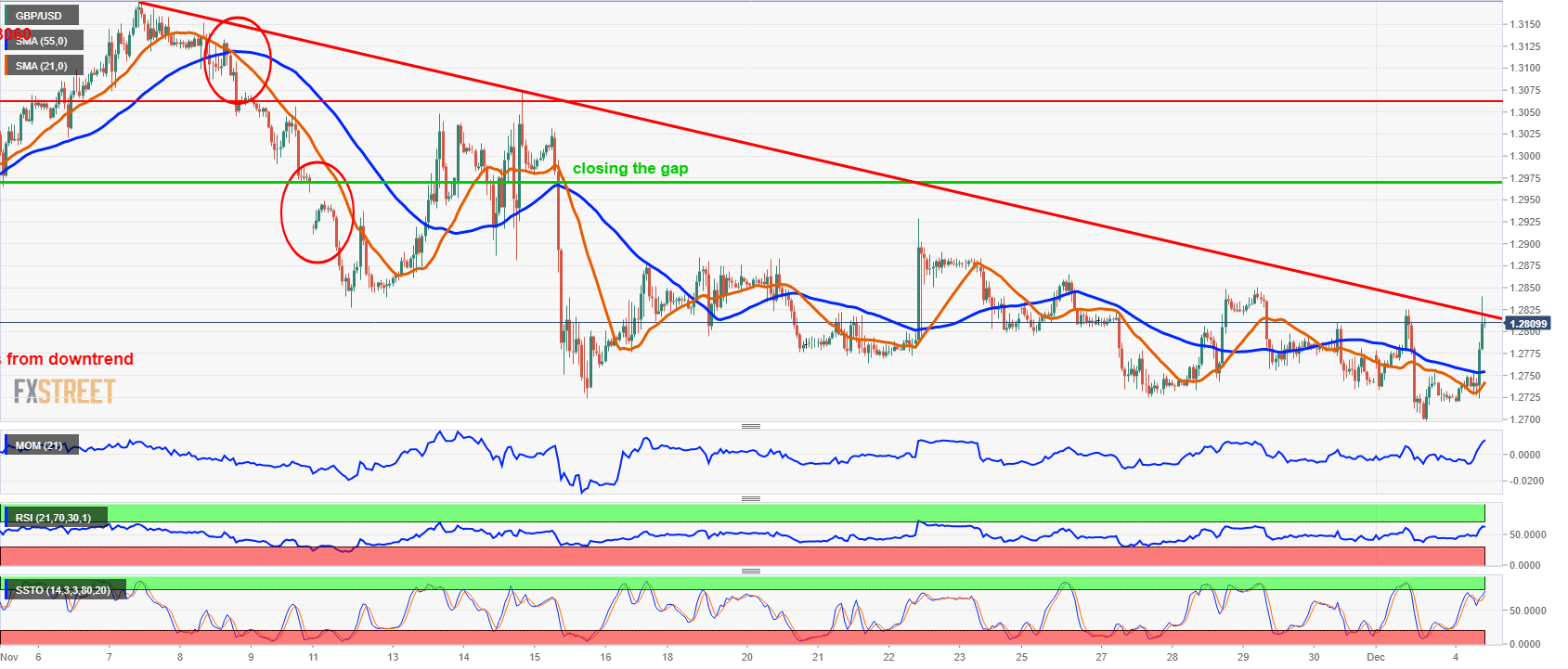 View Comments and Join the Discussion!