Netflix To 'Friends' Fans: We'll Be There For You (For Another Year)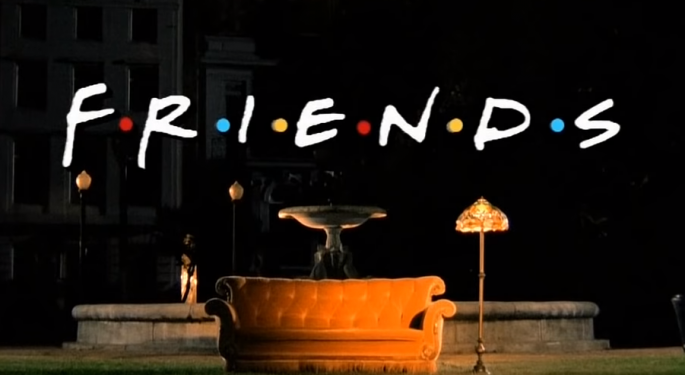 One of the most iconic TV shows of all time, "Friends," will continue to stream on Netflix, Inc. (NASDAQ: NFLX)'s platform for at least one more year.
What Happened
Many Netflix users on Monday were disappointed to find out that the show page for the hit 1990s comedy sitcom indicated it will no longer be available for streaming as of Jan. 1, 2019. The streaming video company was quick to react and Tweeted Monday afternoon the sitcom will remain on its platform throughout 2019.
Netflix also removed the availability date from the "Friends" page, although according to Business Insider it may have been a glitch in the first place.
Why It's Important
As the competitive landscape in the streaming video market continues to expand with the launch of AT&T and Walt Disney Co (NYSE: DIS)'s platform, consumers may find themselves either paying for multiple streaming platforms or parting ways with one in favor of another. If "Friends" eventually migrates to another platform, there is the risk of Netflix losing some subscribers as the sitcom is still considered by some experts to still be one of the most popular show on TV.
What's Next
Even if Netflix made a mistake in indicating "Friends" will no longer be streamed in 2019, it raises investor concerns about the fate of its shows given the highly competitive streaming video landscape. "Friends" is a Warner Bros. series and is now owned by AT&T Inc. (NYSE: T) , which is launching its own streaming service.
The Wall Street Journal reported AT&T's WarnerMedia reached an agreementto keep reruns on Netflix "but at the same time give AT&T the flexibility to put the show on its own direct-to-consumer streaming platform due to launch late next year, a person familiar with the matter said... Unlike the usual Netflix content deals, streaming exclusivity for 'Friends' isn't guaranteed for the length of the deal."
Related Links:
Everything We Know About The Disney+ Streaming Service
Posted-In: Friends WarnerMediaNews Media Best of Benzinga
View Comments and Join the Discussion!