What Are The Biggest International Stocks Traded Over-The-Counter?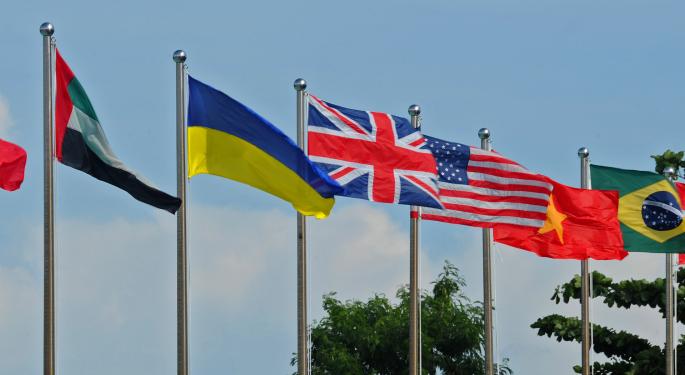 Investing in international companies is one of the hallmarks of building a diverse portfolio. Not only does it give investors access to key foreign markets, but it's one of the main ways investors diversify among equities.
International investing is, on the surface, a bit complicated. After all, most U.S. retail investors can't trade in foreign markets. Luckily—through American Depository Receipts (ADRs) and, in certain countries, Ordinary Shares—trading and investing in international companies is not all that different than doing so for U.S. companies.
American Depository Receipts (ADRs)
ADRs are essentially certificates that "Americanize" foreign securities. They enable foreign companies to have their shares traded in the U.S., thereby giving U.S. investors access to the company and the company access to U.S. investors.
While some ADRs are listed on exchanges, about 75 percent, or 1,500, of all ADRs trade over-the-counter in the U.S. Many of these are global, multinational conglomerates, that use ADRs as a tool to gain exposure to the U.S. markets and create a second pool of liquidity for market participants.
These are the largest ADRs by market cap traded on OTCQX, as of Nov. 30, 2018.
| | |
| --- | --- |
| COMPANY | MARKET CAP |
| Roche Holding Ltd (OTCQX: RHHBY) | $223,783,266,888 |
| Deutsche Telekom AG (OTCQX: DTEGY) | $83,420,754,602 |
| BASF SE (OTCQX: BASFY) | $66,901,988,071 |
| BNP Paribas (OTCQX: BNPQY) | $63,027,341,431 |
| AXA (OTCQX: AXAHY) | $59,052,381,316 |
| Publicis Groupe S.A. (OTCQX: PUBGY) | $54,880,298,873 |
| Heineken N.V. (OTCQX: HEINY) | $52,221,761,287 |
| Danone (OTCQX: DANOY) | $50,085,299,120 |
| Zurich Insurance Group Ltd (OTCQX: ZURVY) | $47,550,981,184 |
| Wal-Mart De Mexico S.A.B. de C.V. (OTCQX: WMMVY) | $43,059,818,888 |
Ordinary Shares
Another way U.S. investors can trade foreign companies is directly through the Ordinary Shares available in the U.S. Market. In certain countries, a company's Ordinary Share can be traded in the U.S. when a broker-dealer files with FINRA to create a U.S. ticker symbol. This allows investors to see real-time quotes in U.S. dollars during U.S. market hours.
Ordinary Shares are traded just like U.S. stocks—the difference is that while trades are executed in U.S. dollars by broker-dealers, they are settled and cleared in the primary market in the local currency.
There are over 3,800 Ordinary shares traded over-the-counter in the U.S. In many cases, companies that have ADR programs also have Ordinary Shares that trade on OTC Markets.
These are 10 largest by market cap on OTCQX as of Nov. 30, 2018.
| | |
| --- | --- |
| COMPANY | MARKET CAP |
| Air Canada (OTCQX: ACDVF) | $5,913,499,689 |
| Bombardier Inc. (OTCQX: BDRBF) | $3,139,265,521 |
| TFI International Inc. (OTCQX: TFIFF) | $2,878,029,839 |
| Ivanhoe Mines Ltd. (OTCQX: IVPAF) | $1,981,098,225 |
| Green Thumb Industries Inc. | $1,559,226,007 |
| Ferguson plc (OTCQX: FERGY) | $1,479,206,688 |
| Medmen Enterprises Inc. | $1,456,374,840 |
| Largo Resources Ltd. (OTCQX: LGORF) | $1,452,203,422 |
| Endeavour Mining Corporation (OTCQX: EDVMF) | $1,342,845,107 |
| Ocean Yield ASA (OTCQX: OYIEF) | $1,171,233,025 |
Just like with ADRs, companies with Ordinary Shares can be large, multinational conglomerates, such as Bombardier. These companies may also represent growth industries with significant investor interest in the U.S., like Organigram.
Investors should be aware that just because a company is traded in the U.S. via an ADR, or Ordinary Share, doesn't preclude it from being exposed to economic risks stemming from its home country. When trading international securities it's important to keep in mind taxes that are different than the U.S.
OTC Markets is a content partner of Benzinga
View Comments and Join the Discussion!
Posted-In: ADRs American Depositary Receipts international stocksNews Education Global Markets General Best of Benzinga