Today's Pickup: North Korea Skirts Sanctions, A Billion-Dollar App And More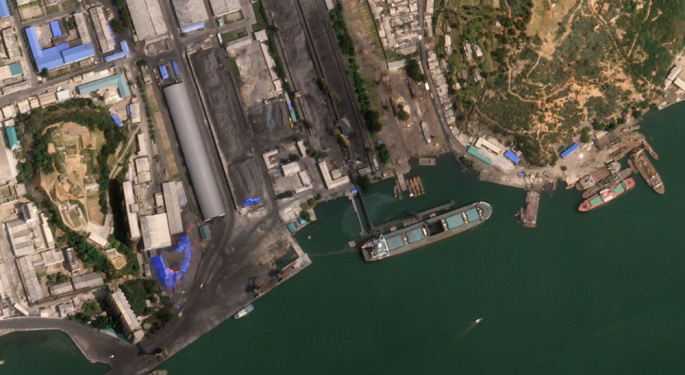 Freighters loaded with coal and oil are using an array of tactics to keep trade flowing and avoid U.S. pressure, according to the investigative reporting of the Wall Street Journal. Over the past two years, the U.S. and United Nations have hammered down the tightest sanctions ever applied to North Korea. But the aim of crippling Pyongyang's trade with the outside world is falling miserably short. Ships continue sailing to and from North Korean ports, carrying hundreds of millions of dollars-worth of fuel, coal, and other products. Crews use fake customs manifests and paint over hulls with false names. At sea, they turn off tracking devices to make it harder to follow the vessels or manipulate signals to convey fake identification. Some have even succeeded in making cargo ships appear to be other countries' boats on tracking monitors. According to the report, North Korea's tactics are complex and difficult to follow, with years of expertise at flying below the radar (literally and figuratively) of sanctions. There are no easy answers to stopping the layers of illicit activity.
Quotable
"The goal of sanctions is to drive up the costs so that it's no longer tenable to undertake illegal transfers. That hasn't happened." — Neil Watts, U.N. panel expert that monitors North Korean sanctions compliance until earlier this year
Did You Know?
Transport giant J B Hunt Transport Services Inc (NASDAQ: JBHT) on Tuesday announced joining with technology provider project44 on a venture allowing Hunt's customers using its "J.B. Hunt 360" digital marketplace to connect with their truckload and less-than-truckload carrier partners on one interface, a move Hunt said will end the process of needing to build data integrations with each partner to achieve real-time visibility.
In Other News
Developers love this S.F. spreadsheet app maker — and it just raised $100 million. Developers started flocking to Airtable, an app that combines a spreadsheet and database, giving it a cult following in Silicon Valley. Now, the company has raised $100 million at a $1.1 billion valuation. (SF Business Times)
Lithium boom raises question: What is its price? Efforts are speeding up to bring transparency to the battery metal's value. (WSJ)
Shipping companies brace for a rough patch over new fuel regulations. Key takeaways from industry experts from the maritime and LNG sectors on the challenges and opportunities that lie ahead. (Vanda Insights)
Forwarders and airlines eye tougher capacity negotiations for 2019. Both sides have suggested that contracted space last year fell, from about 60 percent to about 50 percent of total capacity. (The Loadstar)
Food distributors make changes as costs bite. High freight, fuel and labor costs are forcing food distributors to streamline their businesses. (Dow Jones via Morningstar)
Final Thoughts
Billions of dollars are being thrown at freight technology companies to build the next-generation of solutions, but as evidenced by the results of the FreightWaves' Research Institute Freight.Tech 25 Awards, not all those companies are startups.
Posted-In: News
View Comments and Join the Discussion!