Echo Global CEO: The Role Of Brokers, One-Size-Fits-All Tech, And Other 2019 Questions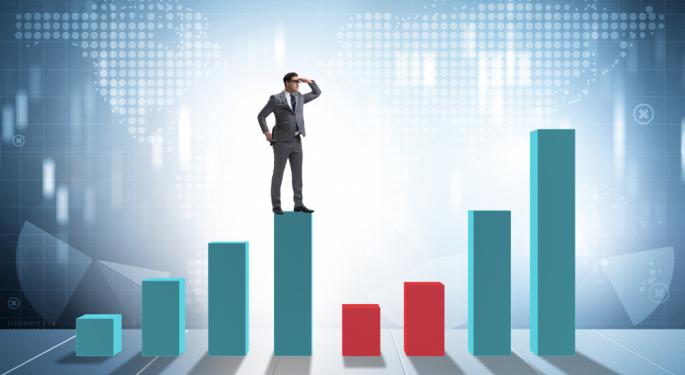 "In our industry it can be hard to tell what's coming up," says Doug Waggoner. "It can be hard to predict. We saw the peak in July and then this unpredictable softening in August and September, which we would've never predicted. When we look at the SONAR data it verifies what we're feeling now. Will things be soft or not? We've got trends and seasonality but who knows about interest rates for instance?"
Waggoner is chairman and CEO of Echo Global Logistics and has seen the company through a wild ride nearly from the very beginning, harkening back to what seems like ancient history now, 2005. The two founders hired Waggoner in Echo's first year. Shortly after his arrival the young company got an investment of $7 million, and they made that work from 2007 until 2009. By then, they'd grown revenues from $6 million their first year to $35 million their second to $90 their third, and then all the way to $260 million in that final year leading up to going IPO. The company has acquired about 20 other companies since then. Up until 2015 they always managed to do so with their own cash—no additional debt or capital. In 2015 when they acquired Command Transportation, they did raise additional capital through an equity offering and some convertible debt. Leading into 2019, Waggoner expects Echo to continue operating from a strong position, converting their new hires into productive contributors through the company's business model.
Echo is segmented primarily into Transactional Brokerage and Managed Transportation. The Managed Transportation segment consists of longer term deals with accounts that outsource. The transactional business deals more with the daily volatility of freight as customers call Echo to help find short-term solutions to transportation problems outside the norm. Most of the issues require quick coverage of loads on the spot market in both the truckload and less than truckload (LTL) markets.
So, in spite of the prediction challenges everyone faces, what does Waggoner foresee coming down the transportation pipe in 2019?
"There's all kinds of interesting technology coming out, including some of our own. Echo is right there in the hunt with visibility solutions and self-service options for carriers and manufacturers and shippers," he says. "One thing I noticed, there's a lot of interesting tech but it's really only interesting if you can get people to play, and one thing we have is 50,000 drivers. We feel comfortable with where we are with the technology arms race as it were. To boot we've got important relationships and market knowledge and data. We've got the ingredients to be very successful no matter what the market throws at us."
Wrap up the week with JP and Chad. Click here to listen on demand.
Waggoner also believes the ELD adjustment has largely blown by and been absorbed into the industry.
"It's put more service on HOS in the spotlight, and made shippers a little easier to do business with, which is more of a factor in a tight market than a soft. When shippers were delaying drivers we saw owner-operators choosing not to do business with. But everyone's sort of absorbed it with length of haul and rates and the shippers have made it easier to do business with."
What happens to brokers? Will there still be a place for the so-called middlemen when so many loads can be brokered from both ends of the supply chain? "There's so much fragmentation on the capacity side of the equation," he says. "We have 50,000 companies in our database. It's impossible to get all those companies to adopt a single technology and if you can't get to that tipping point a broker's always going to be able to find a better price. If we can make the contacts electronically—there is value with having scale and power. It's hard to get distribution and change the way a lot of guys do things. There's tens of thousands of truckers that actually value the relationship, and if someone's getting them down the road and making things connect, then he's going to do that. If a guy wants to use his TMS, he can do that. If someone wants to go online and automate, he can do that. The industry is extremely diverse, and we have to employ all those levels. A slick tech solution will solve one small niche of the market, and that may work but it's going to be small."
"We have massive tech," says Waggoner. "We've written 30 million lines of code. We're always innovating. We have a data science department. We're taking predictive models and building them in for our employees so they can build them in and be better. If anything, I think brokers may become more important. We track the exceptions too. We track 28 exceptions that can happen to a truckload, and those can't be managed by an algorithm, but only by a human. The Holy Grail is to make the process automated as much as possible so the human can—through workflow and analytics—maximize his or her process. There's the price discovery aspect, there's the elasticity of a customer to price. Some might be tougher on service, and we can use pattern recognition."
That's where predictive analytics can play their part, but sometimes the buzzwords get overused.
"Everyone wants to talk about AI and blockchain and there are uses for both of these, but it's not a cure-all end-all. Using analytics to improve things and margins and where the next year will find the value. It's about applying the mathematics to the situation. Everyone's drinking the Kool Aid, but not everyone has customers and bottom lines and shareholders," he says.
"I saw some slick tech at the MW18 conference, and some I thought I might use," he adds. "There's time where you use third-party tech, but sometimes you want to build it yourself to optimize your own workflow. Off-the-shelf solutions will work for a small company getting started, but when you get to be a multi-billion company you're business is complex and your processes are complex. So you have to adopt your tech to someone else's workflow. Will they [small tech companies] be able to reap the tech and get to the critical mass to use their technology? I don't know. There's a lot of neat things going on and we're doing a lot of neat things. We believe we're in an envious position. We have a large marketplace, high ratings for service, and the ability to automate."
"Massively configurable technology is what you want. Our proprietary is special to us. The guys who have built to scale and have processes and automated it have got it going on. You have to be fairly clever with how you develop it. On the back end configurable and the front end what the customer wants to do."
Where does Waggoner see blockchain enterprise applications emerging?
"When I went to MW it excites me to see what everyone is doing and the industry taking a big step forward. While people get swept away with the hype, success is success, and we've been able to build tech and relationships to build one of the fastest growing companies in the industry. We hire 40 people every month. I tell the employees stories about what I learned early in my career. It doesn't matter what department you work in, relationships matter. Whether amongst each other or your customers. That's what life rotates around. That being said, we can use tech to make people very very efficient and I think that's the goal."
The preceding article is from one of our external contributors. It does not represent the opinion of Benzinga and has not been edited.
Posted-In: Freight FreightwavesNews Markets General
View Comments and Join the Discussion!