Insider Response To Tech's Volatile Autumn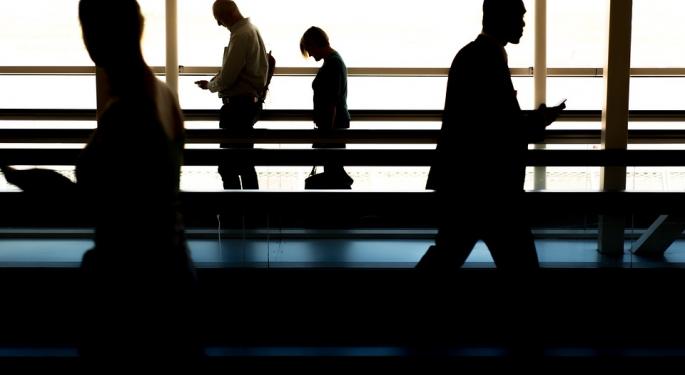 Within the continuing downward trend afflicting the market at large, the core of the volatility remains squarely among the performance tech names. October-November loses of anywhere from 12 to 20 percent in Apple Inc. (NASDAQ: AAPL), Amazon.com, Inc. (NASDAQ: AMZN) and Alphabet Inc. (NASDAQ: GOOGL) have dragged the Nasdaq composite down into correction territory.
When the market is volatile, it's always a good idea to keep an eye on insider trading activity for a perspective from the c-suite. While these transactions may have taken several months prior, it can give a sense of whether there's a lot of buying or selling occurring in a specific stock's executives and largest investors.
Using Finscreener's Insider tools, we can get a sense of just how much pressure has been on these tech names over the past 3 months. First, just to get a general sense of the insider buying and selling activity, let's take a look at all of the mega-cap stocks in the S&P 500, ordering them by number of sales transactions in the last three months.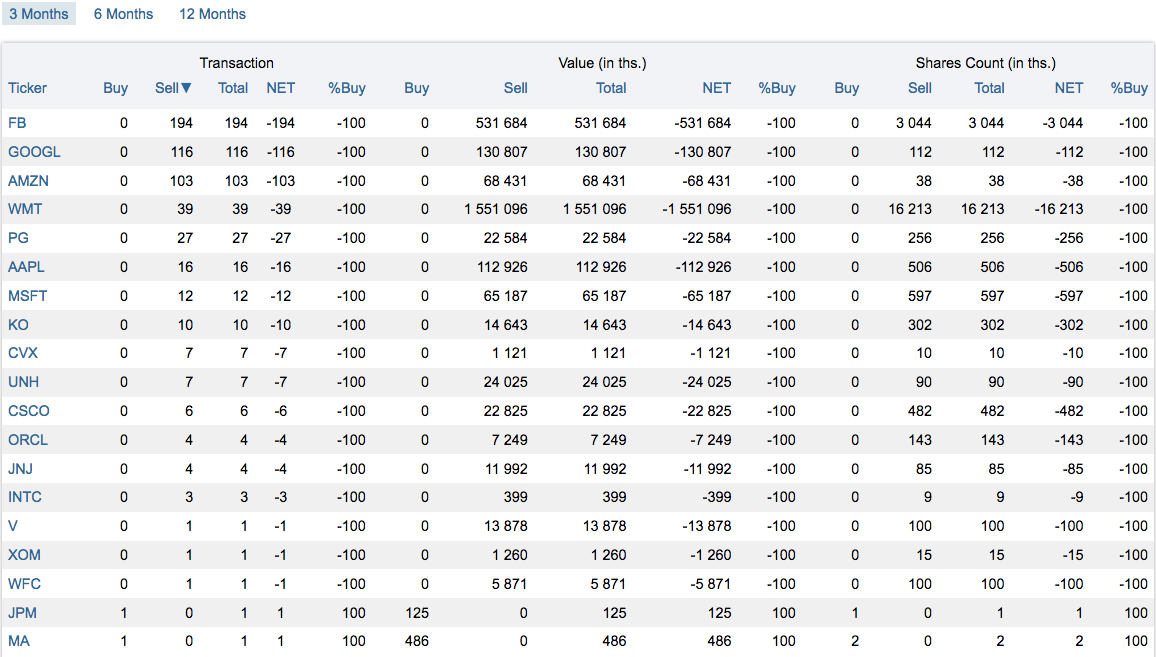 As you might expect, selling has dominated in the mega-cap space, with only two names, JP Morgan Chase & Co. (NYSE: JPM) and Mastercard Inc. (NYSE: MA), seeing any insider buying. Also in line with expectations is the preponderance of tech names on the list, with the aforementioned Apple, Amazon and Alphabet appearing high on the list alongside Microsoft Corporation (NASDAQ: MSFT), Intel Corporation (NASDAQ: INTC) and the long-suffering Facebook, Inc. (NASDAQ: FB).
We can take a more comprehensive look at the selling pressure in a few of these names by searching their tickers in the insider trades tool. We'll start with the leader in insider selling, Facebook.
Here's a drill down of all the insider sales of Facebook over the last six weeks specifically.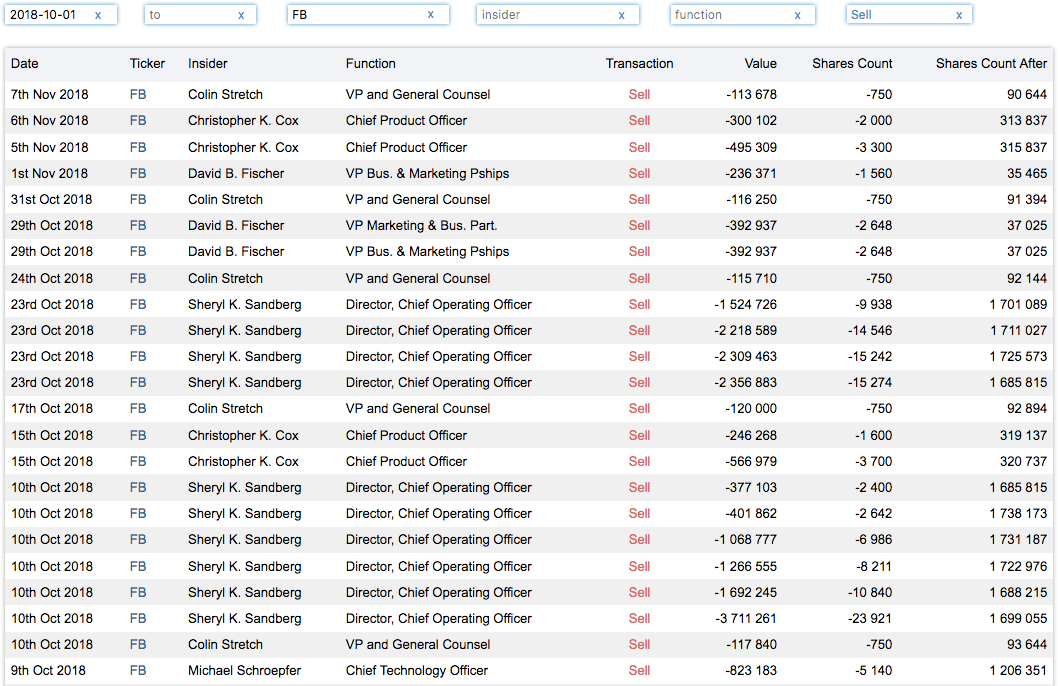 As you can see, we have more than can fit in a page. Regardless, the amount of high-level personnel, like COO Sheryl Sandberg, departing VP Colin Stretch and chief product officer Christopher Cox, unloading shares certainly fits the narrative of Facebook's recent performance.
Next, let's take a look at the previously trillion-dollar companies Apple and Amazon. Rather than go off of the chart, we can view a broader range of insider transaction analytics by looking at each company's quote page and selecting the "insider" tab, which will look like this.
While both companies have seen outsized selling pressure over the last three- and twelve-month periods, Apple has seen some confidence in net purchases from company COO Jeffrey Williams and Principal Accounting Officer Chris Kondo.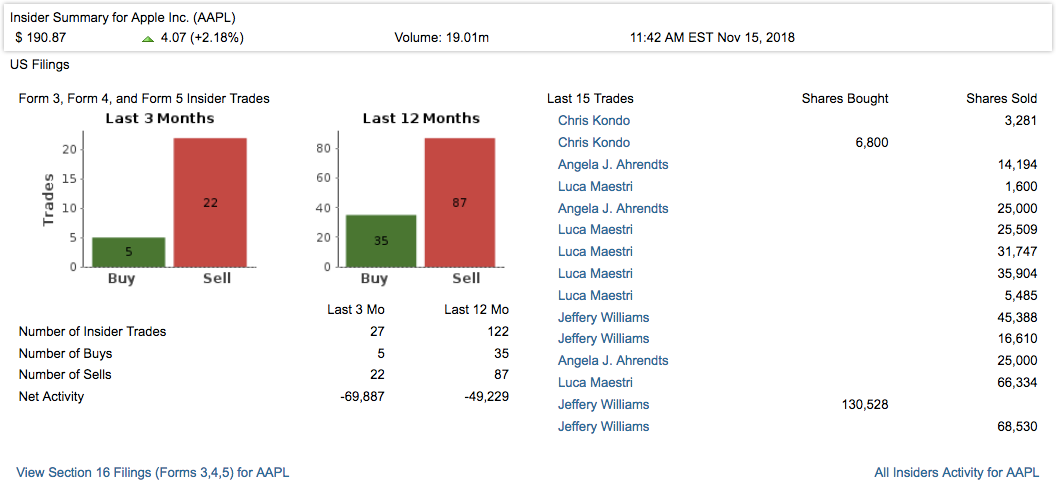 On the other hand, Amazon CEO Jeff Bezos reduced his exposure several time over at the end of October, with 36 individual sale transactions that day. We can filter all of his transactions by selecting his name in the list of the last 15 insider transactions on the right.
Insider selling by itself isn't a signal. It's important to take the data in context with long-term buying and selling trends, and to remember that the vast majority of insider transactions will be a relative drop in the bucket. That said, the scarcity of buying confidence within these companies certainly doesn't inspire confidence in a potential tech-driven December rally.
Finscreener is a content partner of Benzinga.
View Comments and Join the Discussion!
Posted-In: FinscreenerNews Insider Trades Markets Tech General Best of Benzinga