Video + ELD = Convergence, And It Will Continue To Grow: SmartDrive CEO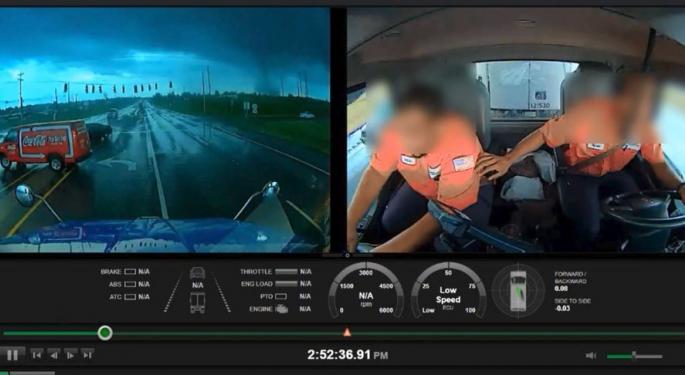 The recently-announced agreement between video leader SmartDrive and ELD provider Geotab is another step in what Steve Mitgang describes as "convergence."
"The older systems have little new innovation," Mitgang, the CEO of SmartDrive, said at one of two interviews held with FreightWaves over the state of the market, including one held at the Management Conference & Exhibition of the American Trucking Associations in Austin, Texas. The result, he said, is that some trucking companies are concerned with having "14 antennas on trucks, and that's 14 points of failure and 14 different vendors."
The result is the deal announced in late October where Geotab ELD's platform will be built into the SmartDrive platform. By definition, as Mitgang said, the SmartDrive platform, recording huge amounts of video, needs to be the one in such an arrangement that provides the hardware.
"The days of the telephone book-sized device bolted to the dash with the 14 antennas has got to stop," Mitgang said. Given the desire to avoid that situation, Mitgang said he can see the trends where various features are "coming together."
Mitgang said he expects the Geotab announcement will be the "first of many" such announcements regarding convergence. He said SmartDrive already has a similar-type arrangement with Wabco, which is also a major investor in SmartDrive. But that does not involve ELD systems; rather, it focuses on Wabco's braking and collision-avoidance systems. As Mitgang describes it, the Wabco collision-avoidance system is aligned with SmartDrive's video capabilities to produce more data on collisions and close calls.
The Geotab arrangement, Mitgang said, is "actually a pretty big deal." One fairly mundane aspect of it, as he said, is the ability to take a truck out of service just once for installation of services. If a truck was going to install SmartDrive's video system, and then install the Geotab ELD system, that's two days out of service. By building the Geotab ELD software into the SmartDrive software, that's one day less out of service. In a capacity-constrained market, that matters.
The cost savings from convergence are not just hardware. For example, Mitgang said something that seems simple, like aligning timestamp data from the ELD system with the video recording, is a step forward in efficiency. "By putting these things together, you get more powerful insight with lower cost," he said.
Mitgang said what he hears from potential partners is that "if there were companies out there that we could work together with to eliminate costs but increase value, we're ready to start."
There's little chance that it would be the ELD hardware system that becomes the basis for a converged system, at least for now. Video is "hard to do" with "very large files," Mitgang said. By contrast, an ELD system has "fairly light" amount of processing and data, "so I don't foresee an ELD company really putting the horsepower into their system that we have," he said.
Mitgang said just sticking cameras on a truck is not going to be enough going forward and might not even be a business opportunity. He raised the possibility that OEMs might eventually build cameras into their equipment as a basic feature.
What video systems produce, Mitgang said, is being able to show "at the end of the day, how the vehicle operated, which is everything from on-time delivery and pickup performance to fuel consumption to safety risk to exposure to workmen's comp claims." That's one part, he said, and the second is "kind of a universally big capability to provide an objective context, so that you can see things that are new and understand them with a greater level of certainty and understanding, and you can take actions with true objective measurements to see if things repeated themselves or have improved since before. "
SmartDrive started as focused on video safety. But its shift now is to provide objective help "so that fleets and drivers can become better over time."
Improving driver performance and by extension driver incentives—and according to Mitgang, better driver retention—was the focus of a recent joint SmartDrive/FreightWaves webinar (and a recently-released "e-book"). It's the type of service that will become more important to a company like SmartDrive as the idea of just sticking a camera on a truck becomes more "ubiquitous," as Mitgang described it.
The first thought that comes to mind when thinking about video is what is happening on the open road. But as Mitgang said, as the market shifts, video capabilities need to do that as well. Video capabilities can provide insight not just into what is happening in the last mile delivery, "but also the last 10 feet. It could be inside the home or the store, which brings a whole new kind of perspective to how we think about the driver as operator." Mitgang several times described SmartDrive and its capabilities as being "driver-centric."
Asked about further opportunities in convergence, Mitgang checked off several. For example, what is video capturing and analyzing when a truck is parked for the evening, in particular, what is happening to the trailer? "We have theft that occurs, we also have fuel theft and siphoning," he said. For more sophisticated driving requirements, like those found in the oil patch, there could be a mixing of chemicals where video records could reveal information that can be used to aid efficiency.
Any discussion of video needs to acknowledge the fact that not all trucks have it. Mitgang said company attorneys are increasingly a strong ally of video producers. "The market is definitely moving to 'we all need it,'" Mitgang said. "The largest law firms representing trucking companies are all telling clients you have to have video. It is a benefit, not a negative. "
And once that discussion starts, it circles back to the issue of convergence: "What are the future technology platforms and how do I think about those as I make my technology platform decisions," Mitgang said. That sort of discussion is going on at trucking companies of all sizes, he added.
The preceding article is from one of our external contributors. It does not represent the opinion of Benzinga and has not been edited.
Posted-In: Freight FreightwavesNews Rumors Tech General
View Comments and Join the Discussion!