BNSF Boosts Revenues, Lowers OR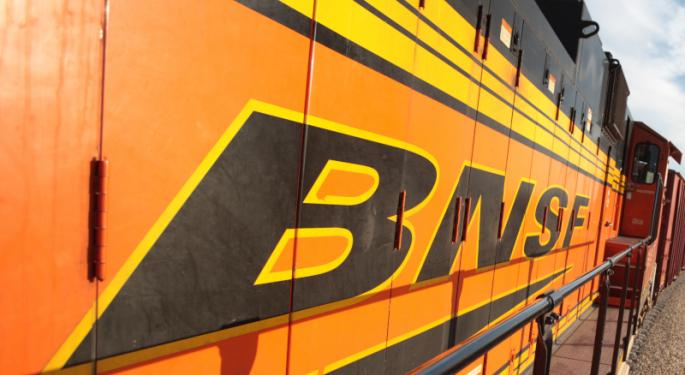 A decrease in coal volumes did not slow a revenue rise at BNSF Railway Company, which posted a 16 percent increase in operating revenues in the third quarter compared to Q3 2017. Total revenues in Q3 totaled $6.15 billion. For the nine months ending Sept. 30, 2018, revenue was up 12 percent to $17.6 billion.
The revenue increase led to a lower operating ratio in Q3 of 64.5 percent compared to Q2's 66.8 percent. It was up from 62.4 percent in Q3 2017. For the nine months ending Sept. 30, 2018, OR is 66.4 percent, up slightly from 65.5 percent in the same time period in 2017.
Net income posted a 34 percent increase to $1.3 billion, up from $1 billion even as operating expenses climbed 20 percent over Q3 2017 to $4 billion. Operating income was up 9 percent to $2.1 billion.
BNSF said that average revenue per car/unit increased 11 percent to $2,137 per car unit. For the year, average revenue per car/unit is up 6 percent, attributed to higher fuel surcharges and increased rates per car/unit, the railroad said.
Fuel cost overall increased to $859 million in the quarter, up from $595 million a year ago. Locomotive fuel price per gallon increased 36 percent in the third quarter to $2.31 per gallon.
Average revenue per car/unit for coal, which made up 18 percent of total carloads in Q3, increased 11 percent even as coal volume fell 5 pecent. Coal revenue increased 6 percent to $1.07 billion. Agricultural products volume increased 16 percent and industrial product volumes were up 13 percent year-over-year. Revenues were up 17 percent and 24 percent, respectively.
BNSF benefitted from tight truckload capacity in the quarter as consumer product revenues jumped 12 percent year-over-year to $2 billion on a 1 percent volume increase.
"The increases were driven by economic growth and tight truck capacity leading to conversion from highway to rail, as well as growth in imports and containerized agricultural product exports, partially offset by a contract loss," the company noted.
BNSF reported a total of 2.14 million carloads in Q3.
The company also said that purchased transportation services increased 18 percent in Q3 compared to a year-ago due to "higher purchased transportation costs of our logistics services business, which are offset in other revenues, as well as increased intermodal ramping, drayage, and other volume-related costs," it said.
Compensation and benefits also increased, likely due to the competition for workers, rising 17 percent year-over-year to $1.4 billion.
BNSF is privately held by Warren Buffett's Berkshire Hathaway Inc. (Nyse: BRK)
The preceding article is from one of our external contributors. It does not represent the opinion of Benzinga and has not been edited.
Posted-In: Freight FreightwavesNews Markets General
View Comments and Join the Discussion!