Automakers Surge Past Street's October Benchmarks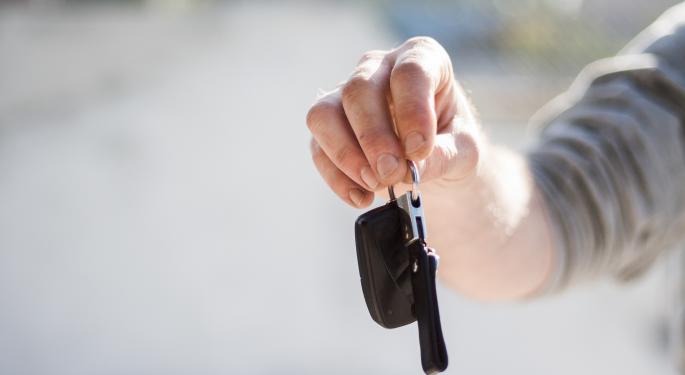 Nearly all automakers outperformed estimates in October despite economic headwinds.
"Many signs in the economy would suggest that vehicle demand should be moderating — higher interest rates, import tariffs, weak housing market, stock market volatility, elevated gas prices — yet vehicle buying remains strong," said Cox Automotive senior economist Charlie Chesbrough.
"Monthly payments are rising as the Federal Reserve's monetary tightening policy takes hold, but sales have not declined. It may be that higher-income Americans, the key new vehicle buying demographic, are doing particularly well in today's economy."
Under these circumstances, Ford Motor Company (NYSE: F) led the pack with 192,616 unit sales, followed closely by Toyota Motor Corp (NYSE: TM) (191,102), Fiat Chrysler Automobiles NV (NYSE: FCAU) (177,391) and Honda Motor Co Ltd (NYSE: HMC) (122,182).
Cox analysts expect demand to decline in 2019, particularly in the car market.
Ford
Ford reported a 3.9-percent decline in October sales versus Cox's 9.9-percent estimate.
Retail and fleet fell 4.9 percent and 1.2 percent, respectively, while trucks declined 4.9 percent and cars dropped 17.1 percent. SUVs and vans kept the total from further deteriorating; the former popped 6.7 percent and the latter 4.9 percent.
"Ford is entering the perfect storm for automotive revenue — and it's a good storm, as customers want what Ford wants customers to want, namely large, pricey trucks and SUVs," said Autotrader executive editor Brian Moody.
Dearborn's average transaction price surged to a record $36,800 for the month.
"Our strategy to prioritize our trucks, SUVs and vans is paying off, with October running at record level transaction pricing," Mark LaNeve, Ford's vice president of U.S. marketing, sales and service, said in a press release.
"Our sales mix continues to heavily favor these products, which last month represented 81 percent of sales. F-Series turned in its eighth straight month of sales above 70,000 trucks, while Ford SUVs are operating above the record pace they set last year and van sales continue to post strong gains."
Fiat Chrysler
FCA posted a 16-percent sales increase against Cox's 14.8-percent forecast.
Nearly all brands reported rises: Dodge 38 percent, Chrysler 21 percent, Ram 14 percent, Jeep 9 percent and the nascent Alfa Romeo 44 percent. Only Fiat sales fell (35 percent).
"FiatChrysler was likely the winner in October, with every brand but Fiat delivering significantly higher sales," said Autotrader executive analyst Michelle Krebs. "Hefty incentives on specific models that resonated with consumers helped FCA to a 16-percent increase."
Toyota
Toyota North America far surpassed Cox's estimate for a 7.7-percent decline. The automaker ultimately saw a 1.4-percent increase on a volume basis, with the Toyota division up 1.7 percent and Lexus down 0.8 percent. The former saw its best-ever October for light trucks.
Honda
The only firm unable to meet Cox's expectations (1.8-percent decline) was American Honda, whose total sales fell 4.1 percent.
A 6.5-percent pop in trucks helped offset a 14.5-percent drop in cars, while Acura's 7.3-percent rise compensated for a 5.3-percent drop in Honda. The firm's electric models set their second consecutive monthly record.
Related Links:
GM Surges On Another Positive Q3 Auto Report
What China's Proposed 50% Cut To Car Purchase Tax Could Mean For Automakers
View Comments and Join the Discussion!
Posted-In: auto sales automotiveNews Retail Sales Media Best of Benzinga