Tesla Criminal Probe Reportedly Intensifies As FBI Reviews Model 3 Production Numbers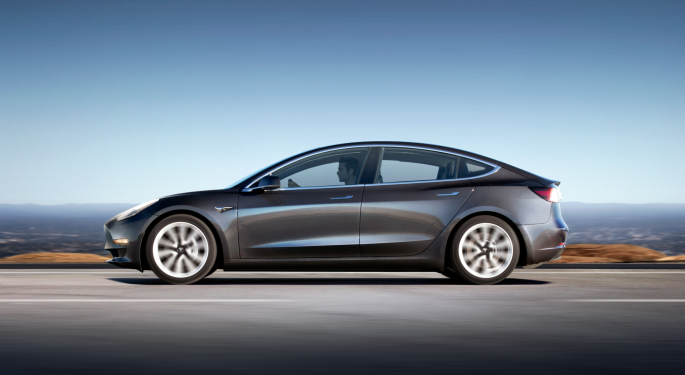 Tesla Inc. (NASDAQ: TSLA) had a great week, with a two-day run in company stock, strong third-quarter earnings and a 25-percent uptick in shares since Monday.
Clouds appeared overhead Friday with reports of a widening criminal investigation by the Federal Bureau of Investigation.
What Happened
Although Tesla settled a civil fraud lawsuit filed by the Securities and Exchange Commission, a criminal investigation by the FBI is ongoing, according to the Wall Street Journal.
The automotive company is being probed on whether it misstated information on the production of the Model 3, the report said.
Based on company data, Tesla produced 2,700 Model 3s in all of 2017 and then reported reaching the goal of 5,000 per week during June 2018. Tesla then reported building over 5,000 models in the final week of this year's third quarter, according to the Wall Street Journal.
"Authorities are homing in on whether the company made projections about its Model 3 production knowing it would be impossible to meet the goals, people close to the situation say," the report said.
Why It's Important
The news comes one day after Oracle Corporation (NYSE: ORCL) founder Larry Ellison provided optimistic commentary on Tesla, CEO Elon Musk and his capabilities within the space.
"Tesla had a good day," Ellison said after shares surged Thursday, according to Bloomberg. "Tesla has a lot of upside."
What's Next
The investigation, led by the U.S. attorney's office in San Francisco, will compare the company's statements spanning over the past two years with its production capability, the Wall Street Journal reported.
Tesla gave a statement on the FBI investigation to Fox's Charlie Gasparino, who posted it on Facebook.
"When we started the Model 3 production ramp, we were transparent about how difficult it would be, openly explaining that we would only be able to go as fast as our least lucky or least successful supplier, and that we were entering 'production hell,'" the statement said.
"Ultimately, given difficulties that we did not foresee in this first-of-its-kind production ramp, it took us six months longer than we expected to meet our 5,000 unit-per-week guidance."
The automaker told Reuters that it has not received a subpoena from the Department of Justice related to Model 3 production, but rather has cooperated with a voluntary request for documents.
Tesla shares were trading higher by 2.8 percent at $323.69 late in Friday's session.
Related Links:
Tesla's Q3 Earnings: The Bull-Bear Debate
Morgan Stanley's Recipe For Strong Q4 Guidance From Tesla
Photo courtesy of Tesla.
Posted-In: Bloomberg Elon Musk FBI Model 3 The Wall Street JournalNews Legal Media Best of Benzinga
View Comments and Join the Discussion!