New Month, Same Old Story: Trade Fears Persist, Weighing On Stocks Worldwide
It may be a new month, but the same trade concerns that have haunted the market on and off all year remain front and center. European and Asian stock fell overnight amid escalating tensions over tariffs, and the pressure appeared to leak into the U.S. as well.
While there's no sense downplaying the importance of these trade issues, here's something to consider keeping in mind: What we're seeing now is pretty much what many analysts thought we'd see once earnings ended. Every day, people are looking for a story, and right now trade happens to be the only game in town. Headlines can make you think this is either the greatest or the worst day ever, but that isn't necessarily the case.
At times like these, investors might want to keep focused on their own holdings and how they feel their own stocks are doing. Consider the fundamentals affecting the stocks you own, and also try to consider what your game plan might be if some of the winners you hold turn around. Some major stocks have doubled in the last year alone, so the question investors might want to ask is whether they're prepared and have a plan if things move the other way.
New Month, Same Worries
September got off to kind of a rough start Tuesday. Investors seem nervous about how negotiations might go between the U.S. and China, as well as the U.S. and Canada, and recent talks with both countries haven't appeared to make much progress. This is an issue that's likely to remain front and center in coming weeks, perhaps making for a volatile period. Remember that trade issues can take a long time to resolve. There's no instant answer.
In fact, volatility swung higher to start the new month, with the VIX jumping 3 percent to slightly above 13. To put things in perspective, that's still below the long-term average for VIX, but it does seem odd to have the VIX well above year-ago levels near 10 even as the major indices trade near all-time highs. It might mean there's more of a cautious tone than we saw a year ago, and that could have implications for where stocks go from here.
Greenback Strength Eyed
Often when caution creeps in, some of the money tends to move toward what some investors see as more defensive positions. That might be one reason the dollar strengthened vs. other currencies Tuesday. The U.S. Dollar Index ($DXY) is above 95, not far from one-year highs (See Fig. 1 below). Hanging over the market are fears that the U.S. might impose new tariffs on $200 billion of Chinese goods, something the media reported late last week. A stronger dollar can sometimes mean trouble for U.S. multinationals selling goods abroad, something that might start showing up in Q3 earnings season. Meanwhile, gold, which often moves up when global tensions rise, stayed muted in part because of the strong dollar.
U.S. talks with Canada are scheduled to start again today. Meanwhile, data out earlier Wednesday showing China's services sector hitting its lowest activity level in 10 months has some investors worried that trade tension might already be taking a toll.
Other concerns, aside from trade, include those shaky emerging market issues that haven't gone away in countries like Turkey and Argentina. One of the top concerns yesterday—a tropical storm barreling toward the Gulf coast and sending WTI crude above $71 a barrel—made landfall with little disruption to the oil infrastructure, sending crude back below $69. However, we're still early in the hurricane season, so Gordon may serve as a reminder to keep an eye on the weather in the coming weeks. Even before the storm, U.S. retail gasoline prices of $2.83 a gallon were the highest in four years, so it's possible consumers might start feeling the bite into their pocketbooks.
Emerging market stocks fell more than 1.5 percent early Wednesday, and one school of thought suggests weakness in emerging markets can sometimes be a harbinger of struggles for stocks elsewhere, though that might not always be the case.
All that said, the defensive team wasn't the only one on the field Tuesday. Bonds dropped a bit and 10-year yields crept above 2.9 percent at times, near the high end of the recent range. However, some of the bond weakness might have been balanced by a rise in utility stocks, traditionally a competitor with bonds for people seeking yields. Financials also rose, but were among the only sectors posting gains.
Thanks For the Upgrade
Drilling down further, some of the tech stocks advanced Tuesday. Notably, the chip space saw more of the same, with Advanced Micro Devices, Inc. (NASDAQ: AMD) rising another 11 percent on top of what already was a 144 percent year-to-date move through Friday's session. A key analyst upgraded AMD and implied that the company is finally starting to out-duel long-time competitor Intel Corporation (NASDAQ: INTC), apparently giving AMD shares yet another boost. One thing that might also be helping AMD is the hope among some investors that it can improve gross margin by cutting down on the cost of gaining new customers.
Speaking of upgrades, the consumer space got its share early this week with Nordstrom, Inc. (NYSE: JWN) and Kohl's Corporation (NYSE: KSS) among the beneficiaries. Those two stocks both posted solid gains Tuesday. Another consumer stock in the headlines was Amazon.com, Inc. (NASDAQ: AMZN), whose stock briefly became the second one behind Apple (AAPL) to reach $1 trillion in value. However, AMZN couldn't stay above that level by the close, finishing just below.
As noted last week, the FAANG stocks seem to be diverging, and that continued Tuesday. While AMZN and AAPL moved higher, Facebook, Inc. (NASDAQ: FB) shares fell more than 2 percent after an analyst downgraded the stock and questioned its future growth. FB is in the spotlight today as both FB and Twitter Inc. (NYSE: TWTR) are scheduled to appear before the Senate Intelligence Committee to discuss concerns that foreign actors might be using the social media platforms to attempt to influence the mid-term elections, media outlets reported.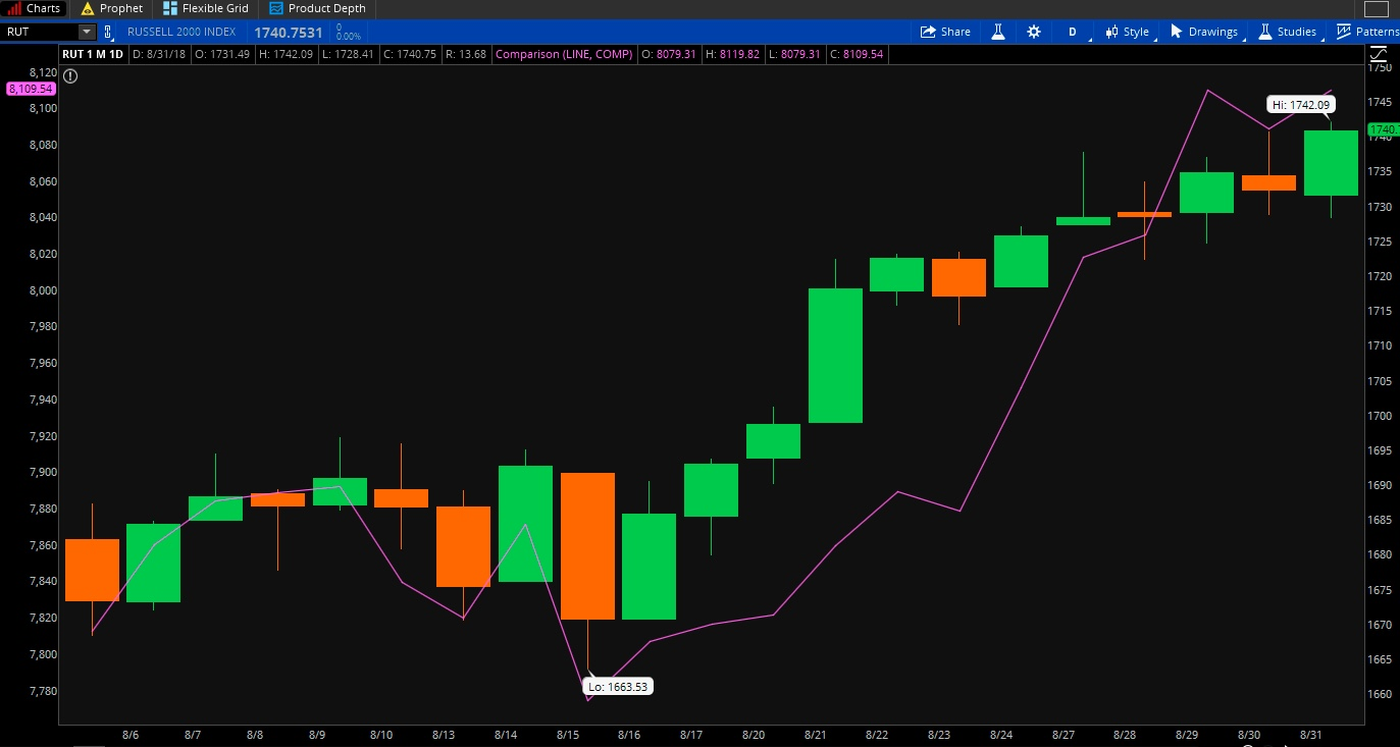 FIGURE 1: Hanging In There: The dollar index isn't quite at its recent highs, but it's holding not far below them and has risen over the last few days as trade concerns seem to be leading some investors to embrace so-called "defensive" holdings like the U.S. currency. However, gold (purple line) hasn't really shared the recent wealth, staying well under its highs of earlier this year. Data Source: CME Group, ICE. Chart source: The thinkorswim® platform from TD Ameritrade. For illustrative purposes only. Past performance does not guarantee future results.
Keeping the Lights On
Geopolitics in the absence of earnings or key economic data can often put some choppiness into the markets, and worries about trade and developing economies are just two possible reasons for this week's uptick in VIX. Yet another fear factor to consider keeping in mind is one that hasn't gotten as much discussion: The possibility of a government shutdown. Congress needs presidential signatures on spending bills by the end of this month to avoid having the lights go out on Capitol Hill, and sometimes fear of a looming shutdown has been a negative factor for the stock market. Investors tend to appreciate stability, and sometimes embrace risk-off assets when instability looms. That could mean more bond market strength if a shutdown does start to appear more likely. Members of both political parties are scheduled to meet with President Trump to discuss issues, Politico reports. Stay tuned.
Risk Embracers
Though "risk-off" sentiment could conceivably come back for many reasons—including geopolitical ones—August sub-sector performance numbers seem to indicate that investors had begun to re-embrace risk after shying away from it for much of the first half of 2018. Leading sectors in August included info tech rising 6.8 percent and consumer discretionary climbing 4.9 percent. Both of these sectors tend to be ones investors often plow money into when they're feeling bullish about economic prospects. On the other side of the coin, so-called "defensive" sectors like utilities and staples rose less than 1 percent in August.
It's not a completely black and white picture, though. Telecom and healthcare, neither of which are normally considered aggressive sectors, both rose faster than the broader S&P 500 (SPX) in August, and financials only gained 1.3 percent, continuing that sector's recent soft streak. Industrials rose less than 1 percent. So some of the "cyclicals" didn't join the rally, and that's something that might bear watching as September begins. Still, approximately two of every three S&P sub-sectors gained in August, research firm CFRA said, and that included key demand areas like computer hardware and wireless telecom.
Mixed Bag on Data
The first two economic readings of the week—the August ISM manufacturing index and construction spending—presented a bit of a mixed picture Tuesday. August ISM increased to 61.3 from 58.1 in July and came in well above Wall Street's consensus of 57.6. Both new orders and employment looked particularly strong, and 16 of the 18 industries tracked by ISM reported August expansion. So the long and short of it is that manufacturing continues to look healthy, which could play into Q3 gross domestic product growth.
Separately, construction spending increased just 0.1 percent in July, below Wall Street analysts' consensus for an increase of 0.5 percent. While the overall number looked low, it was a bit of a positive surprise to see residential construction spending climb 0.6 percent in the month. That might help belie some of the recent weaker housing reports we've seen, or maybe imply improved housing numbers in the weeks ahead. We'll wait and see.
Information from TDA is not intended to be investment advice or construed as a recommendation or endorsement of any particular investment or investment strategy, and is for illustrative purposes only. Be sure to understand all risks involved with each strategy, including commission costs, before attempting to place any trade.
Posted-In: TD AmeritradeNews Econ #s Markets
View Comments and Join the Discussion!