Still Striking Out: The Lasting Impacts Of The 10-Day Truck Strike In Brazil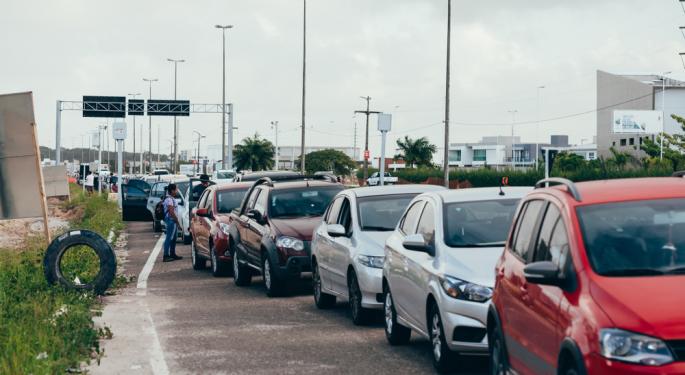 Exactly three months after truck drivers in Brazil shut down highways for across the country in protest, its impact continues to be felt. Although the strike was only ten days long, Reuters called the strike "slow to unwind even after the government agreed to subsidize diesel prices in a bid to end protests."
The strike originally protested the price of diesel fuel, but has morphed into overarching complaint about freight prices for loads going in and out of Brazil. The country is already suffering from bumper harvests this season, as well as currency that continues to weaken. Exporters have no trouble booking shipping, but they've struggled to find trucks, Financial Times reports.
According to Financial Times, "competition for limited shipping space combined with the uncertainty over truck freight prices is leading exporters to over-book shipping by as much as 200 percent from 5 percent normally, creating confusion at ports."
"What we see right now is the situation is completely out of control, and getting worse," said Antonio Dominguez, Maersk Line managing director for east coast South America.
Earnings calls from Q2 2018 have cited the ten day strike and its dent on profit margins—even multinationals like Unilever NV (ADR) (NYSE: UN), Kellogg Company (NYSE: K), and Carrefour were susceptible. Unilever relies on markets in Brazil for 6 percent of their sales, and noted that their second quarter sales would be reduced by €150m.
In their recent earnings report, Kellogg wrote that growth in Mexico, the Caribbean, and Central America "offset the negative impact of a ten-day trucking strike in Brazil. Kellogg Latin America's operating profit decreased sharply on a reported and currency-neutral adjusted basis, due to a substantial increase in advertising and promotion investment, as well as costs related to disruption from the Brazilian trucking strike."
Robert Grantham, a consultant for Solve Shipping based in Navegantes, is quoted by JOC as saying that "bringing the country to a standstill for 10 days has been an absolute disaster for the economy and it will take months before the supply chain gets back to normal."
"The problems come as Brazil should be enjoying an export boom, with US President Donald Trump's trade war with China favoring Latin American soybean producers," Financial Times notes.
Although overbooking is not a new issue, it has certainly been exacerbated by the early-summer strike this year. Financial Times painted the picture of exporters who are "desperate to secure limited space, [and have begun] wildly over-booking despite being unable to predict with certainty when or what quantity of goods they would be able to deliver to port."
View Comments and Join the Discussion!
Posted-In: FreightNews Emerging Markets Markets Best of Benzinga