Wyoming Vacation: Fed's Jackson Hole Symposium In Focus As New Week Begins
Investors don't necessarily get a summer vacation, but the Fed takes a trip to the mountains later this coming week for its annual policy symposium in Jackson Hole. That could turn eyes back toward Fed policy and the economy.
In addition, the trade spat with China might begin to draw more headlines soon as China sends a delegation to the U.S. for talks later this month.
With earnings dying down, we're heading into a period where rumor and innuendo might help drive the markets, particularly when headlines pop up about anything tariff-related. It's unclear what sort of traction, if any, might result when U.S. and Chinese negotiators meet, but it's likely that any news, good or bad, could push stocks up or down based on progress or lack of it.
If you're a long-term investor, this could be another time to make sure not to get too caught up in headlines and quick market moves. Instead, consider keeping focus on long-term strategic goals and checking your asset allocation to make sure the recent stock market rally doesn't have you sitting with a higher percentage in equities than you might want.
Teton Time for Fed
The Fed's annual Economic Policy Symposium begins Thursday in Jackson Hole, Wyoming. Fed Chair Jerome Powell is scheduled to speak Friday morning in remarks titled, "Monetary Policy in a Changing Economy." That sounds relatively vague and could conceivably cover any number of topics, but investors are likely to focus on any new observations Powell might have on economic growth, inflation, and employment.
One thing to consider monitoring is anything he might say about cost pressures and wage growth, as many companies reporting in the recent earnings season have noted higher materials and pay costs starting to bite, even as inflation has climbed above the Fed's long-term goal of 2 percent.
Retail earnings season isn't over yet, with more big names on the calendar this coming week including Target Inc. (NYSE: TGT), Alibaba Group Holdings Ltd. (NYSE: BABA), Foot Locker, Inc. (NYSE: FL), Gap Inc. (NYSE: GPS), and Lowe's Companies, Inc. (NYSE: LOW). So far, retail earnings have looked pretty solid, with same-store sales growth and online revenue particularly strong for some of the reporting companies. Though the holidays are still months away, it might not be too early to start thinking about what the recent fair tidings from retail might mean for shopping season. Also, a stock like FL can sometimes give insight into how other companies like Nike Inc. (NYSE: NKE) and Under Armour Inc. (NYSE: UAA) are doing.
Home builder Toll Brothers Inc. (NYSE: TOL) also reports this coming week, which could provide insight into the housing market.
Geopolitical "Swirl" Still Could Blow Markets Around
However, we're rapidly running out of earnings reports as the season winds down, leaving the market potentially more open to the swirl of geopolitical news that seems to just keep coming. We're not necessarily out of the woods yet regarding the Turkey situation, as its currency fell again late last week. International stock markets have been playing defense even as the U.S. market keeps trading near all-time highs, and caution continues to be a watchword, at least judging by performance of some "defensive" indicators like Treasury notes and volatility. Chinese stocks are down 27 percent this year amid trade jitters.
Some of that caution is evident if you take a look at recent sector performance. While industrials and financials have performed well over the last month, info tech has hardly budged while consumer discretionary, materials, and energy are all down. Meanwhile, so-called "defensive" sectors like telecom, utilities, and staples are among the sector leaders since mid-July.
There's also a bit more concern about inflation, as some companies recently announced price hikes. Consider watching retail earnings in the days ahead to see who, if anyone, comes out with additional price increases. Remember that when inflation happens, it tends to happen exponentially.
Benchmark U.S. 10-year Treasury yields fell to 2.85 percent by midday Friday, well below the 3 percent level they hit earlier this month. From a technical perspective, the psychological 2.8 percent mark looks like it might be a possible support level, as the yield hasn't gone below that in nearly three months.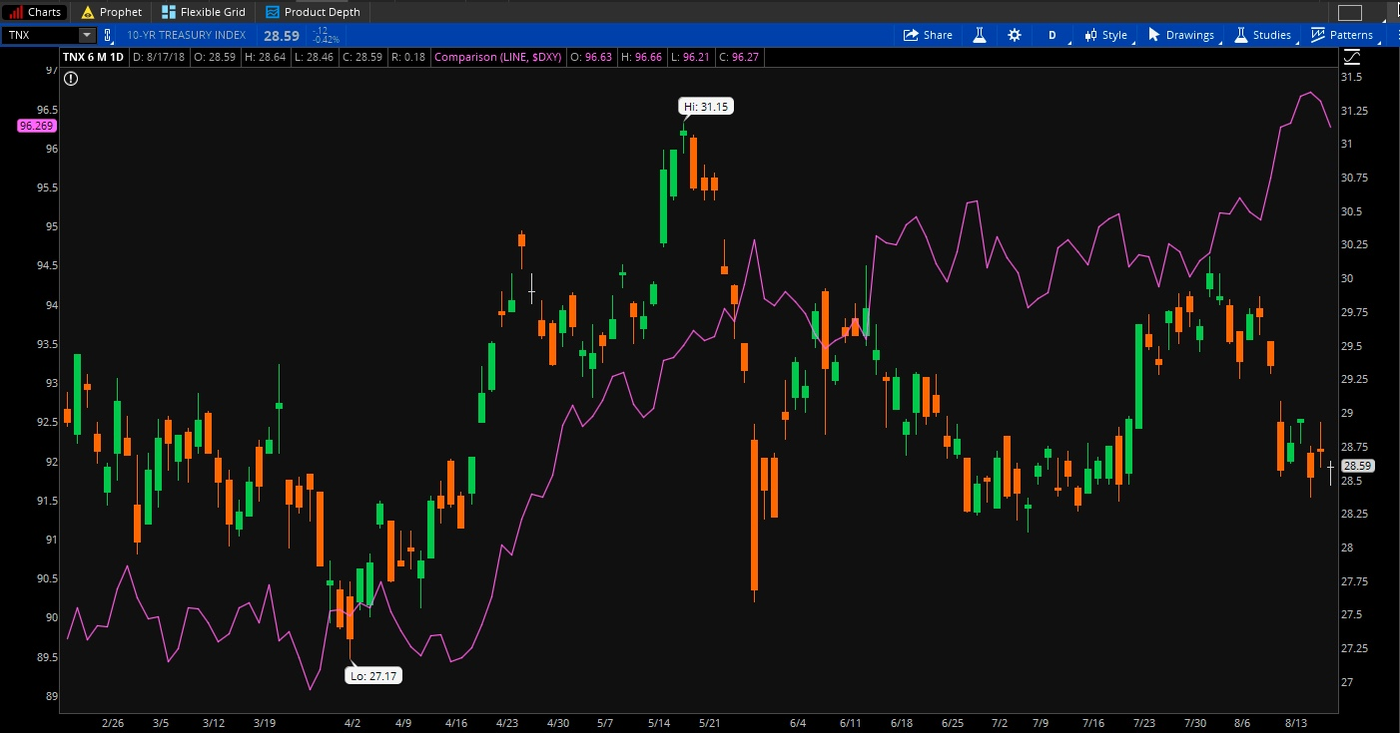 FIGURE 1: Separate Ways: Since early this month, 10-year Treasury yields (TNX) have been traveling in a different direction from the dollar index (purple line). This six-month chart shows that the two actually moved mostly in sync earlier this year, but have parted ways recently as geopolitical fears might be helping the dollar as well as Treasury notes, which move in the opposite direction of yields. Data Source: ICE, CME Group. Chart source: The thinkorswim® platform from TD Ameritrade. For illustrative purposes only. Past performance does not guarantee future results.
Could Fear Still Bite?
There still seems to be some caution in the market, despite the fact that the S&P 500 Index (SPX) isn't far from all-time highs. To put it into perspective, earlier this month, before the latest round of geopolitical and economic tensions surrounding Turkey's currency put a bit of a scare into the market, the VIX—the widely followed "fear" index—bottomed out around 10. By the middle of last week, the "fear gauge" had spiked to near 17, but after Thursday's broad-based rally the VIX pulled back to around the midpoint of the range at 13.5. It traded on both sides of 13 Friday. While it would be a stretch to say the market had removed half the Turkey- and China-related fear, it's safe to say that the market is still pricing in elevated risk compared to last week. The dog days of summer 2018 may still have some bite.
Cash Registers Keep Going "Ding"
You keep hearing how earnings per share have beaten Wall Street analysts' estimates. That's usually a positive sign, but remember that earnings per share aren't always the best way to judge corporate health, as they can reflect cost cutting measures and lower taxes, not just product and services demand.
However, Q2 average revenue for S&P 500 firms is forecast to rise a solid 10.3 percent, research firm CFRA said last week, and companies generally can't cost-cut their way to revenue gains. Instead, it appears the double-digit revenue growth might simply reflect an economy that has been bounding along. Among the latest companies to impress with strong revenue were Deere & Company (NYSE: DE), Walmart Inc. (NYSE: WMT), and Nordstrom, Inc. (NYSE: JWN) last week. More retailers take the spotlight in coming days as Lowe's, Target, and Kohl's Corporation (NYSE: KSS) report, so consider checking those revenue numbers to see if the trend continues.
Sentiment Slips
Consumer spending seems to be giving retail companies a lift, judging from recent earnings data. However, Friday delivered a possible shot across the bow as consumer sentiment came in below expectations. The University of Michigan's preliminary Consumer Sentiment Survey for August fell to 95.3, from 97.9 in July. Analysts had expected 97.8, according to Briefing.com, and the index is now at its lowest level since last September. "The dominating weakness reflected much less favorable assessments of buying conditions, mainly due to less favorable perceptions of market prices," said Richard Curtin, the survey's chief economist, in a press release. "Buying conditions for large household durables sank to the lowest level in nearly four years." Interest rates have become a more "decisive" factor in consumers' purchasing decisions, the survey noted, and consumers are starting to perhaps a sign that recent rate hikes are starting to affect buyers.
Information from TDA is not intended to be investment advice or construed as a recommendation or endorsement of any particular investment or investment strategy, and is for illustrative purposes only. Be sure to understand all risks involved with each strategy, including commission costs, before attempting to place any trade.
Posted-In: TD AmeritradeNews Commodities Retail Sales Treasuries Econ #s Federal Reserve Markets
View Comments and Join the Discussion!