Insider Buys Of The Week: Crown Castle, IFF, Newell Brands And More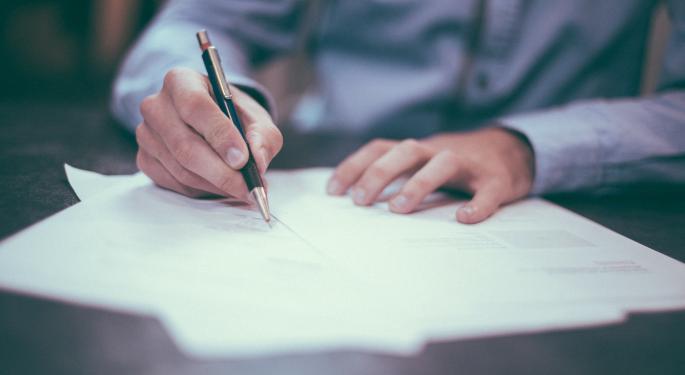 Insider buying can be an encouraging signal for potential investors.
One CEO and one beneficial owner were among the insider buyers featured this week.
Some of the insider buying comes in the wake of earnings reports.
Conventional wisdom says that insiders and 10-percent owners only buy shares of a company for one reason: they believe the stock price will rise and they want to profit from. So insider buying can be an encouraging signal for potential investors, particularly with markets near all-time highs.
Here's a look at a few notable insider purchases reported in the past week.
International Flavors & Fragrances
International Flavors & Fragrances Inc (NYSE: IFF) saw beneficial owner Winder Investment add to its stake again. At prices that ranged from $132.42 to $135, the 345,000 shares reportedly acquired in the past week cost the Singapore-based holding company more than $46.35 million. Winder has been buying shares on and off since March.
IFF posted better-than-expected second-quarter results last week. The stock ended the week at $132.41, just below Winder's purchase price range. The 52-week low of $122.11 from back in May compares with the 52-week high of $157.40 that was reached early this year. The consensus price target, last seen at $144.93, is less than that high.
Platform Specialty Products
Platform Specialty Products Corp (NYSE: PAH) saw its human resources chief and two directors step up to the buy window this past week. A total of 441,000 shares in the chemical products maker were acquired at per-share prices ranging from $12.07 to $12.36 and cost the buyers about $5.4 million altogether. Note that each of these three insiders have a stake of less than 1 million shares.
The company posted better-than-expected quarterly results earlier in the month. The shares ended the past week trading at $12.25 apiece, still within the range of the above purchases. The stock has changed hands between $9.09 and $13.11 in the past year, but the mean analyst price target is at $14.70.
See Also: Put Insider Sentiment To Work With This ETF
Newell Brands
Three Newell Brands Inc. (NYSE: NWL) directors increased their stakes this past week. The more than 91,000 shares of this consumer products giant acquired at per-share prices between $20.50 and $21.42 cost over $1.79 million altogether. All three of the directors have stakes of 50,000 or fewer shares.
Shares of Newell Brands dropped to 52-week lows in the wake of a mixed quarterly report. Shares retreated more than 22 percent in the past week and were last seen trading at $20.82. That was still within the price range of the above purchases. Shares have traded as high as $50.90 in the past year, but the analyst's mean price target is only $27.83.
Macquarie Infrastructure
At Macquarie Infrastructure Corp (NYSE: MIC), CEO Christopher Frost and five directors picked up more than 34,800 shares of the New York-based company last week. The share prices for these purchases ranged from $45.80 to $45.98, and the transactions totaled about $1.6 million. Here too, the purchases came after a recent quarterly earnings report.
Macquarie Infrastructure announced in late July the sale of assets, in part to pay down debt. The share price pulled back about 2 percent last week and closed Friday at $45.01, so there was no quick gain for these insiders. While the stock has traded as high as $75.09 a share in the past year, the analysts' mean price target is $50.60.
Crown Castle
A Crown Castle International Corp. (NYSE: CCI) director bought a total of 9,900 shares of this cell phone tower company last week at between $109.86 to $110.34 per share. That cost him around $1.09 million altogether, and his stake was listed as more than 109,000 shares. About 411 million shares are outstanding.
The Crown Castle board declared a dividend earlier this month. The shares ended the past week trading at $110.34, down fractionally for the week and at the top of the purchase price range. The S&P 500 also retreated a bit last week. The stock's consensus price target was last seen at $117.35.
View Comments and Join the Discussion!
Posted-In: Crown Castle IFF International Flavors & Fragrances Macquarie Infrastructure Newell Brands Platform Specialty ProductsNews Insider Trades Best of Benzinga