ECB Quick Analysis: Summer Ends In September, EUR/USD Falls
The ECB left its policy measures unchanged as expected.
He clarified that rate hikes will come only "through the summer".
The EUR/USD is under some pressure on the clarification, but Draghi also highlighted positive developments.
European Central Bank President Mario Draghi left everybody guessing. Markets wanted to pin down the date of the first rate hike by the Frankfurt-based institution, but they did not receive any clear-cut comments. As the eventual rate rise is quite far into the future, it makes sense not to commit to anything specific so far in advance. Uncertainties about the economy, inflation, trade relations and political turmoil caused the veteran banker not to disclose any detail. He did not pre-commit.
Draghi did say that the guidance has been effective. As it is effective, there is no need to change the guidance. No guidance means no clarification of when precisely the ECB intends to raise rates.
Answering a speciifc question, Draghi clarified that the only relevant text is the English one, as monetary policy meetings are held in the English language. This original version includes the phrase "at least through the summer of 2019" which is the end of the summer, September.
After Draghi stuck to the dovish version, the EUR/USD dropped.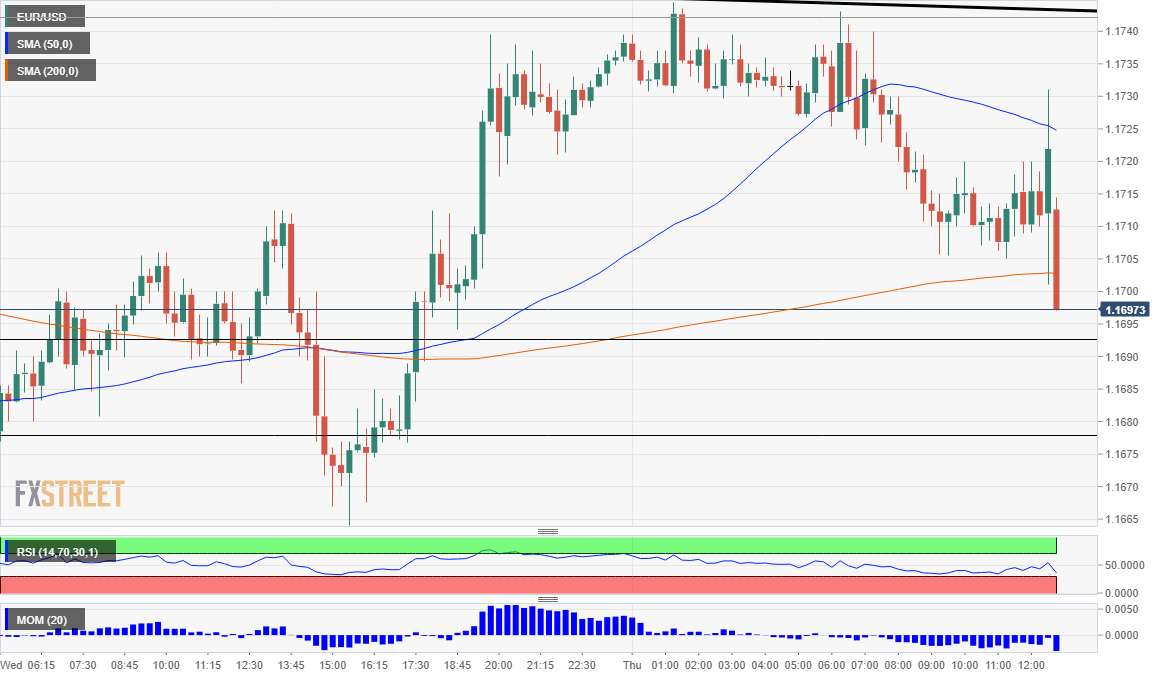 Draghi is usually slightly dovish and his appearance on the sixth anniversary of his famous "do whatever it takes" speech was only s bit different. Apart from the pledge on interest rates, Draghi saw the glass half full. Specifically, he was encouraged by rising wages. Draghi also welcomed the results of the Trump-Juncker meeting. Draghi did say that the Euro has appreciated but did not seem worried about it.
What's next? In the broader scheme of things, the picture has not changed. The ECB is likely to taper from October, end purchases by year-end, and begin thinking of the timing sometime in 2019. This will probably happen in September. Market expectations for a rate hike will shift with data and political developments along the way.
ECB Meeting Background
The ECB was not expected to make any special announcements. It had already done so last month with the expected announcement about the reduction and eventual end of the bond-buying program. However, Draghi and co. accompanied their step with many conditions that dampened the move. Most importantly, the Governing Council pledged to keep interest rates unchanged "at least through the summer of 2019".
Later on, reports came out suggesting that some have a different interpretation of this commitment. Some said late 2019 would be too late and others saw a different meaning of what the "summer" means. Apparently, the text of the statement in German, French, Italian, and Spanish differ from the original text in English. The wording is different and may explain the confusion.
View Comments and Join the Discussion!