Sergio Marchionne Dies At 66: How The CEO Rescued Fiat, Chrysler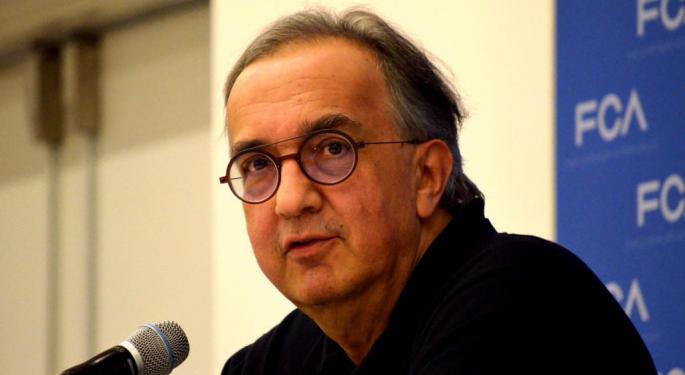 In 2009, in the midst of the global financial crisis, after Daimler washed its hands of the bankrupt Chrysler and pulled out of the DaimlerChrysler joint venture — and as Cerberus was desperately trying to peddle its struggling asset — Fiat's fearless leader stepped up with a plan.
With about $10 billion in taxpayer support and no cash down, Sergio Marchionne's Fiat bought 20 percent of Chrysler.
"Chrysler would not exist had it not been for Marchionne," Michelle Krebs, senior analyst at AutoTrader, told Benzinga. "He was the only one interested in reviving it while others, including those on the Obama auto task force, said let it go. [It's] likely the same for Fiat, which he turned around in the early 2000s."
Marchionne, 66, died Wednesday after suffering complications following surgery, according to FCA. The carmaker had replaced Marchionne as CEO on July 21, ahead of his planned January retirement, after his health declined. The cause of Marchionne's death was not given Wednesday.
A Creative Restructuring
Marchionne began to rescue Fiat from a financial nadir in 2004; under his leadership, the company won $2 billion by exiting a GM partnership in Europe.
"His unbelievable turnaround left Fiat so much healthier than when he found it," Jeremy Acevedo, manager of industry analysis for Edmunds, told The Detroit News. "He'll be remembered as one of the early 21st century's great auto leaders along with Alan Mulally and Elon Musk."
By 2014, after securing ownership of Chrysler, Marchionne fully integrated the automakers into Fiat Chrysler Automobiles NV (NYSE: FCAU) and initiated a daring turnaround strategy to steer Chrysler away from near-liquidation.
He spun off Ram from Dodge even as other automakers consolidated brands to cut costs and shifted Chrysler and Dodge from midsize and compact cars to trucks and SUVs, ultimately serving as a model for Ford Motor Company (NYSE: F).
He reintroduced Alfa Romeo to the U.S. market and spun off Fiat's undervalued assets, such as CNH Industrial NV (NYSE: CNHI) and Ferrari NV (NYSE: RACE), to monetize them for shareholders.
"Marchionne's vision gave him the confidence to make bold moves while others waffled," Karl Brauer, executive publisher of AutoTrader and Kelley Blue Book, told the Detroit Free Press. "He often captured market opportunities ahead of competitors, and he was just as quick to identify a failing effort and cut his losses."
The Ultimate Impact
In 2017, FCA reported a pretax profit of $4.4 billion and was on pace to eliminate its industrial debt by the end of June. In the first quarter of 2018, it posted 60-percent profit gains over the previous year.
Under Marchionne, the united FCA grew from a $2-billion company to a $30-billion company.
"If Fiat Chrysler is known for anything, it's the brand power he created," Sandy Baruah, president and CEO of the Detroit Regional Chamber, told Crain's. "They have some of the strongest identities in the industry."
Risks That Didn't Pay
Despite the headway Marchionne made with Fiat and Chrysler, the united brand has suffered recent headwinds. FCA's North American unit sales consistently rank fourth behind Ford, General Motors Company (NYSE: GM) and Toyota Motor Corp (ADR) (NYSE: TM); Fiat sales have plunged; and Chrysler and Dodge continue to slip. Only Jeep and Ram are surging.
At the same time, FCA is playing catch-up in the electric vehicle segment.
The launch of Fiat brand in the U.S. has not been a success. Alfa Romeo, in which FCA has invested a lot of money, has yet to gain much traction," said AutoTrader's Krebs.
"FCA stumbled with charges of cheating on sales numbers, forcing it to restate those numbers, and now is accused of Volkswagen-style emissions cheating, a charge Marchionne vehemently denied."
Impact On The Industry
One veteran auto reporter reflected on Marchionne's talent for disruption.
"At any moment, he might say something outrageous, something that would affect thousands of jobs or something that would change the way you thought of the auto industry," Detroit Free Press reporter Mark Phelan said in a Wednesday column.
Marchionne was similarly lauded by competitors.
"Sergio Marchionne was one of the most respected leaders in the industry whose creativity and bold determination helped to restore Chrysler to financial health and grow Fiat Chrysler into a profitable global automaker," Ford Executive Chairman Bill Ford said in a statement. "His extraordinary leadership, candor and passion for the industry will be missed by everyone who knew him."
Thoughts from Bill Ford on the tragic passing of Sergio Marchionne. pic.twitter.com/MgenIcuVEo

— Mark Truby (@mtruby) July 25, 2018
"We have a deep amount of respect for Sergio and what he's done for the auto industry," GM CFO Chuck Stevens said.
Suppliers expressed equal admiration.
"The Detroit area, Fiat Chrysler and the auto industry all are in better shape because he had a vision for Fiat and Chrysler that he successfully executed," BorgWarner Inc. (NYSE: BWA) CEO James Verrier told Crain's.
Related Links:
Fiat Chrysler CEO Sergio Marchionne Talks Succession Plan, NAFTA, EVs
Strong June Auto Sales Could Represent 'Peak Market'
Fiat Chrysler CEO Sergio Marchionne speaks to reporters Jan. 15, 2018 at the North American International Auto Show at Detroit's Cobo Center. Photo by Dustin Blitchok.
View Comments and Join the Discussion!
Posted-In: AutoTrader Crain's Detroit Business Detroit Free PressNews Management Top Stories Media General Best of Benzinga