Google Prematurely Calls Time Of Death For Orrin Hatch, Sergio Marchionne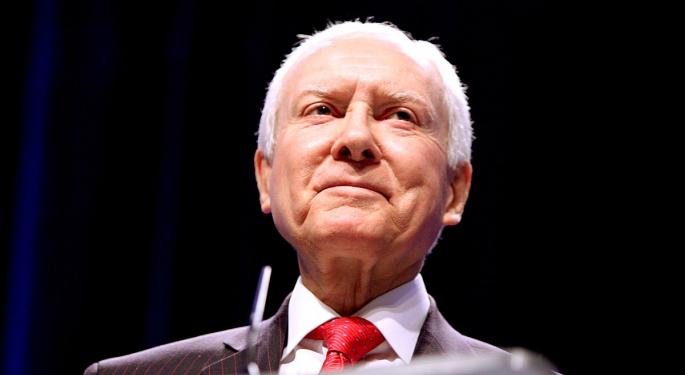 Alphabet Inc (NASDAQ: GOOGL) (NASDAQ: GOOG) is the first place many people go to find the answer to a question. But the search engine isn't infallible.
After all, as Sen. Orrin Hatch pointed out, he's still kickin.'
Hatch's office submitted ample proof of life Monday after discovering that Google falsely listed the politician's death as Sept. 11, 2017.
Hi.. @Google?

We might need to talk. pic.twitter.com/vdHbcccy7x

— Senator Hatch Office (@senorrinhatch) July 24, 2018
Hatch, it appears, has had an active post-mortem career.
The search engine also mistakenly declared the death of former Fiat Chrysler Automobiles NV (NYSE: FCAU) CEO Sergio Marchionne.
Marchionne is in failing health, and Google aggregators may have been duped by false or prematurely published online obits, but as far as Twitter Inc (NYSE: TWTR) can verify, the auto exec did not die on July 23, 2018.
@Google Can you fix this? Sergio Marchionne is not dead... pic.twitter.com/eK50Nymv8P

— Alexander Marrero (@alexmarrero) July 23, 2018
The Hatch and Marchionne errors have been corrected. They are officially Google-alive again. But such timeline reversals have proven difficult for less famous folk.
The presumption of death isn't that rare of an occurrence. Other minor celebrities have suffered the same "Tom Sawyer" experience, as Google's Knowledge Graph blends distinct identities with identical names and misattributes biographical information.
hey @google any chance you can split my picture & IMDB profile from Golden Age Freddie Stewart's Wiki? I've most certainly not been dead 18yrs but Aunties and Uncles worried nonetheless.... pic.twitter.com/8IF5JQgZ4L

— Freddie Stewart (@FredStewart_) July 23, 2018
@Google The pictured Drew Hayes is definitely not dead. He released another amazing book this year lol pic.twitter.com/pkY5vsd7Ar

— David Fortney (@ArlaDope) July 20, 2018
Related Links:
Facebook Struggles With New Fact-Checking Tools As German Election Looms
The Good And Bad In WikiTribune, Wikipedia Founder's Open-Source News Site
Photo by Gage Skidmore/Wikimedia.
Posted-In: Orrin Hatch Sergio MarchionneNews Tech Best of Benzinga
View Comments and Join the Discussion!