Pot Stocks, ETFs, Top News And Data From The Cannabis Industry This Week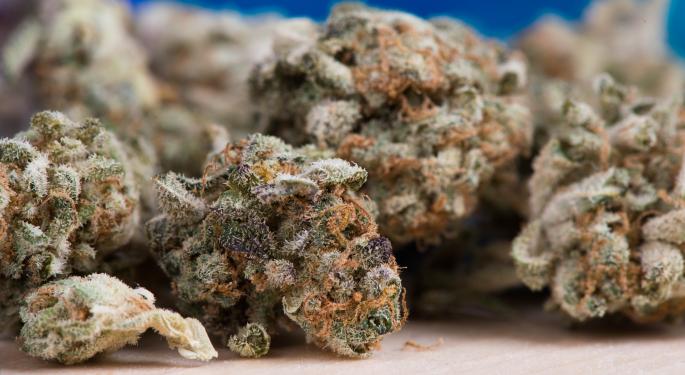 Canadian cannabis producer Tilray commenced trading on the Nasdaq this week, becoming the first pure-play marijuana company to list on a major U.S. stock exchange.
"This week's listing of Tilray on NASDAQ is another positive move for cannabis stocks and particularly for the U.S. exchanges. The stock priced above its estimated range and then proceeded to trade higher. I think it will become harder and harder for the NASDAQ and NYSE to keep rejecting U.S. cannabis stocks that want to list on those exchanges," Debra Borchardt, CEO of Green Market Report told Benzinga. "I also believe this is just the beginning of what will be a very busy IPO calendar for cannabis stocks for the rest of 2018."
A couple of weeks ago, the California Department of Public Health quietly issued a statement noting CBD is an unapproved food additive, not allowed for use in human and animal foods.
"[A]lthough California currently allows the manufacturing and sales of cannabis products (including edibles), the use of industrial hemp as the source of CBD to be added to food products is prohibited," the agency said. "Until the FDA rules that industrial hemp-derived CBD oil and CBD products can be used as a food or California makes a determination that they are safe to use for human and animal consumption, CBD products are not an approved food, food ingredient, food additive, or dietary supplement."
The news went unnoticed for a week or so, until some industry insiders started making some noise. Cameron Forni, CEO and president of Cura Cannabis Solutions, reached out to Benzinga to bring up the issue, noting "a lack of access to hemp-derived CBD products will likely drive consumers back to the unregulated and untested black market.
"We've been working with the Bureau of Cannabis Control and our state legislators, and will continue our efforts to ensure that the right regulations are set for the sale of hemp-derived CBD edibles and oils in California's exciting adult-use market. This will not only progress our industry and the science behind the plant forward, it will also drive tax revenue back to the state. Additionally we believe we can work together to create a regulatory pathway within the existing legislative framework that would place dispensaries, manufacturers, distributors and others on level and equitable footing with commercial operators like Whole Foods and Amazon, which currently carry edible hemp-derived CBD products, while at the same time ensuring consumer protections," he added.
In the international realm, Israel's parliament passed a bill decriminalizing the possession of cannabis, making this an offence now punishable by fine, but not by jail. Neighboring Lebanon announced intentions to legalize the herb as well this week, following a report from consulting firm McKinsey & Company – which didn't explicitly recommend legalizing but did highlight its potential benefits for the country.
Marijuana Indexes & ETFs
Despite the news, the United States Marijuana Index, which tracks 17 of the largest marijuana stocks in the U.S., lost more than 2 percent this week, while the North American Marijuana Index, which also includes Canadian stocks, gained roughly 9 percent.
Over the last five trading days, the Horizons Marijuana Life Sciences Index ETF (OTC: HMLSF) (TSE:HMMJ) slipped more than 9 percent, while the ETFMG Alternative Harvest ETF (NYSE: MJ) shed 5 percent of its value. The SPDR S&P 500 ETF Trust (NYSE: SPY) was up 0.1 percent.
Stock Moves
Here are some of the top marijuana stocks (market cap above $100 million) in U.S. exchanges and how the performed over the last five trading days:
In Other News
After joining the board of High Times, former Mexican President Vicente Fox was added to Khiron Life Sciences Corp (OTC: KHRNF)'s board. Benzinga reached out to CEO Alvaro Torres and asked why they had chosen Fox and how this would help the company.
Related Link: Former Mexican President Vicente Fox Talks NAFTA, Trump And Regulated Marijuana Trade
"We started discussions with Mr. Fox when he hosted CannaMexico 2018, which was one of the first major cannabis events in Mexico. When we looked at expanding our board we considered how to bring more visibility, both economically and politically to our business and to medical cannabis in the region. Mr. Fox is someone who is a strong advocate for the medical use of cannabis and the nature of doctor and patient relations, sharing views that align with ours. We felt his worldview and the role Latin America plays in the global industry fits well with us and so, together with the exposure he brings to the company and his views on legalized medical cannabis, this appointment makes a great fit for us," Torres told Benzinga.
"Khiron is a company focused on the Latin American medical cannabis market. We started in Colombia, and with the appointment of Mr. Fox to our board are positioned to have greater exposure among governments in the rest of Latin America, helping us expand our business across the region, including in Mexico, Chile, Argentina, Brazil and Peru. The appointment of Mr. Fox will see us increase our exposure and further tell our story of the importance of education, which in turn creates a platform for patient prescriptions in a more efficient way," he added.
Another big news item this week was the debut of Tilray Inc (NASDAQ: TLRY) on the Nasdaq. The company boasts a $3 billion valuation and is doing $20 million in revenue a year.
Talking about the IPO, Derek Peterson, CEO of Terra Tech Corp (OTC: TRTC) told Benzinga, "The cannabis industry has proven to be one of the fastest-growing markets in the country. Investors are obviously in agreement if you look at the significant market cap expansion we're seeing for the companies out of Canada. In the U.S. it's a different story with the federal legal overhang, companies are trading at 1/20th the valuations of what we're seeing in the Canadian Market. This seems to be a byproduct of institutional demand in a limited supply of opportunities. We believe this repeats itself to a higher degree when the US markets open up."
Privately-held cannabis producer Tahoe Hydro announced record revenue for June. According to co-founder and CEO Ray Schiavone, production and sales increased 200 percent that month to $950,000.
"Our numbers solidify the need for quality flower vs. flower in general," Schiavone said, brining up vertical integration in the industry. "As much as we see the value in being vertically integrated, at the end of the day this is the cannabis industry. How valuable can a cannabis company be if it hasn't mastered the most profitable aspect of the industry? We believe in building a solid foundation first. When the consumers know you grow the best weed, the rest of the verticals become seamless."
Benzinga also reported on:
Beyond these top news, Leafwire unveiled its platform dedicated to connecting entrepreneurs who are seeking funding with investors interested in finding cannabis related investments. Both entrepreneurs and investors can create profiles outlining their investment preferences and professional experiences as well as their current needs.
The platform allows entrepreneurs to search for appropriate investors leveraging filters including stage of investment, location and preferred type of cannabis businesses. Investors can search and assess companies based on size and stage of raise, company location and company type. Company profiles provide details on products and services for a comprehensive and streamlined experience.
Leafwire will also serve as an online repository to news, regulations and updates from members of the individual user's network, as well as a messaging platform for colleagues to connect on a more private level.
"Investors have been eyeballing the cannabis space for many years now, but many have been hesitant to jump in. There just isn't enough vetting being done and the market is moving at light speed," said Peter Vogel, CEO and co-founder of Leafwire. "It seems we have reached a real tipping point and investors are showing a healthy appetite for this burgeoning market and entrepreneurs have brought their products to a place where they are legitimately ready to raise capital. Leafwire will work to connect investors and entrepreneurs, minimizing the heavy lifting and expediting the fundraising process for the cannabis, hemp and ancillary markets."
Greenbox announced the launch of its intelligent kiosk, revealing the names of its first dispensary partners, which include Sky Dispensaries and Erba Collective. This machine is an interactive, touch screen-operated kiosk with the ability to vend multiple items during one transaction.
"Automation is fueling almost every aspect of our world today," stated Zack Johnson, greenbox Robotics CEO and founder. "From the moment we step out the door, our lives are simplified by the wonders of modern day automation. Whether it's placing a Starbucks mobile order, using driving assistance or using a voice command, consumers expect a fast, seamless and personalized experience... By harnessing the power of today's technology, greenbox users have the power at their fingertips to choose their own experience and dispensary owners can better allocate funds as well as manage their operation."
Another tech move came out of Yobi, which released a comprehensive and easy to use retail management system, available specifically for the cannabis industry. The cloud-based, secure and scalable software program is used by dispensaries to manage customer data and sales, inventory tracking and reconciliation (into and within the store), real time reporting, including compliance with METRC regulations.
"For the past year, we have been working closely with a handful of enterprise dispensaries to build out our POS system and to ensure we are addressing all of their pain points and incorporating the features they use the most," Jeremy O'Keefe, founder and CEO of Yobi, told Beniznga. "In the past year we have pushed out over 112 updates and we've proven to increase daily revenue by 15 percent, dramatically reducing wait times in high volume retail locations."
"This week we are coming out of stealth mode and making Yobi available to dispensaries across the U.S. The best part is there is no upfront cost and we can have them up and running in less than an hour, even if they have been using another POS system. Our migration tool will map their customer and inventory data and automatically upload it into Yobi. It takes about four minutes to migrate a client list of about 35,000 customers," he added.
Famed cannabis lawyer Amy Margolis opened a new 4,000 square-foot cannabis friendly co-working space, The Commune, in Portland, Oregon.
"The cannabis industry has always been cooperative and collaborative. The Commune captures that spirit and creates a unique gathering spot for people in the space to come together, share ideas, host events and re-invigorate innovation," says Margolis. The Commune is the first cannabis friendly gathering space of its kind: It houses a new accelerator program led by Margolis.
The Initiative women's accelerator is supported by a board of directors including Dr. Amanda Reiman, Dr. Janice Knox, Rick Turoczy, Emily Paxhia, Mowgli Holmes, AC Braddock, Glynis Olson, Katie Kiernan, Joshua Goldstein, Carlos Perea, and foundational sponsors iAnthus Capital and Miller Nash. The team will provide leadership, guidance and broad networking to ensure the success of every selected applicant.
"The Initiative fills a number of holes in the cannabis industry as it relates to women. By engaging in immersive business programming followed by serious funding opportunities, The Initiative will move the needle on fostering and supporting female founders in cannabis," Margolis said.
Cannabis-focused advisor and radio personality Kristen Yoder announced her new "The CannaBS Detector" podcast will be released Aug. 1.
"The purpose of the podcast is to serve as a cautionary tale for the anyone interested in the cannabis industry from the canna-curious through to entrepreneurs, investors and companies looking to cash in on the green rush, by uncovering and dissecting the common scams and pitfalls most will encounter with fellow BS Detectors across the industry," she said. "This podcast is meant to shine a light on the darker aspects of the industry to not only bring them to the attention of everyone, but to effect change… The best decisions are informed decisions, and in industry as new and hyped up in the media as the Cannabis industry is, there are many opportunities for BS to occur, and it is occurring on a major scale."
Find out more about these news and others on GSRX Industries Inc (OTC: GSRX) and Americann Inc (OTC: ACAN) with our friends at Marijuana Money, who make a weekly video summary of the top financial and business news in the cannabis industry.
Interesting Data
Earlier this week, we shared some reactions to the 2018 Cannabis Trend Report by AxisWire and Green Market Report, which highlighted the rise of women in cannabis ad the top trend of the year. Roughly 27 percent of C-Suite level positions in the cannabis industry are occupied by women, according to Marijuana Business Daily.
Related Link: Women Execs React To Cannabis Trends Report Highlighting The Rise Of Females In The Marijuana Industry
Interestingly, we continued to get commentary from leading execs in the industry:
Jennifer Sanders - Founder and CEO of CNS Equity Partners
"​I personally believe women have always been our original natural healers and caregivers, and working with the cannabis plant and a powerful medicinal herb.​ I think many women are drawn to this high impact industry seeing an opportunity to be ​one where their hearts and heads align as business women."
Jessica VerSteeg - CEO of Paragon Coin
"I don't believe we [women] have a stronghold in cannabis. I believe it is still a mostly male dominated industry… As with any change, it will take time. [However], I'm encouraged to see that women are entering the industry successfully, at an increasing rate. Maybe in the future women will have the stronghold.
"I believe the unification of women in our industry can help raise our leadership positioning. When women become empowered, and move from the fray you start to see some really amazing things."
BDS Analytics issued a new report on the Arizona cannabis market, which boasted more than 160,000 registered patients and $450 million in sales in 2017.
"Arizona's market is among the most robust in the nation and has been growing steadily, including seeing an 84% increase in sales for Q1 2018 Y-O-Y, up to $159.8 million," the firm said. "Sales at medical dispensaries in Arizona were $56 million in May 2018, a decrease of less than 1% from April. However, sales increased by 72% from the previous May."
Viridian Capital Advisors noted that total deals, raises and investments in the cannabis industry were close to reaching $4.5 billion year-to-date, as of July 13. See a detailed chart of the number, size and nature of the raises below.
A High Times article highlighted data from the DEA and Homeland Security which, according to GreenWave Advisors' Matt Karnes, suggested a sustained shrinkage of illicit cannabis sales. Total marijuana confiscations (as measured in U.S. dollars) fell by 35 percent in 2017, when compared to 2016.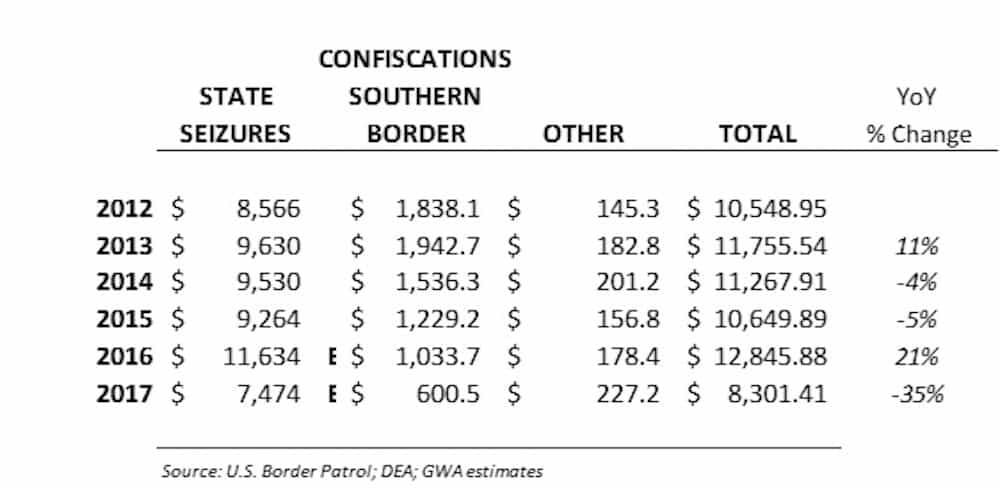 Other data points used to validate this approach included the decline in wholesale prices, and the estimated size of legal markets in certain states. Dustin Moore, Executive Director of the International Cannabis Farmers Association and Principal at strategic consulting and government affairs firm Main Street Strategies, explained to High Times:
"The hardest thing to do is to try and develop causality of why the illegal markets seem to be shrinking. Is it because there are now roughly 30 states with legal cannabis? Is it a function of the DEA and homeland security not prioritizing cannabis as much as they once did, given the fact that the Rohrabacher–Farr amendment gives them less latitude than what they once had? Nobody is going to get these estimates perfectly, but this is the more accurate interpretation I've seen."
Events Calendar
July 23: Canadian activist Jodie Emery will officially open her new hemp-themed café, Jodie's Joint. Find it at 235 Augusta Ave. in Kensington Market, Toronto.
July 25-27: The NCIA will host its Cannabis Business Summit and Expo in San Jose, CA.
July 26: Front Range Biosciences and its partners are hosting an evening of networking, cocktails, and food, for cannabis growers and industry leaders in San Jose, CA.
July 27–28: Cannacon Boston.
August 14–16: MJBizCon will host MJBizConINTL at the Metro Toronto Convention Centre.
August 16– 17: Benzinga is hosting its first Cannabis Capital Conference in Toronto, Canada. Speakers include Alan Brochstein, Larisa Bolivar, Harrison Phillips, Giadha Aguirre de Carcer, Marvin Washington, Scott Boyes, Mark Lakmaaker, Brett Roper, Nick Kovacevich, Hadley Ford, Javier Hasse, Tim Seymour, Aras Azadian, Paul Rosen, Jodie Emery, and Cynthia Salarizadeh, among others.
September 7–9: Oklahoma is getting its first Hempfest ever: the Hempfest Oklahoma. "After a year of working with Oklahoma politicians and venues we finally get to announce the world's largest hemp festival is coming to Oklahoma. With Dj Snoopadelic [Snoop Dogg] coming for a free show in Oklahoma and the massive 4-stage 3-day lineup we are about to announce, we are hoping to bring out the masses and educate on what the hemp industry really is," Scott Mckinley, event organizer and CEO of Hi Tunes Distribution told Benzinga.
September 21–22: Anaheim, CA will get the CBD Expo West 2018. Powered by CBD Health and Wellness Magazine, the CBD-focused event will feature 75 exhibitors, along with a large lineup of presentations and panel discussions from experts in the production, distribution and sale of CBD products. Check out cbdexpo.net for more detail.
View Comments and Join the Discussion!
Posted-In: Cannabis News Emerging Markets Specialty ETFs After-Hours Center Markets Movers Trading Ideas Best of Benzinga