3 Things That Could Be Driving Dropbox's Big Move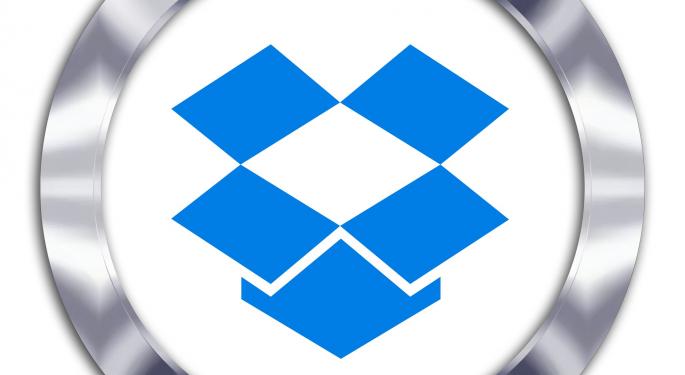 Dropbox Inc (NASDAQ: DBX) stock soared more than 14 percent Thursday, its best day since its March IPO. The move was a bit of a head-scratcher for traders, as there seemed to be no major news from the company on the day.
A Dropbox representative told Benzinga there was "nothing new on our end," noting that the company is in a quiet period and hasn't held any investor meetings.
The stock was higher by another 3.4 percent at $37.35 in early Friday trading. Here's a look at three factors that may be in play.
Carry-Over
While Dropbox didn't announce any news Thursday, it did announce some news earlier in the week. Dropbox on Tuesday announced the launch of its Shingled Magnetic Recording drive technology. The new technology is part of its custom-built storage infrastructure platform Magic Pocket and is intended to allow its customers to to be more efficient and give them more flexibility in data storage.
The simplest explanation for Dropbox's big move on Thursday is that it took Wall Street a couple of days to recognize just how much of an impact the new technology could have. While Thursday's gain was the biggest of the week, Dropbox stock has traded higher each day since the Shingled Magnetic Recording drive announcement.
Short Covering
Another factor that could be contributing to the move is short covering. Many popular new technology stocks struggle in their first year of trading and tend to have relatively high short interest.
According to shortsqueeze.com, there are currently 4.2 million shares of Dropbox held short. That number represents roughly 8.2 percent of Dropbox's float. If a large portion of those short sellers chose to close their positions on Thursday the buying could account for a large part of the move. However, only an 8.2 short percent of float suggests short covering may not be the primary factor for Dropbox.
Technical Breakout
It's likely that at least some of the positive momentum is technical in nature. Prior to Thursday, Dropbox stock had made a series of lower highs, peaking at $34.83 in early April, $32.38 in early May and $31.89 in early June. Thursday's close above $36 represents a big technical breakout on heavy volume, at least in the near-term.
Technical traders will be watching closely to see if Dropbox confirms its breakout on Friday and remains above its previous trading range.
Related Links:
Low-Float, Heavily-Shorted Stocks Are The Volatility Play Right Now
View Comments and Join the Discussion!
Posted-In: News Top Stories Movers Trading Ideas Best of Benzinga