The Unlikely Success Story Of A Flavored Wine Company From Miami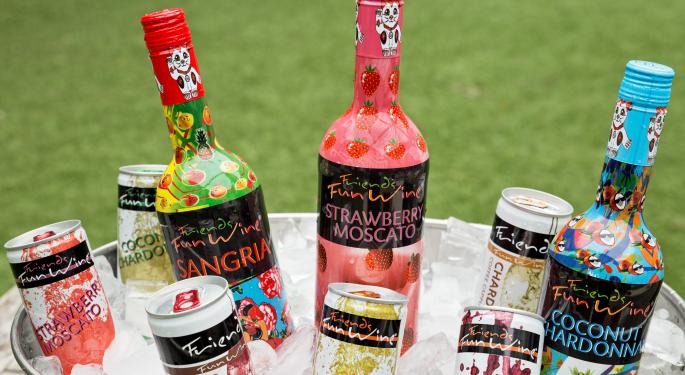 In the cannabis industry, almost everything is new and innovation and disruption are welcome.
The wine industry could be characterized as almost the opposite: there are certain ways of doing things, centuries-old traditions that aren't to be messed with. When I heard about Joe Peleg's Friends Fun Wine, I couldn't help but feel intrigued.
A Miami Company — Of Course
I was in Miami when a PR agent working for Peleg, the founder and CEO of Friends Fun Wine, reached out and offered to have some samples delivered to the hotel. "The company makes low-alcohol wine-based beverages. Things like coffee-flavored cabernet and coconut-flavored chardonnay."
The first thing that came to my wine-connoisseur mind was, well, that sounds awful. I thought winemakers must be vexed by this heretic Floridian selling millions of dollars in "fake wine."
Still, free booze in Miami Beach was not the worst thing ever. So I went for it.
Peleg showed up with a cooler filled with every one of his drinks. "I want you to try these and then, if you like them, I'll tell you my story," he said. He started with the coconut chardonnay flavor, which was surprisingly tasty — and a little reminiscent of a mixture between hard cider and piña colada.
He moved on to a classic sangria, which came in a can; then a peach moscato, and so on.
"I saved the most unique for last," he said, as poured me a glass of his espresso-flavored cabernet-based drink. I was unsure about tasting it. Coffee and wine? Who's ever heard of that?
Friends Fun Wine is worth a try at least once. It's a fun kind of drink, like Boston Beer Company Inc (NYSE: SAM)'s Angry Orchard cider or Diageo plc (ADR) (NYSE: DEO)'s Smirnoff Ice.
The Backstory
Peleg said his business idea was widely misunderstood when he started out.
"People were looking at me like I was crazy; the wine people are very conservative, you know?"
Wine is a beverage category with huge growth potential in the coming years, the serial entrepreneur told Benzinga.
Years in the food and beverage world led Peleg to realize that wine was always conceived as a "fancy" product.
"From a health perspective, wine has a lot of benefits," he said. "I was trying how to make wine simple for the masses … people try wine and don't like it and just go back to beer or other drinks. So we came up with a product that was wine-based but easy to drink."
Friends Fun Wine started with a "very friendly" moscato, Peleg said. "Everything has a flavor nowadays — cigarettes, soda, iced tea and even beer — so we added flavor to the moscato and launched it."
The Numbers
Since the launch of Friends Fun Wine, Peleg's team has come up with several iterations of the product, including one that mixes coffee and wine. "People love coffee and people love wine. So, we decided to mix them," the CEO said.
Friends Fun Wine more than doubled its sales in 2017 and expects to grow by more than 200 percent in 2018 on the back of global sales and the rapid expansion of the low-alcohol beverage industry.
The business operates in the U.S., China, Korea, Taiwan and Singapore, and plans to expand to Central and South America plus some key European, Asian and African markets over the remainder of 2018.
Fun Wine received three medals at The World Wine Championships, America's oldest annual international wine competition. The wines in each category are judged by Tastings.com staff, top wine professionals and buyers from retailers and restaurants who use a "consistent, proprietary methodology developed in collaboration with Cornell University."
The Fun Wine collection was reviewed as follows:
Coconut Chardonnay
Award: Silver Medal & Best Buy
Review: Bright silvery straw color. Sweet, tropical aromas of coco lopez, pineapple cake, limoncello and ripe papaya with a round, bright, sweet light-to-medium body and a sleek, medium-length creamy coconut yogurt and applesauce finish. A welcome tropical departure from your average wine.
Strawberry Rose Moscato
Award: Silver Medal
Review: Pale pink coral color. Aromas and flavors of sugared strawberries, strawberry soda and cherry blossom with a supple, vibrant, spritzy, moderately sweet light body and a buoyant strawberry runts candies and tangerine finish. A boozy soda-like wine for sweet-tooths.
Red Sangria
Award: Bronze Medal
Review: Bright light ruby color. Aromas of fresh ginger, sliced apples, pencil shavings and lipstick with a satiny, vibrant, spritzy, fruity [and] sweet light-to-medium body and a smooth, compelling, easy pencil eraser, sweet blackberry jam, lime spritz and orange liqueur finish with woody tannins. A solid spritzy red sangria.
View Comments and Join the Discussion!
Posted-In: Friends Fun Wine Fun WineEntrepreneurship Restaurants Success Stories Startups Interview General Best of Benzinga