Take Solace, Soccer Fans: US Will Host The 2026 World Cup With Mexico, Canada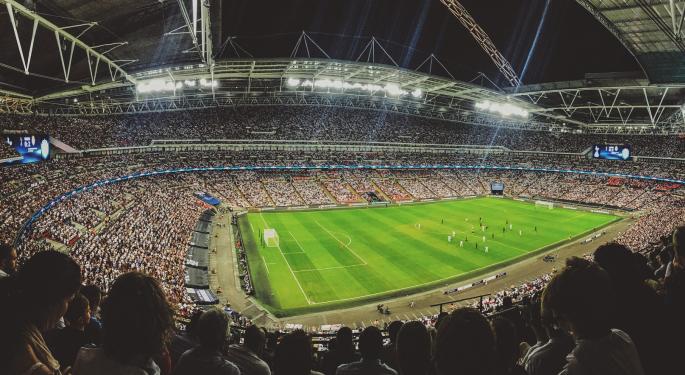 The 2018 FIFA World Cup kickoff Thursday serves as another painful reminder that the United States failed to qualify for the world's biggest sporting event. U.S. Soccer just received a huge boost, though, after being named a 2026 World Cup Host alongside Mexico and Canada.
What Happened
"This is an incredible, and incredibly important, moment for soccer in North America and beyond," said U.S. Soccer President Carlos Cordeiro.
The 2026 World Cup will feature an expanded field of 48 teams, up from the typical 32-team event. The joint bid calls for 60 of the 80 games to be hosted in the U.S., including every game from the quarterfinals on, while Mexico and Canada will host 10 games each. The 2026 World Cup Final will be held at MetLife Stadium in New Jersey.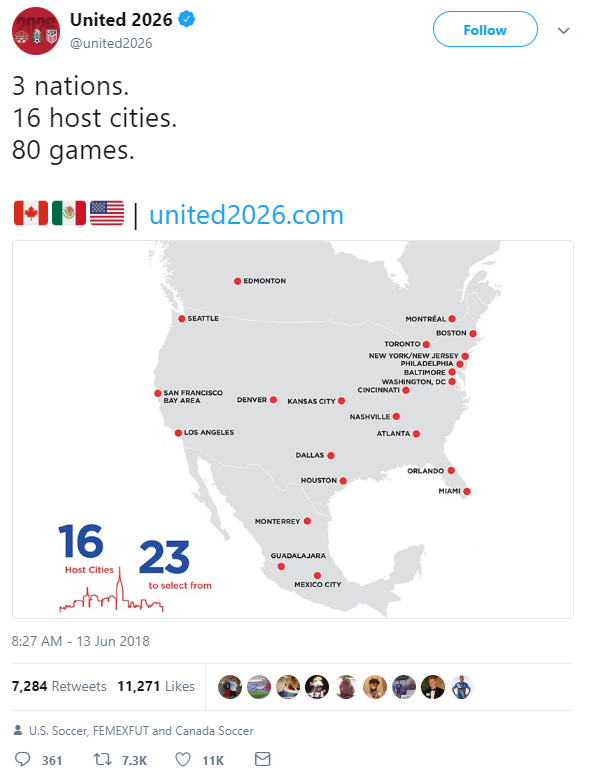 Rovell: World Cup Supports MLS Valuations
The U.S. bid for the 2022 World Cup, which Qatar was selected to host. A bribery scandal later led to an overhauling of the voting system.
ESPN's Darren Rovell said he expects the 2026 decision to boost the profile of U.S. soccer and said that following the announcement, MLS franchises valuations that made significant gains over the past two years finally make sense.
Last year, Forbes reported that the LA Galaxy, the league's most valuable franchise, was worth $315 million, up 19 percent from the previous year.
Adidas Invests In The Sport
Even without the U.S. in the World Cup this year, interest in the MLS continues to rise, with several new expansion teams set to take the pitch. Last year, Adidas AG (ADR) (OTC: ADDYY) signed a $700-million extension with the MLS — its biggest-ever investment in U.S. Soccer.
"Sport is the epicenter of our culture and, in the U.S. and Canada, soccer is the most popular sport for young people to play,"Adidas North America President Mark King said of the deal.
"Our partnership with MLS puts adidas at the core of sport in North America, allowing us to make a positive difference in an athlete's game and life. Built from athlete and consumer insight, we are looking to create the future of sport and bring new and different things to the game the world has never seen before."
On the retail side, Matt Powell of NPD Group said the winning 2026 World Cup bid means nothing to the world's largest sneaker market, and the World Cup is "virtually meaningless [to] footwear sales anywhere."
The World Cup is a story of jersey sales, and most wholesale sales come before any games begin, Powell said.
The 2018 World Cup begins Thursday with host country Russia taking on Saudi Arabia.
Related Links:
Adidas Signs $700 Million Extension With MLS, Its Largest Investment In US Soccer
MLS Kickoff: Soccer Seeing Incredible Growth In The United States
View Comments and Join the Discussion!
Posted-In: Carlos Cordeiro Darren Rovell FIFANews Sports Global Top Stories General Best of Benzinga