Insider Buying In Office Depot Sends Stock Ripping Higher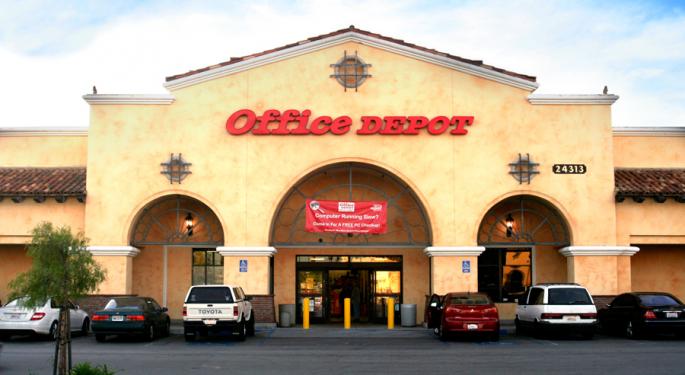 For the first time in over a year, a handful of Office Depot Inc (NASDAQ: ODP) insiders are buying shares, and it's lighting a fire under the stock.
What Happened
According to insidercow.com, the buying started May 30 when CFO Joseph Lower purchased 20,000 shares at a price of $2.39. The filing marks the first time any company insider had purchased shares since March 2017.
A day later, a subsequent filing revealed director Travis Nigel purchased 10,000 shares at a price of $2.39. Finally, on Monday, a new filing revealed that director Joseph Vassalluzzo had purchased 58,800 shares of stock at $2.55 per share.
All together, the three buys represent 88,800 shares of stock and a total investment of roughly $220,000.
Why It's Important
Office Depot stock has taken off since the first filing, jumping 13.9 percent in a week. While the executives' buys may represent a relatively modest purchase, the flurry of activity seems to have inspired some confidence in the market.
The daily chart for June 1 includes a massive volume bar on Friday afternoon representing more than 49.7 million shares. That volume represents about six times Office Depot's average daily trading volume and about 9 percent of the stock's entire float.
Friday's trading volume represents the highest daily volume for Office Depot since mid-2016.
What's Next
With no major news from the retailer out in the past week, it seems as if traders are reading into the insider purchases — or perhaps the insider buys have simply triggered a relief rally in the battered stock. Even after the past week's big gains, Office Depot stock is down 49.7 percent in the past year.
Related Links:
4 Keys To The Office Depot Bear Thesis
Benzinga Pro's 5 Stocks To Watch Today
Photo by Mpcastillo22/Wikimedia.
Posted-In: News Insider Trades Best of Benzinga
View Comments and Join the Discussion!