Momentum Monday: Positive Spirits From Friday Jobs Report Still Rolling
The animal spirits unleashed by last Friday's upbeat payrolls report appear intact after the weekend, as pre-market trading pointed toward the chance for more gains early Monday. European and Asian stocks rallied overnight and U.S. Treasuries continued to edge lower.
The job numbers were good and the economy seems to keep humming along. In the stock market, there's been momentum across the board, with buying lifting most sectors.
Still, investors might want to be especially careful this week because there's a general lack of numbers and earnings. That means rumor and innuendo could potentially drive overall trading more than usual. Long-term investors once again should consider trying to ignore the daily noise, if possible. For those who trade regularly, this week might be one of those times to think about trading in smaller increments, because volatility could be a factor. That said, Friday's strong rally after the payrolls report showed jobs growth of 223,000 in May helped send the Cboe VIX back below 14, down from highs above 18 earlier in the week.
Nasdaq Starts Week Near All-Time Highs
Despite the snakes and ladders action that dominated much of last week, markets finished little changed overall. The Dow Jones Industrial Average ($DJI) fell slightly and the S&P 500 Index (SPX) rose a tad. Attention this week could once again focus on the administration's steel and aluminum tariffs against Europe, Canada, and Mexico, as well as on concerns that last week's strong economic data might raise prospects for a fourth Fed rate hike this year. The tech-heavy Nasdaq (COMP) starts the week just 1 percent away from its all-time high, but the SPX is still down nearly 5 percent from the record peak it posted in late January.
One thing that remains unsettled as the week begins is the interest rate complex. It boomeranged all over the place last week, with the 10-year Treasury yield dropping below 2.8 percent at one point after scraping 3.1 percent the week before. It settled Friday near the middle of that rather wide range, at about 2.9 percent. Now, the bias appears to be higher, especially after the bullish U.S. payrolls report that seemed to fire on all cylinders. A move back toward the 3 percent level, however, could once again have investors talking about a possible overheated economy and a fourth rate hike.
"FAANGS" Momentum Might Be Back
Trade war fears that escalated last week might have had one beneficiary: the so-called "FAANG" stocks. Shares of four of the five (Amazon, Netflix, Facebook, and Apple) closed at record highs on Friday (see Fig. 1 below). Certain sectors can often be more susceptible than others to trade tension, so some investors appear to be embracing ones that might seem less susceptible. That said, tech stocks aren't necessarily immune to international trade issues. All of the FAANGs and many others like Intel Corporatrion (NASDAQ: INTC) and Microsoft Corporation (NASDAQ: MSFT) do plenty of business overseas and could potentially come under pressure if the trade situation deteriorates further. Trade talks between China and the U.S. didn't reach a settlement over the weekend, news media reported.
While you can't count out trade having an impact down the road, for now it seems like FAANGs have gotten their momentum back. Many investors appear to want to own them as the market goes up, perhaps remembering how the five names helped propel things last year.
Sector Check
Last week's sector leaderboard included energy and info tech at the top, both rising more than 2 percent. Real estate was another big gainer, while small caps continued to push upward with the Russell 2000 (RUT) rising nearly 1.3 percent partly due to the stronger dollar. Financials remained in the sick bay, however, falling about 1.3 percent during the week. European and Japanese stocks also back-tracked last week before rallying early Monday. The S&P 500 Industrial sector struggled, a victim in part of the trade tensions.
In corporate news early Monday, Bloomberg reported that Microsoft (MSFT) could be planning to buy GitHub, a code-repository company popular with many software developers that was valued at $2 billion in 2015. Data today include factory orders and ISM services, along with TD Ameritrade's May Investor Movement Index® (IMX), a barometer of TD Ameritrade investor positions and activity to measure how TD Ameritrade clients are positioned in the markets.
The week ahead could end up looking like a bridge between the end of earnings season and coming important events like President Trump's scheduled June 12 meeting with the North Korean leader and the Fed meeting, which also takes place that week. The European Central Bank (ECB) also holds a meeting that concludes June 14, a day after the Fed's, and it could take on even more importance than usual considering the political turmoil lately in Spain and Italy along with European backlash against U.S. tariffs. OPEC's next meeting follows that on June 22. We'll address all those coming attractions as the week continues./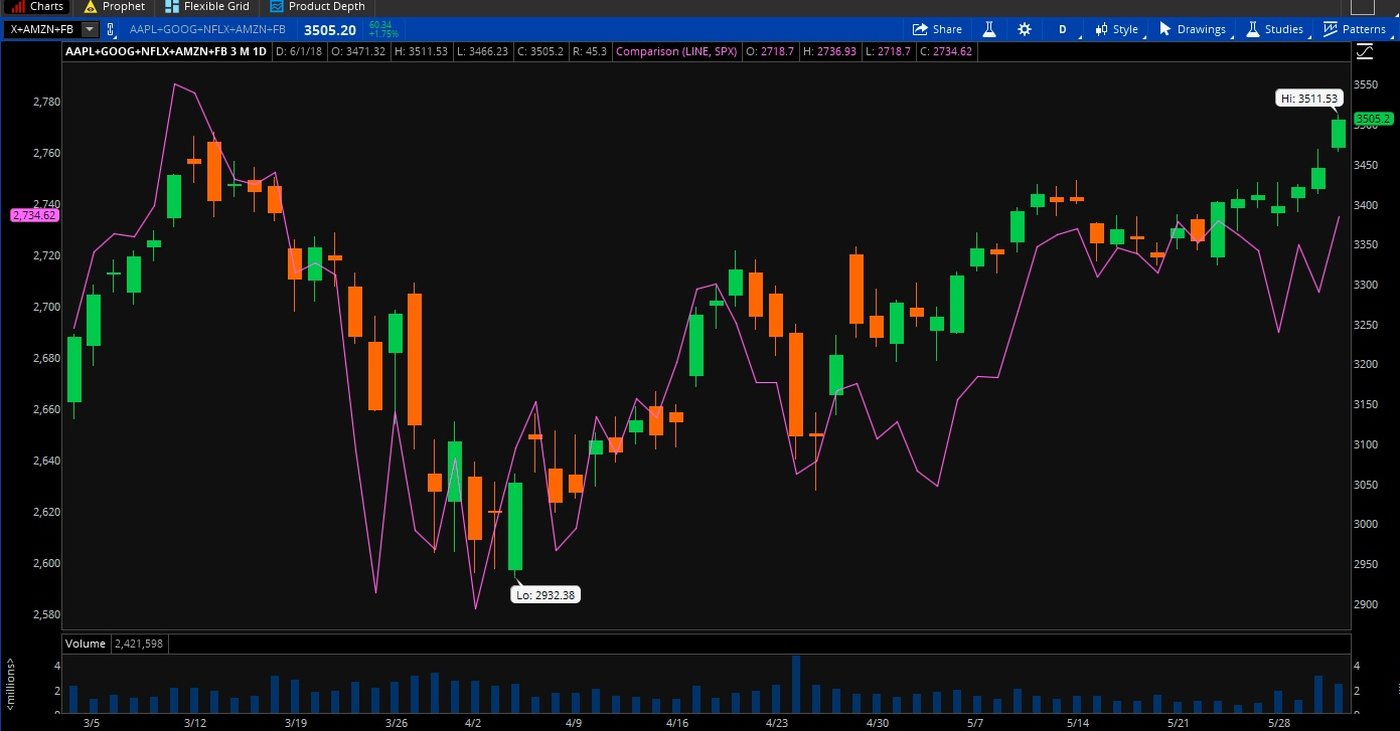 Figure 1: FAANG Up: The so-called "FAANG" stocks (Apple, Facebook, Alphabet, Netflix, and Amazon), charted as a combined candlestick here over the last three months, have begun to gain momentum over the last few weeks to pull ahead of the broader S&P 500 Index (purple line). Data Source: S&P Dow Jones Indices. Chart source: The thinkorswim® platform from TD Ameritrade. For illustrative purposes only. Past performance does not guarantee future results.
Presidential Pondering
President Trump's tweet ahead of the jobs report Friday could have a potential impact on the market next month, one analyst pointed out on CNBC. The president's tweet, in which Trump said he was "looking forward" to the numbers, came ahead of what ended up being a very positive report. Later in the morning, Larry Kudlow, director of the National Economic Council, told reporters he'd revealed the jobs data to President Trump before it became public, meaning Trump knew a good number was coming when he tweeted. This raises the question whether Trump will tweet anything before the next report and how the market might react. If there's no presidential pre-report tweet, some investors might read that as a negative indication about the number to come, the analyst said. That could potentially influence price movement. The next payrolls report is scheduled for July 6.
Pricing Pressure Pops
Though the May jobs report didn't reveal signs of much inflation with its 2.7 percent year-over-year wage growth, that doesn't mean we're out of the woods. For instance, the May ISM Manufacturing Index, released Friday after the jobs number, showed the prices index increasing to 79.5 from 79.3 and at its highest level since April 2011. "The key takeaway from the report is… respondents are experiencing price pressures, and that those price pressures are causing price-increase discussions as they prepare for the second half of the year," Briefing.com noted. The index itself increased from a month ago but is down from late last year. Meanwhile, the Personal Consumption Expenditure (PCE) core index—one watched closely by the Fed—rose just 1.8 percent year-over-year in April. That was unchanged from the previous month, but there were some signs of price pressure deeper in the data.
More to Picture on Wages
One overriding question remains why solid U.S. job growth and 18-year lows in unemployment haven't lead to faster wage growth. That question persisted after Friday's payrolls data showed a modest 2.7 percent year-over-year rise in wages, but there are signs of wage pressure if you dig a little deeper into the report. For instance, weekly earnings for those without a high school diploma rose 10 percent from a year ago, the Labor Department reported. That could point to pay raise demands starting to bubble up among lower-skilled workers, whom many companies have started to hire as they experience trouble finding workers with higher educational attainment, The Wall Street Journal reported.
Information from TDA is not intended to be investment advice or construed as a recommendation or endorsement of any particular investment or investment strategy, and is for illustrative purposes only. Be sure to understand all risks involved with each strategy, including commission costs, before attempting to place any trade.
Posted-In: JJ Kinahan TD AmeritradeNews Commodities Treasuries Econ #s Markets
View Comments and Join the Discussion!