3 Companies Tied Up With Cohen's Shell Company — And What They Need From Trump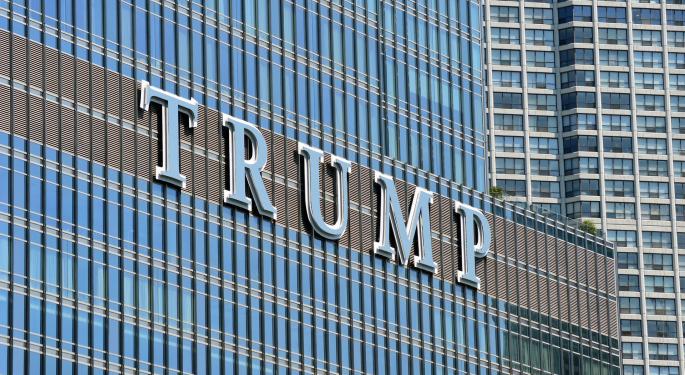 AT&T Inc. (NYSE: T), Novartis AG (ADR) (NYSE: NVS) and Korea Aerospace Industries, a current collaborator with Lockheed Martin Corporation (NYSE: LMT) reportedly made payments to a shell company run by President Donald Trump's personal lawyer.
Why It's Notable
Michael Cohen's Essential Consultants LLC came under recent scrutiny as a conduit of payments to keep Stephanie "Stormy Daniels" Clifford quiet about an alleged affair with Trump. The pornographic film star is suing Trump and Cohen to break a non-disclosure agreement related to the payoff.
In an investigation of Essential, Clifford's attorney Michael Avenatti said he unearthed other transactions that he released Tuesday and which were independently confirmed by The New York Times. They include:
Nearly $500,000 from Columbus Nova, a U.S. investment firm with a Russian oligarch as its largest client;
Four $99,980 payments from a Novartis subsidiary;
Four payments totaling $200,000 from AT&T; and
$150,000 from Korea Aerospace Industries.
The companies' payments connect them with a character at the heart of federal investigations into bank fraud and election law violations.
'An Inroad Into The Administration'
Columbus Nova released a Tuesday statement describing its payment as a consulting fee unrelated to its prominent Russian client. The other implicated companies similarly defended their transactions.
Priceless = Watching all of the companies that sent money to the LLC slush fund come up with different alleged reasons for hiring Mr. Cohen – "accounting advice," "real estate consulting," "insight," etc. Who knew Mr. Cohen was such a brilliant renaissance man? #nonsense #basta

— Michael Avenatti (@MichaelAvenatti) May 9, 2018
Some of the interactions were conveniently timed.
AT&T made its payments between October 2017 and January 2018, the same period it labored to convince the Federal Trade Commission to approve its pending Time Warner Inc (NYSE: TWX) acquisition.
"Essential Consulting was one of several firms we engaged in early 2017 to provide insights into understanding the new administration," AT&T said in a statement. "They did no legal or lobbying work for us, and the contract ended in December 2017."
Although the company confirmed it paid the $200,000 Avenatti exposed, Reuters reported Wednesday that AT&T inked a yearlong contract and may have paid as much as $600,000.
Novartis, which tallied more than $10 million in federal lobbying expenses last year, also released a statement confirming its contract with Essential had expired.
A Novartis insider later told STAT News that Cohen had approached Novartis after the 2016 election "promising access" to Trump's administration.
"He reached out to us," STAT's source said. "With a new administration coming in, basically, all the traditional contacts disappeared and they were all new players. We were trying to find an inroad into the administration. Cohen promised access to not just Trump, but also the circle around him. It was almost as if we were hiring him as a lobbyist."
Another source told CNBC Novartis signed a one-year, $100,000-per-month contract with Essential to consult Cohen about Trump's health care policies.
The relationship culminated in a March 2017 meeting between Cohen and Novartis employees. The latter realized the relationship was futile and opted to let the contract lapse in 2018. Novartis nevertheless paid Cohen $1.2 million for work he was unable to do, as the contract could only be terminated "for cause," according to CNBC.
Korea Aerospace Industries, which made its single payment last November, is working with Lockheed Martin to win a $16-billion contract with the U.S. Air Force to be awarded this year.
The firm told Reuters it contracted Cohen for "consulting services on accounting matters."
Related Links:
FBI Raids Office Of Michael Cohen, Trump's Personal Lawyer
Why Paul Ryan's Retirement Could SIgnal 'An Increased Opportunity' For Impeachment Proceedings In 2019
Posted-In: CNBC Donald Trump Essential Consultants LLC Michael CohenNews Politics Media General Best of Benzinga
View Comments and Join the Discussion!