US Will Withdraw From The Iran Nuclear Deal, Trump Calls It A 'Great Embarrassment'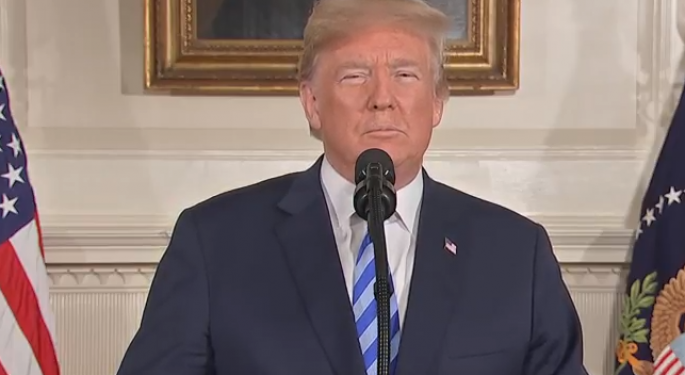 President Donald Trump announced Tuesday that he would reinstate "the highest level of economic sanctions" against Iran and withdraw from the nuclear deal negotiated by his predecessor.
"This disastrous deal gave this regime, a regime of great terror, many billions of dollars," Trump said, accusing the state of pursuing nuclear weapons, murdering and kidnapping Americans, and plundering the wealth of its own people. "It didn't bring calm, it didn't bring peace, and it never will." He also called the deal a "great embarrassment."
Why It's Important
The United States Oil Fund LP (ETF) (NYSE: USO) spiked higher on the news. Analysts suggest the oil market will suffer limited impact considering the U.S. has little international support on its position and Iran will likely continue exporting to the likes of China and India.
Any impact to oil prices, though, would have widespread effects across industries.
Defense stocks rallied on the softening of the deal, which remains intact and checks Tehran's nuclear program only through continued participation from Germany, Russia, France, the U.K. and China.
Northrop Grumman Corporation (NYSE: NOC) and Lockheed Martin Corporation (NYSE: LMT) traded up 3.8 percent and 1.4 percent, respectively.
Boeing Co. (NYSE: BA) actually rose on the news despite now having to reconsider its recently negotiated a $20 billion sale to Iran.
The reintroduced sanctions also harm European multinationals conducting business using U.S. assets, with the U.S. dollar or through U.S. banks, according to the Wall Street Journal.
France's Total SA (ADR) (NYSE: TOT), for example, is purposely excluding American employees and American assets from its $1 billion offshore natural-gas field project to ensure its compliance with U.S. law, but Total is prepared to sell its majority stake in the venture altogether, the WSJ reported.
Royal Dutch Shell plc (ADR) ADR Class A (NYSE: RDS-A), Renault SA and Airbus SE might also need to cut sales and deals in the region.
What's Next
The U.S. could take months to effect sanctions as it develops guidelines for affected companies, according to CNN.
The fate of the Iran nuclear deal remains unclear, although all other signatories have confirmed their enduring commitment.
Related Links:
Israeli Prime Minister Netanyahu: Iran Hid Nuclear Weapons Program
Trump Calls Out OPEC, Says 'Oil Prices Are Artificially Very High'
View Comments and Join the Discussion!
Posted-In: Donald Trump IranNews Futures Commodities Global Top Stories Markets Best of Benzinga