AxisWire: The Birth Of A Cannabis Industry Media Standard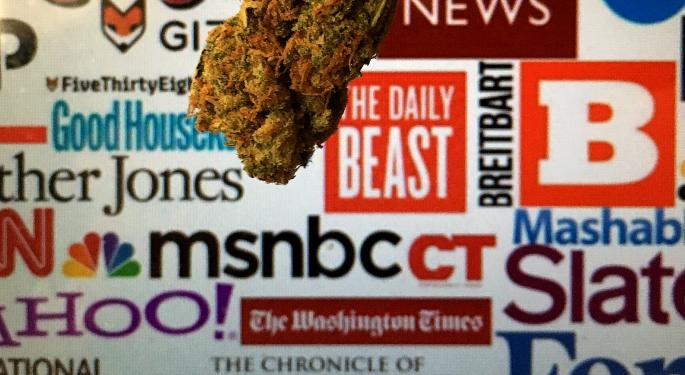 The cannabis industry witnessed the debut last month of AxisWire, a company conceived to offer a one-stop-shop for cannabis industry entrepreneurs looking to expose and grow their brands and journalists seeking the latest industry news. Think of a PRNewswire-style site created exclusively for the cannabis industry.
The company offers a source locator service called STAR, where journalists, entrepreneurs and experts can connect to collaborate on pot-focused stories. Other services include: the writing and distribution of press releases to over 1,700 journalists and reporters worldwide, a centralized hub for all media inquiries, experts media strategy consultation and media compliance and professional review services provided by Cannaregs.
Related Link: Wonder Women Of Weed: Amanda Ostrowitz, From Federal Reserve Bank Regulator To Cannabis Compliance Entrepreneur
AxisWire — founded by Cynthia Salarizadeh, managing partner of KCSA Strategic Communications — is poised to help advance industry objectives by assisting entrepreneurs and media representatives in telling and distributing their stories.
"After two years of development, I am comfortable saying this platform is the most advanced in functionality of its kind in our industry," Salarizadeh told Benzinga. "By teaming up with industry veteran Evan Nison and bringing on key board members that include PR and media heavyweights such as Gaynell Rogers, Debra Borchardt and Lewis Goldberg, we are confident that AxisWire will stand at the center of all things media for cannabis."
Industry Commentary
Interested in what cannabis industry participants had to say about the new service, Benzinga reached out to Derek Riedle, CEO and publisher of the cannabis-focused site Civilized, and Gaynell Rogers, national media relations consultant for Harborside, Hoban Law Group, 420 Games and New West Summit.
"In the vast landscape of media platforms in the cannabis news industry, I think that AxisWire will soar and fill the black hole of saturated and meaty media exposure. This level of expertise and back-end technology is sorely needed. It's about time," Rogers said.
Related Link: 'Decriminalizing Cannabis Is Long Overdue': Politicians, Experts React To Chuck Schumer's Marijuana Bill
Riedle said the cannabis industry shows no signs of slowing down.
"No other industry has this kind of high-growth potential, and we believe that high-quality media like Civilized and AxisWire can help accelerate the development of this industry by reaching new audiences with stories, ideas and information that's been more or less forbidden for the better part of a century."
Picture by Javier Hasse.
View Comments and Join the Discussion!
Posted-In: 420 GamesNews Emerging Markets Top Stories Exclusives Markets Media Interview Best of Benzinga