Kanye West Makes A Philosophic Twitter Return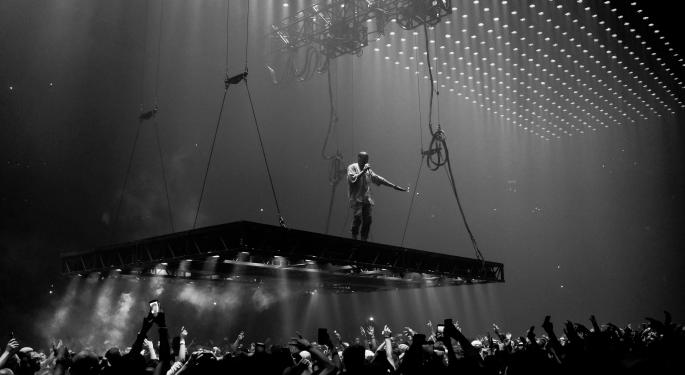 Kanye West is the life coach we didn't know we needed.
A new, wiser Kanye West has emerged on social media over the past week. After rejoining Twitter on Friday the 13th and being personally welcomed back by Twitter Inc (NYSE: TWTR) CEO Jack Dorsey, West has been a hit on the platform and hailed for his positive tweets.
People called West "the greatest philosopher of all time" — if only Plato, Aristotle and Socrates were blessed with the ability to reach millions with their own 280 characters of wisdom.
West is essentially a perfect match for Twitter, incredibly outspoken with massive reach, but this time he is using it for good. In just one week he has amassed over 16 million followers, with nearly every tweet going viral.
Some people have to work within the existing consciousness while some people can shift the consciousness

— KANYE WEST (@kanyewest) April 16, 2018
often people working with the existing consciousness are jealous of those who are more in touch and they become hard-core capitalist in hopes of creating the illusion that the value of money is worth more than the value of time and friends

— KANYE WEST (@kanyewest) April 16, 2018
You will be a drop of water with the ocean as your army. If you move out of fear than your on your own. Then it's just you and the money and the countless people you have to lie to and manipulate to build a man made path that will never lead to true happiness.

— KANYE WEST (@kanyewest) April 18, 2018
Don't follow crowds. Follow the innate feelings inside of you. Do what you feel not what you think. Thoughts have been placed in our heads to make everyone assimilate. Follow what you feel.

— KANYE WEST (@kanyewest) April 18, 2018
West is not all sage advice on Twitter: he's also using the platform to push his own creations and upcoming footwear production with adidas (AG) (OTC: ADDYY).
early 350 photoshop I showed Louise Wilson these the last night I saw her pic.twitter.com/gjOT1wbgPK

— KANYE WEST (@kanyewest) April 16, 2018
Related Links:

Tech Strategist: Twitter Is The Main Beneficiary Of Facebook's Privacy Scandal

This Day In Market History: Jack Dorsey Sends The First Tweet

Photo by Kenny Sun/Wikimedia.
Posted-In: Jack Dorsey Kanye WestNews General Best of Benzinga
View Comments and Join the Discussion!