The Eurozone Economic Activity Remains Robust In March
After the manufacturing PMI decelerated sharply in March from the cyclical multi-year high at the turn of the year, the services PMI were set to follow but remained solid. The composite PMI for the Eurozone fell to 55.2 in March compared to 57.1 in February, as both manufacturing and services sectors are cooling off from the cyclical high, but activity still remains robust.
In terms of historical comparison, the economic activity in the Eurozone is decelerating sharply, but translated into GDP expectations it still represents solid 0.6-0.7 percent quarterly increase compared to 0.8-0.9 percent rise consistent with PMI level at its cyclical high.
In Spain
Spanish services activity index marked a solid rise, but came out lower compared to February recording 56.2 reading in March, signaling a sharp monthly increase in activity across the service sector. Moreover, Spanish service providers recorded the fastest rise in employment in over 11 years at the end of the first quarter of 2018 as companies responded to the accelerated growth of new business and invested in new product development.
In Italy
Italian services PMI cooled off sharply falling to 52.6 in March compared to 55.0 in February. The slowdown in the economic activity in services in Italy was influenced by the slowest increase in new work since last October. Employment also rose at a slower pace, in spite of a pick-up in the rate of backlog accumulation.
In France
Services activity also slowed in France in March, although it remained elevated. The headline services PMI decelerated to 56.9 in March from 57.4 in February. Combining the services activity with manufacturing saw the composite PMI falling to 56.3 in March from 57.3 in February the weakest expansion since August last year. The moderation of the economic activity indicates that weaker rise in new business, while the rate of employment growth also dipped to a half-year low. Nevertheless, the rates of growth on these metrics remained firmly above their long-run averages, suggesting another strong GDP reading for the first quarter.
In Germany
Services activity expanded at the slowest rate in seven months in Germany as the headline services PMI decelerated to 53.9 in March from 55.3 in February. In combination with decelerating manufacturing PMI, the composite PMI fell to 55.1 marking 8-month low in March, down from 57.6 in February. The current slowdown in the economic activity comes as no surprise given the strength of PMI at the beginning of this year with performance over the first quarter overall still one of the best over the past seven years.
The Eurozone composite PMI and GDP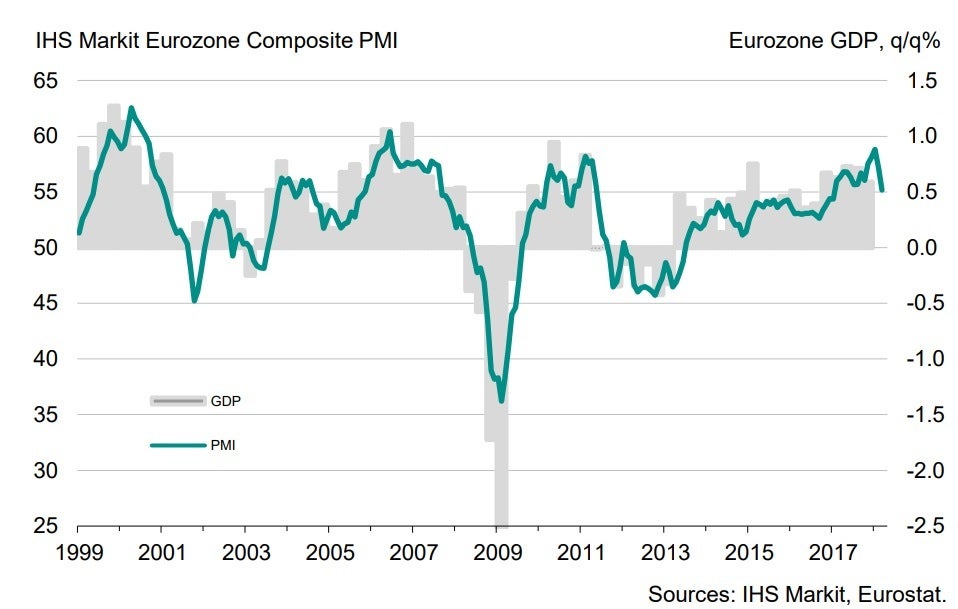 View Comments and Join the Discussion!