Apple Wants You To Text Businesses Through The Messages App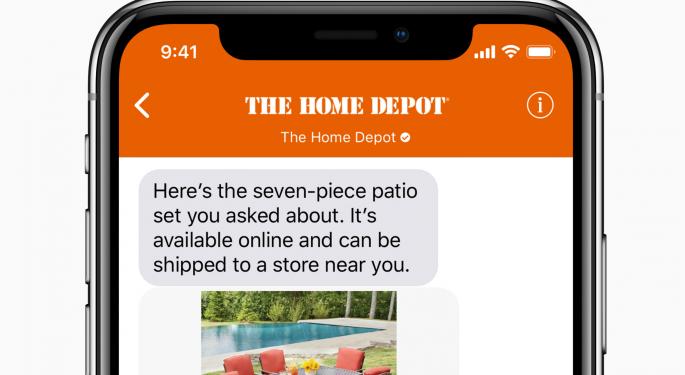 Apple, Inc. (NASDAQ: AAPL) released its iOS 11.3 this week, and it features a new way for users to communicate with businesses. The new Business Chat feature allows iPhone users to place orders, schedule appointments or interact with customer service directly in the Messages app.
Eligible businesses include TD Ameritrade Holding Corp. (NASDAQ: AMTD), Home Depot Inc (NYSE: HD) and Wells Fargo & Co (NYSE: WFC).
How It Works
Once a device user taps on the Messages icon, they can simply type in a message to the business and get a prompt reply.
Home Depot customers, for example, can ask for quick help on a home improvement project straight from their device without making a phone call or driving to the store. Business Chat allows users to place customized orders by sending pictures of exactly what they need straight to a business. This feature helps improve order accuracy as well.
Some businesses even allow users to make purchases directly from within the Business Chat using Apple Pay.
Accessibility Is Key
TD Ameritrade's goal is to make the company's investing services more accessible by being just a message away at all times, said Sunaya Tuteja, the firm's head of emerging technology.
"When developing our experience for Apple Business Chat, we started by looking at our primary call drivers to understand what it is that clients often have questions about," Tuteja told Benzinga. "We took these and rendered responses to Apple Business Chat in a simple and engaging way."
TD Ameritrade customers can now use Business Chat to add events such as earnings calls to their calendars, find guidance on different types of accounts and access educational tools on investing.
Business Messaging Services Are Growing
TD Ameritrade offers similar chat bot services on Twitter, Inc (NYSE: TWTR) and Facebook, Inc. (NASDAQ: FB), but the Apple Business Chat has its own unique flavor, Tuteja said.
"Speed to market is critically important for us, so we purposefully built a foundation that's flexible and allows us to customize the experience so that it's relevant to each unique interface and its users."
The service is still currently in beta testing and only available on iPhones and iPad devices.
Related Links:
How Intel Might Be Affected If It Loses Apple As A Customer
E-Trade, TD Ameritrade Upgraded As Market Volatility Returns
Photo courtesy of Apple.
View Comments and Join the Discussion!
Posted-In: Business Chat iOS iPhone Sunayna TutejaTech Interview Best of Benzinga