Checking In On The Energy Sector Ahead Of Q1 Earnings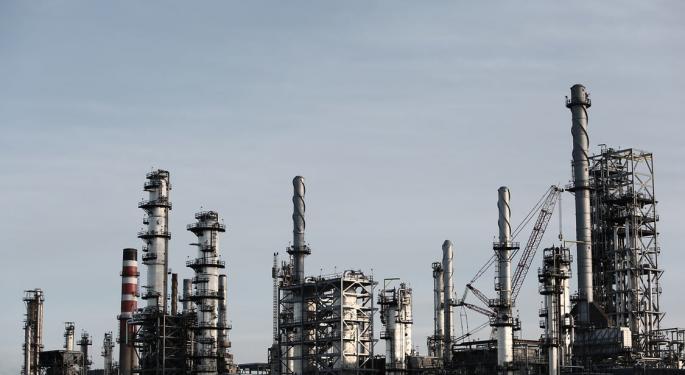 Amid the downturn in oil and natural gas prices over the past several years, many companies in the energy sector took steps to improve efficiencies and cut costs by reducing capital expenditures, dividends and other investment.
Oil is still nowhere near where it was when it peaked above $140 per barrel in 2008, or the $90 to $100 range seen for most of 2011 to 2014. However, WTI (/CL) and Brent (/BZ) prices have recovered a ways from their sub-$30 lows hit in early 2016, and have been trading above between $60 and $70 recently. Natural gas (/NG) has also recovered a ways from the sub-$2 levels hit in early 2016, but prices have dropped sharply from the mid-$3 range and have been trading between $2.60 to $2.80 since mid-February.
Heading into Q1 earnings, the S&P 500 energy sector is expected to report 82.3% year-over-year earnings growth, according to FactSet. The sizable increase is largely a result of low earnings in the same period last year, as well as a recovery in oil prices. The estimated earnings growth was at 55.9% on Dec. 31, which has increased alongside a rise in oil prices and the passage of U.S. tax reform.
Revenue in the sector is projected to grow 15.3% year over year, according to FactSet, with the lowest growth expected from oil and gas exploration and production companies at a 1% increase. That estimate has also climbed higher from the expected 12.8% year-over-year growth on Dec. 31.
Over the past several months, there's been a greater divergence between oil prices, natural gas prices, and the energy sector's performance (see chart below).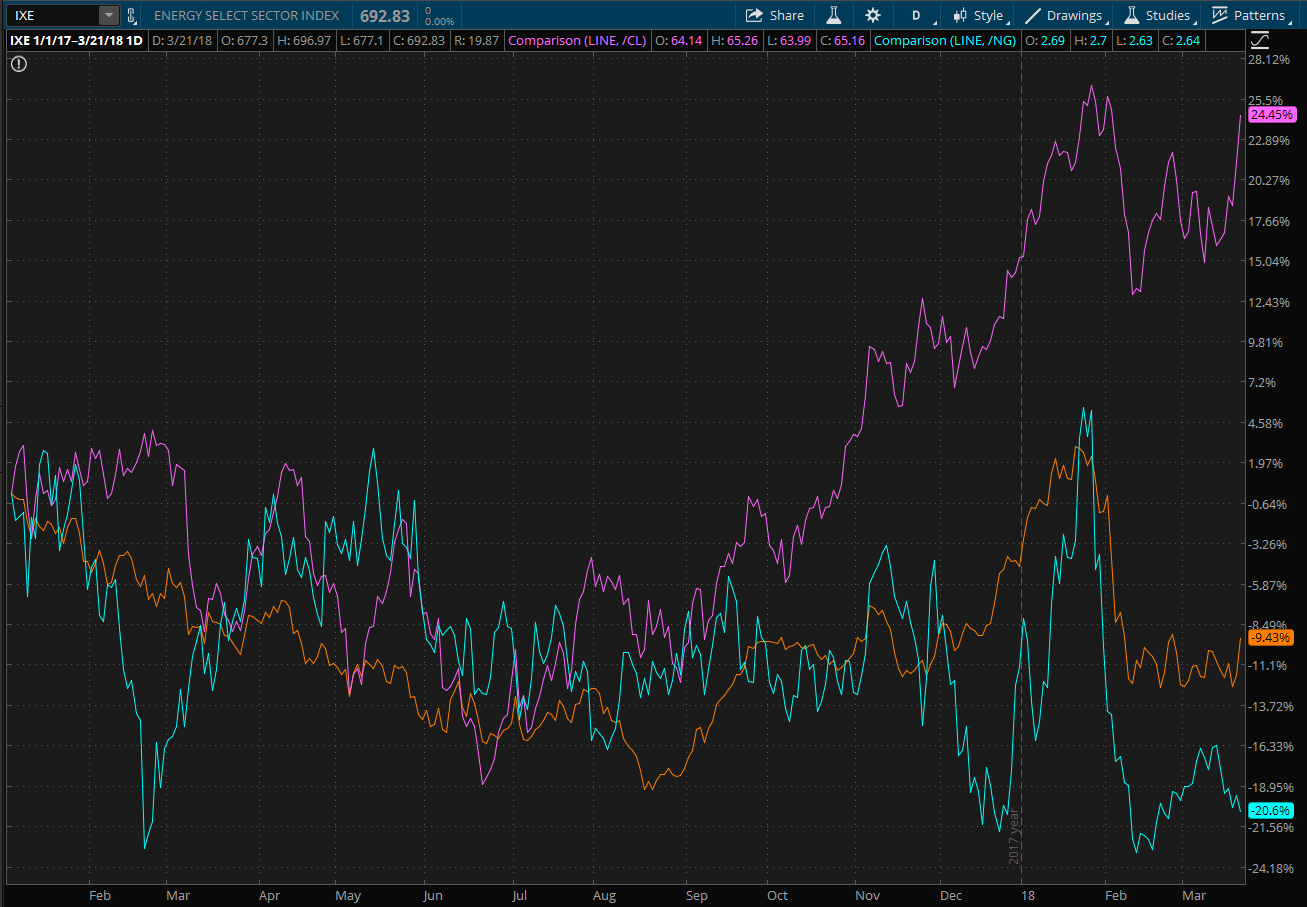 DIVERGING PRICES. The S&P Energy Select Sector Index (IXE, orange line), is charted above compared to WTI Crude (/CL) and Natural Gas (/NG) since the start of 2017. Chart source: thinkorswim® from TD Ameritrade. Not a recommendation. For illustrative purposes only. Past performance does not guarantee future results.
Cost Cutting Measures and Efficiencies
Other than cutting their own production and improving efficiencies, there really isn't a whole lot energy companies can do during a prolonged downturn in energy prices. If energy prices remain depressed, companies either need to figure out a way to remain profitable, or survive until they recover, something that's never guaranteed.
At the same time, cutting back on those projects could lead to a supply crunch down the road. In the past, the International Energy Agency (IEA) has warned that global oil supplies could be pressured as a result of drastically reduced investment in new production over the past several years. The IEA said that could result in spare capacity at a 14-year low and push prices sharply higher down the road.
Global Growth Providing a Backdrop for Demand?
For many commodities, global growth is a tailwind, potentially helping increase demand for petroleum, natural gas and related products, which can result in higher prices. Economic growth has continued in the U.S. and other major economic regions, such as India and China.
This could provide a backdrop of demand if economic growth continues, but that's just one half of the equation. Supply also has a tremendous impact on prices, and the dynamics of international energy markets have been changing as U.S. production has increased.
The difference between U.S. producers and many international producers is that foreign governments control much of the production elsewhere in the world, and they rely on that money to run their countries. Because of that, they're highly incentivized to maintain higher oil prices. Many foreign producers also have a higher cost of production than U.S. producers in the Permian Basin and Bakken formation, which is part of the Williston Basin.
U.S. Production and Shifting Supply Dynamics
The U.S. Energy Information Administration (EIA) expects total U.S. crude oil production to average 10.7 million barrels per day (bpd) in 2018, a sizable increase from the 9.3 million bpd average in 2017. In 2019, U.S. production is projected to average 11.3 million bpd, the EIA says.
If the U.S. hits that 10.7 million bpd average in 2018, it'd mark the highest U.S. production levels seen since 1970, when production averaged 9.6 million bpd. The supply dynamics in crude oil have been shifting as lower-cost shale production has made it more economical for U.S. producers to pump at lower prices compared to many international producers.
In addition to shale production, another factor that has shifted international supply dynamics is that exporting almost all crude oil from the U.S. was banned until the end of 2015, with the exception of some limited exports. In 2017, American oil exports averaged 1.1 million bpd, almost double compared to 2016, according to the EIA.
As Q1 earnings season gets underway next month, consider listening in on conference calls from major companies to get an idea of supply and demand dynamics within the industry. The oil supermajors, companies like Exxon Mobil Coporation (NYSE: XOM) and Chevron Corporation (NYSE: CVX), are involved extensively in energy markets around the world, and they might be one place to start.
Posted-In: TD Ameritrade The Ticker TapeNews Commodities Previews Markets Trading Ideas
View Comments and Join the Discussion!