The Bank Of England MPC Turns Hawkish With A 7-2 Voting Pattern
The Bank of England keeps May rate hike as probable action while keeping rates on hold in March. The expectations for May rate hike increased after February Inflation Report in which the bank said that "monetary policy would need to be tightened somewhat earlier and by a somewhat greater extent over the forecast period than (previously) anticipated."
In March the monetary policy stance has been somewhat more hawkish, especially given the policymakers voting pattern turning 7-2 after unanimous voting in the previous meeting. Both Ian McCafferty and Michael Saunders voted in favor of 25 basis points rate hike in March, signalling that the rate hike move is set to materialize soon while the monetary policy statement in March said "ongoing tightening of monetary policy over the forecast period will be appropriate to return inflation sustainably to its target at a more conventional horizon."
What did Monetary Policy Committee (MPC) say at its meeting ending on 21 March 2018
MPC voted by a majority of 7-2 to maintain Bank Rate at 0.5 percent.
MPC external policymakers Ian McCafferty and Michael Saunders voted to raise rates to 0.75 percent returning to their previous hawkishness from 2017.
MPC voted unanimously to maintain the stock of sterling non-financial investment-grade corporate bond purchases, financed by the issuance of central bank reserves, at £10 billion.
MPC kept hawkish tilt saying that ongoing tightening of monetary policy over the forecast period will be appropriate to return inflation sustainably to its target."
In terms of macro picture, MPC acknowledged that
Inflation is expected to ease further in the short term although to remain above the 2 percent target. Pay growth continued to pick up.
The unemployment rate remained low in the three months to January.
The firming of shorter-term measures of wage growth in recent quarters and a range of survey indicators suggest pay growth will rise further in response to the tightening labor market, providing increased confidence that growth in wages and unit labor costs will pick up to target-consistent rates.
On Brexit, MPC acknowledged little progress
By saying stating boldly that "Brexit remains the most significant source of uncertainty about the economic outlook."
GBP/USD 1-hour chart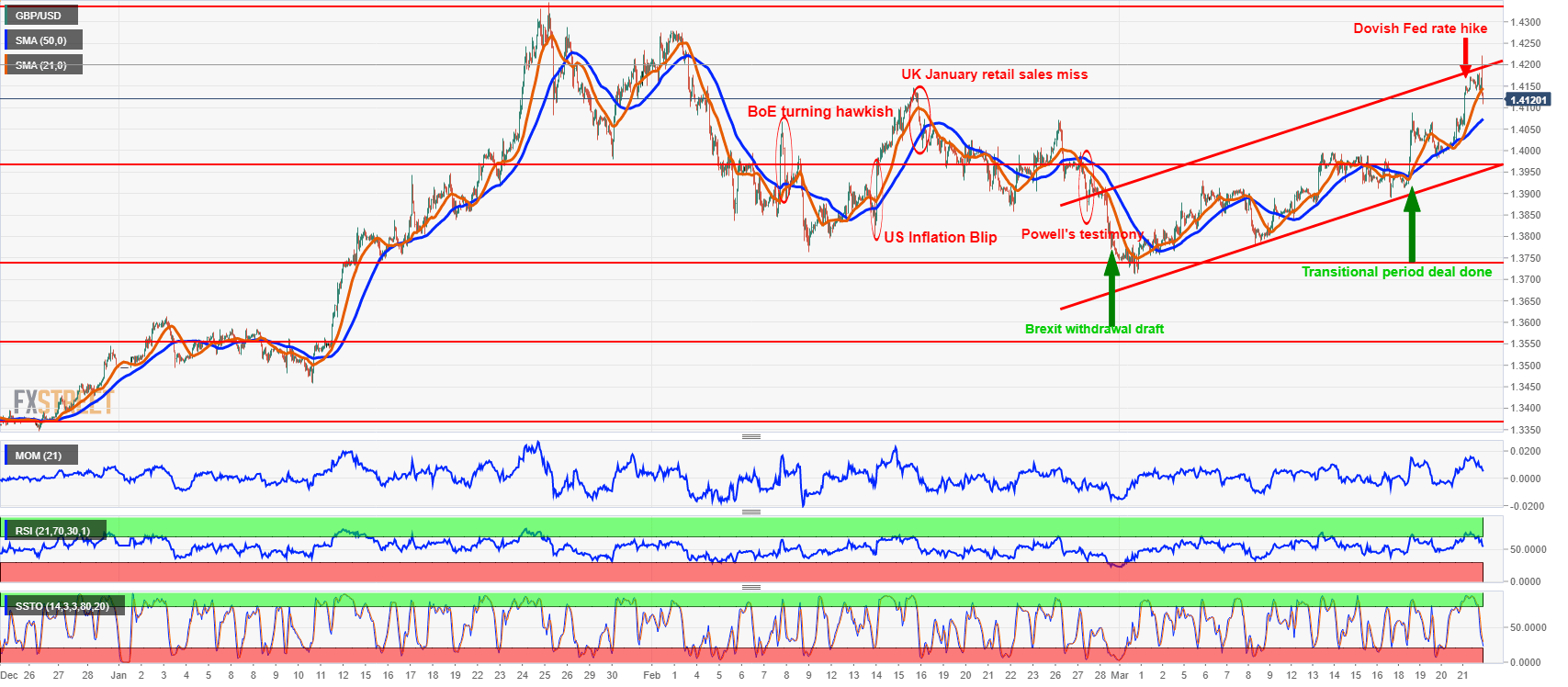 View Comments and Join the Discussion!