Goldman Sachs Investors Don't Seem Concerned About A Lloyd Blankfein Departure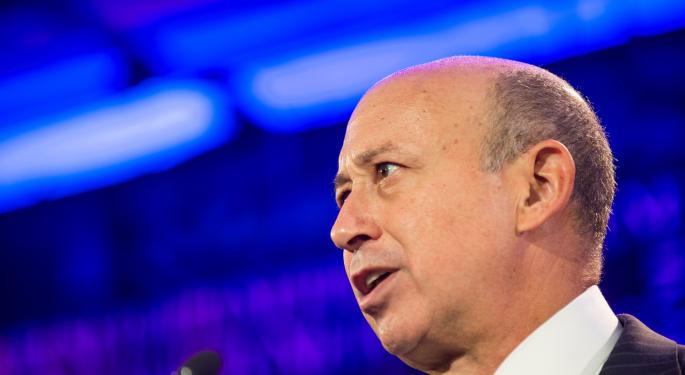 Shares of Goldman Sachs Group Inc (NYSE: GS) initially moved lower on heavy volume after The Wall Street Journal reported the banking giant's CEO Lloyd Blankfein will step down by the end of 2018. Within minutes, the stock recovered and quickly rebounded to trade at session highs.
What Happened
The Wall Street Journal said Blankfein's is "firmly in control" of his exit, but is committed to leaving in 2018, despite prior claims to work until the day he dies at his desk.
His departure would mark an end to a 36-year long stint at Goldman Sachs, 12 of which was as CEO. It's not known what Blankfein will do when he steps down nor is it known if he will hold on to his seat on the board of directors.
Why It's Important
Notable bank analyst Dick Bove of Vertical Group downgraded Goldman Sachs to a Sell rating last November. At that time, he argued Blankfein needs to be removed as CEO -- a position he held even after turning bullish on the stock in early January.
Blankfein's pending retirement should be considered as "wonderful" news but to make it even better the executive should retire "immediately," Bove told CNBC's Scott Wapner Friday. But at the end of the day, it may not necessarily matter when he retires as he "wrecked" the bank. Specifically, 10 years ago Goldman Sachs' revenue stood at $46 billion, five years ago it stood at $34 billion, and now it stands at $32 billion. On the earnings front, Goldman Sachs' performance is "pathetic" as its earnings are similarly down from 10 years ago, five years ago, even two years ago.
No other Wall Street bank is "in as bad shape as that" but Goldman Sachs has benefited from Blankfein's "cult of personality in which everyone thinks he is phenomenal," Bove said.
"Why did Goldman do so poorly?" Bove asked. "They did so poorly because Blankfein made one bad strategic decision after another."
What's Next
The topic of who will replace Blankfein is likely to dominate headlines in the months ahead. As it stands, WSJ said there are two contenders for the CEO title.
Harvey Schwartz, the bank's chief financial officer with a background in trading and investment banking.
David Solomon joined Goldman Sachs in 1999 as a rare outside partner and ran the firm's investment banking unit which happens to be the company's most profitable unit.
The stock was trading around $270.20 at time of publication, up 1.4 percent on the day.
Related Link:
Dick Bove's Top Stocks To Buy And Short
Dick Bove Calls Out The Financial Media
Image credit: Fortune Live Media, Flickr
View Comments and Join the Discussion!
Posted-In: David Solomon Dick Bove Harvey Schwartz Lloyd BlankfeinNews Management Top Stories Media Best of Benzinga