EUR/USD Forecast: Resilient Against 3 Uncertainties And Eyeing Higher Ground
The EUR/USD is trading around $1.2340 and looking quite steady.
Uncertainty about Italy's political future, trade wars and the ECB is ignored by the pair.
The technical picture looks slightly positive.
The EUR/USD is trading around $1.2340, trading a few pips higher on the day and trading in a narrow range. There are no significant euro-zone nor US figures released today but there are quite a few causes for worry.
1) Trade talk: The EU prepared a document detailing a potential retaliation for the tariffs that US President Donald Trump plans to impose on steel and aluminum. A retaliation by the EU could trigger another response from the US and things could easily get out of hand. Reports from the US say that Gary Cohn, Trump's Chief Economic Advisor is trying to allay the President from imposing tariffs. The pair initially reacted positively to the news on the tariffs but the responses now are more mixed.
2) Italian politics: The elections on Sunday resulted in a hung parliament and a stronger hand for the populist eurosceptic parties. Italy's President Sergio Mattarella will now have to decide who will get the first shot at forming a government. The euro fell on the exit polls but then recovered as the focus of traders moved elsewhere. Italy is the eurozone's third-largest country.
3) ECB meeting: The European Central Bank convenes on Thursday and is not expected to announce any policy changes. However, President Mario Draghi is under pressure to make small hawkish tweaks to the statement in preparation for an end to the bond-buying scheme. In addition, the ECB publishes new forecasts for growth and inflation. See the full preview here.
Amid all this uncertainty, the EUR/USD is showing resilience and may even eye the upside.
EUR/USD Technical Picture - Slightly bullish
The pair is trading just above the uptrend support line (purple) that it lost and recaptured. In addition, it trades above the 50 point line on the RSI, another positive sign. However, Momentum is negative at the moment.
The $1.2360 level is critical: it capped the pair in recent days and in late February. A break above this line would open the door to $1.2450, a line that supported the pair when it traded on the higher ground earlier this year. $1.2555 is the 3-year high.
Looking down beyond the uptrend support line, $1.2270 was the low point after the Italian elections. Further down. $1.2205, was the trough on February 22nd. The 7-week low of $1.2154 seen on March 1st is the last line to watch.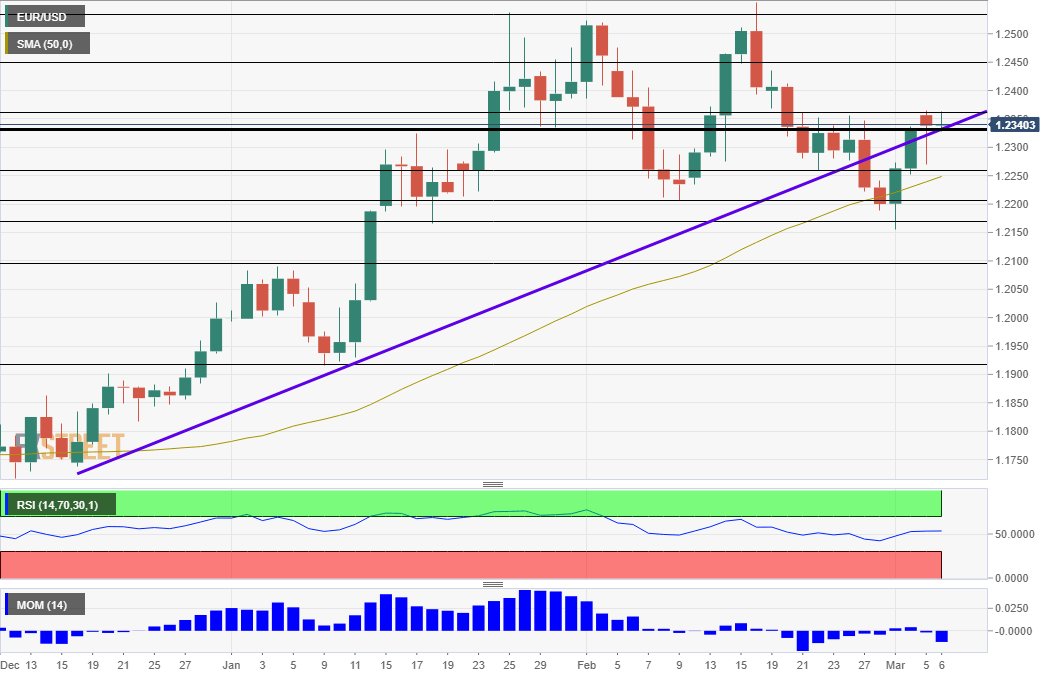 View Comments and Join the Discussion!