Spotify To Go Public As The Media Industry Continues To Evolve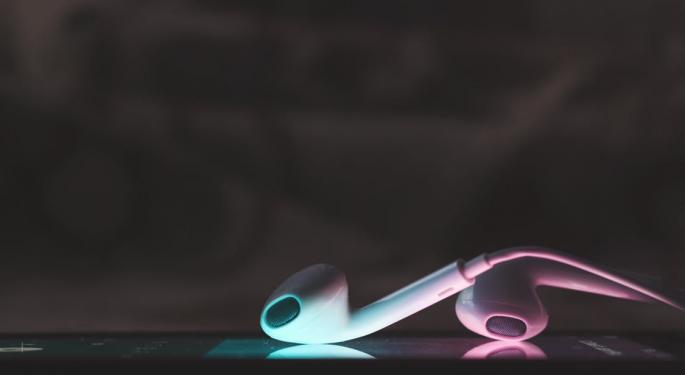 Spotify is expected to go public sometime in March or April. Since its founding in 2006, it has grown to become the largest dedicated music-streaming service with a valuation of $19 billion, according to Reuters. Its growth has coincided with an evolution in the ways the public consumes media as some of the biggest tech companies in the world have continued to expand and evolve in the industry.
The Changing Ways We Consume Media
The number of consumers foregoing physical media purchases, and opting for streaming services instead, has accelerated in recent years.
Music: Streaming services accounted for only 9% of total U.S. music revenue in 2011, according to the Recording Industry Association of America (RIAA). By 2016, physical music sales had significantly declined and streaming had grown to 51% of total U.S. music revenue.
Video: In recent quarters, most of the major telecom companies have reported pay-TV subscriber losses ranging from tens of thousands to hundreds of thousands. A May 2017 report from research firm eMarketer found the number of American Internet users with a video-streaming service had overtaken the ones paying for cable TV.
Books and Publications: Interestingly, publisher revenue from eBook sales declined 5% year-over-year to $648.1 million in the first half of 2017, but sales of downloaded audio books increased 30.7% to $185.6 million, according to the Association of American Publishers, which collects data from nearly 1,200 publishers. The same trends can be found in magazines, newspapers, and so on.
The Need to Adapt to Survive
One of the factors that has likely helped to speed up the transition is the availability of streaming services. Over the years, there have been many new startups launched in this space. At the same time, existing companies have evolved through mergers, acquisitions, and have developed their own competitive offerings. Most of these businesses didn't even exist 20 years ago (see timeline below), or they were just starting out. Over time, they've grown to become some of the largest companies in the world, increasingly overlapping as they pursue similar opportunities:
Digital Advertising. Total digital ad revenue in the first half of 2017 grew 22.6% year over year (YoY) to $40.1 billion, according to the Interactive Advertising Bureau (IAB).Looking at some of the faster growing segments, digital video ad revenue grew 36% YoY to $5.2 billion and digital audio ad revenue, one of the ways Spotify makes money, grew 42% YoY to $603 million. Alphabet Inc (NASDAQ: GOOGL), book Inc (NASDAQ: FB), Twitter Inc (NYSE: TWTR), among others, generate a vast majority of their revenue from digital ads.
Streaming Services. Overall, in 2018 the Consumer Technology Association expects consumer spending on streaming services—both audio and video—to grow 35% YoY to $19.5 billion in the U.S. YouTube, Spotify, Netflix, Hulu, Time Warner Inc (NYSE: TWX) HBO Now are just a few examples of the many streaming services available. Beyond paid subscriptions, companies that offer free versions of these services also generate revenue from selling the ad space.
New Devices. Not only are companies focused on streaming services, but they're also focused on creating the hardware to deliver them. Apple Inc (NASDAQ: AAPL), Amazon.com, Inc. (NASDAQ: AMZN) and Alphabet's Google have all launched smart speakers powered by intelligent voice assistants (Apple HomePod, Amazon's Echo line and Google Home). Smart speaker shipments in the U.S. alone are expected to total 38.4 million units in 2018, and have been one of the fastest growing consumer technology products, according to research firm Canalys.
The Challenge for Management… and Investors
Before Netflix launched streaming services and it was just a mail-order DVD company, Blockbuster's CEO turned down the opportunity to purchase it for $50 million in 2000. Looking back, there are plenty of other similar stories. Many started out as small-cap companies operating at a loss, taking them many years to become profitable.
Like the management that turned down these offers, investors are faced with a similar challenge when it comes to making the decision of including these companies in their portfolios. Since no one knows how industries are going to evolve, or which companies will navigate growth (or lack thereof), and change successfully. So, what can you do?
"Listening to earnings calls and reading through company's quarterly results can give you an idea of the path that management is on," said JJ Kinahan, Chief Market Strategist at TD Ameritrade. "Not only does this practice help you monitor your current portfolio , but it could also give you investment ideas to look into."
There's lessons to be learned in both good and bad investments. Maybe one of your current investments is tanking, but what's causing it? How are consumer behaviors adapting and what companies are working to meet those needs? The winners of today won't always be the winners of tomorrow. Just look at how many of the original components of the Dow Jones Industrial Average are still around… only 1.
To learn more about the rarely used way that Spotify is planning to go public, called a direct listing, check out this article on the Ticker Tape.
Tech and the Evolution of Media

TECH AND THE EVOLUTION OF MEDIA. As Netflix, Inc. (NASDAQ: NFLX) and Spotify grew into multi-billion dollar companies, the largest tech companies in the world continued their push into media. This timeline covers some of the changes in the space as tech and media continue to evolve.
Information from TDA is not intended to be investment advice or construed as a recommendation or endorsement of any particular investment or investment strategy, and is for illustrative purposes only. Be sure to understand all risks involved with each strategy, including commission costs, before attempting to place any trade.
Posted-In: TD Ameritrade The Ticker TapeNews IPOs Markets Tech General Best of Benzinga
View Comments and Join the Discussion!